"A Grown Up, Intelligent, Riveting Espionage Tale"
by Benjie Goodhart | Saga Magazine  | December 2, 2022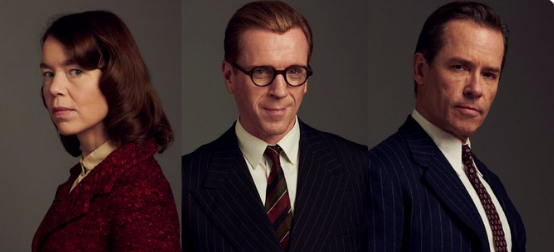 A Spy Among Friends – Episode 1/6 – Thursday 8th December – ITVX
On the basis of the first episode, A Spy Among Friends is well worth a look. The six-part drama series is based on Ben Macintyre's bestselling factual account of secret service agent Kim Philby's 30-year career spying for the Soviet Union, and his defection to the USSR in 1963.
Guy Pearce stars as Philby, and the story primarily centers around his friendship with fellow Secret Intelligence Service spook Nicholas Elliott, played with characteristic aplomb by Damian Lewis. The story jumps backwards and forwards in time (sit up straight and pay attention, this is not one to watch while doing a Su Doku on your phone) but the gist of it is that Elliott feels profoundly betrayed by his erstwhile friend and colleague.
Or does he? When Philby's deception is uncovered, it is Elliott who is sent to Beirut to tackle the double agent. But, having spent days on end locked in conversation with Elliott, Philby escapes, and sets sail for his new life in Moscow. (Don't worry, no spoilers here, this all happens in the opening few minutes).
A chastened Elliott returns to London, where he is called in by MI5, and interviewed by Lily Thomas (Anna Maxwell Martin). Did Philby really escape, or was he allowed to get away by Elliott? And if so, why? For old times' sake? Or in exchange for some vital information?
The story is set in 1963 and, with the Cold War at its height, London seems to be awash with spies. They're loitering on street corners, swapping newspapers in churchyards, and seemingly every taxi is being driven by an operative for one side or the other. It's all deliciously cloak-and-dagger stuff. Also, everyone smokes like a chimney and drinks like a fish. It's a miracle anyone made it through the era.
But there's much more going on here than simply a tale of men in trilbies sneaking about in the shadows. There are undercurrents of social class, snobbery and sexism, with the SIS still run as a boys' club for former public schoolboys. It's also a story of personal, as well as national, betrayal, and Damian Lewis is marvelous at conveying a proud man haunted by what he did, and didn't, know about his friend. Pearce, meanwhile, is excellent as Philby, seemingly a pillar of the establishment, all 'old beans' and cricket whites.
If you like your spy stories to be massive, explosive-fueled blockbusters a la Jason Bourne or James Bond, you're going to be disappointed. There isn't so much as a car chase, a gunshot, or a dead body in episode one. Instead, this is a grown up, intelligent, riveting espionage tale in the tradition of George Smiley. And, extraordinarily, give or take a few scenes for dramatic license, it's all true.
First look photos here and official trailer below:
Read the rest of the original article at Saga Magazine