An Extra Helping of Damian Lewis: Act I and Act II
by Jonathan Cake | Stage Door Johnny | January 24, 2023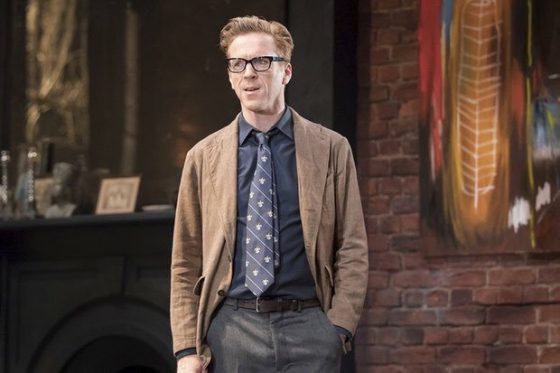 Back in October 2022 (and released in November of that same year), Damian appeared on the Stage Door Johnny podcast. You can listen to both episodes on Feeds here after scrolling down the page to find Act I and Act II, or you can listen to both episodes on Spotify here after scrolling down the page to find Act I and Act II. You can also listen on Podbean here, page two. Here are the podcast descriptions of each episode:
ACT I
Aside from containing a massive spoiler about Edward Albee's play The Goat: Or Who Is Sylvia – you have been warned – Jonathan's chat with Damian Lewis is an entirely safe and wonderful space to explore the highs and lows of life on stage. As well as asking, despairingly, 'why do we bother?!', Damian discusses the perils of duelling with Ralph Fiennes, the tantalising news that a return to theatre may not be far away – and his coup de foudre with the aforementioned goat, Sylvia. He and Jonathan also pay tribute to the late Pam Harris, legendary landlady of The Dirty Duck, the actors' pub in Stratford-Upon-Avon.
ACT II
The second part of our chat with Damian Lewis is studded with reminiscences about his late wife, Helen McCrory. Damian speaks openly and beautifully about the play on which they fell in love, their contrasting experiences at drama school, and the time he watched her walk mesmerizingly onstage in Uncle Vanya, pour a cup of tea, leave without saying a word and have the audience in the palm of her hand. Damian also recalls a humiliating acting experience as a youngster, how he shouted his way into playing The Dane on a windswept outdoor stage as a 24-year-old, and the very unique and particular challenges of mastering the dialogue of the great David Mamet.
Source: Stage Door Johnny podcast and fan Dalia Segal