Damian Grapples with Friendship, Betrayal and Producing in MGM+ Drama
by Charna Flam and Katie Reul | Variety | March 10, 2023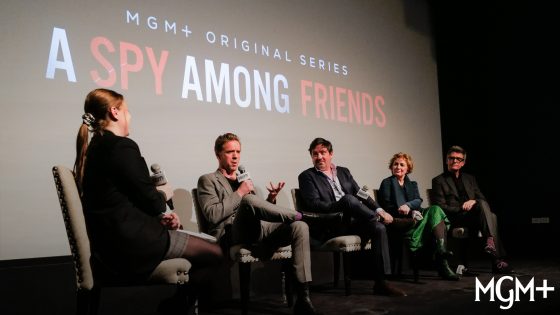 Following Sony's "A Spy Among Friends" premiere and red carpet in New York, the cast and crew of "A Spy Among Friends" took to the stage to discuss the process of differentiating the series from the 2014 nonfiction book by author Ben Macintyre about one of Britain's most notorious espionage scandals. Alexander Cary, showrunner and creator of the Sony Pictures Television series for MGM+, was joined by star Damian Lewis, director Nick Murphy and producer Chrissy Skinns.
Moderated by Variety's TV business writer Jennifer Maas, the conversation began with Lewis' reflection on why the series was the right opportunity to make his debut as an executive producer. Best known for his starring roles in Showtime's "Billions" and "Homeland" and the 2001 HBO miniseries "Band of Brothers," the Emmy winner tried his hand at a behind-the-screen job on the series, working with fellow executive producers Cary, Murphy, Macintyre, Bob Bookman, Alan Gasmer, Peter Jaysen and Patrick Spence.
"Once you're on set as an actor, I think you just need to maintain a certain sort of state," Lewis said, describing what it was like to juggle his on-set responsibilities. "You might call it stasis, but you just maintain a sort of playful, instinctive, responsive state at all times. And that is a different part of your brain from being an executive producer."
Lewis portrays protagonist Nicholas Elliott opposite Guy Pearce's Kim Philby. Set during the Cold War, "A Spy Among Friends" sees the two actors as British spies and long-time companions whose friendship suddenly unravels when Philby begins colluding with Soviet intelligence. The spy thriller and Macintyre's book are based on the real-life Philby, who worked as a double agent for MI6 and the KGB.
"The story, at its heart, is not about espionage," Cary explained, hesitant to utilize the generic label for the series. "It's about friendship, and it's about personally dealing with betrayal, and personally betraying. It's in there somewhere."
Cary, who also worked with Lewis on "Homeland," also set out to distinguish the storytelling core of the series from the source material. "I didn't want to regurgitate the book," he said. "I wanted to expand upon the book. But I needed to find a perspective, or a point of view, about Philby and Elliott and the sort of crisis of class." The solution emerged through actor Anna Maxwell Martin as MI5 officer Lily Thomas, a fictional character invented for the series.
"She's the moral core of the show," Skinns attested on Lily's behalf. "She lends a modern, contemporary perspective to the piece, so I think she is the audience's way in."
Murphy concluded by reflecting on the heart-wrenching final moments of Season 1, Episode 1 — an elaborate end sequence where Nick begins to hallucinate, seeing a vision of his former friend on-stage singing Elvis Presley's "Are You Lonesome Tonight?" "That end sequence was, you must understand, from a director's point of view, that sudden, 'Oh my god," Murphy said.
The six-episode miniseries is produced by ITV and Sony Pictures Television. "A Spy Among Friends" is set to premiere March 12 on Amazon's MGM+ and currently on ITV's ITVX streaming platform in the U.K.
View all the photos of the event in our Gallery here
Read the rest of the original article at Variety