Mano o Mano
by J.P Devine | Morning Sentinel | March 30, 2023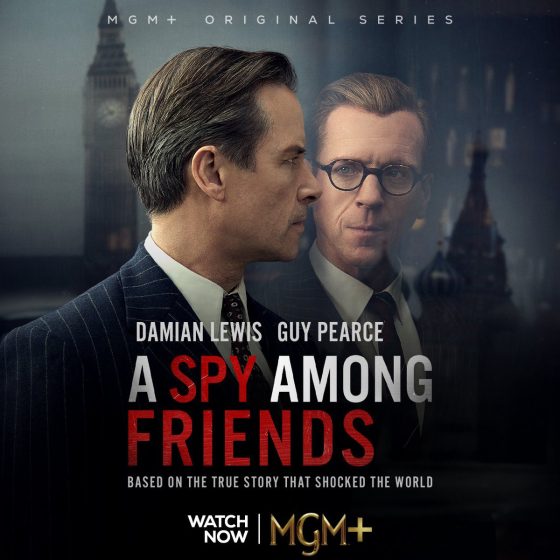 I remember this story because I'm old. If you're older than 60, you will as well, but at the time, here in America, you probably didn't care. It was 1963, and the assassination of JFK was enough to deal with, and no one here even knew the rest of the world existed or cared.
But when this story "A Spy Among Friends," taken from the book by Ben Macintyre, finally found space to let us think about it, we learned that MI6 (British CIA) and the notorious Kim Philby (Guy Pearce, "The Road") had been a double agent for the Russians since his college years.
The story opened up a whole can of worms and gave birth to hundreds of spy movies for years to come.
John le Carré's novels like "Tinker Tailor, Sailor, Spy" were part of all that, because le Carre himself was a spy for MI6. Isn't that great? I think it's great.
Here we have Pearce, an Aussie, as Philby and his close friend and covert lover agent Nicholas Elliott played by Damian Lewis.
You know Damian from television's "Homeland" and Bobby Axelrod in "Billions."
Elliot is given the nasty job of flying to Beirut, a nasty place then, a massive catacomb of broken buildings and broken hearts, as it is now, and get, at his bosses' command, the complete confession of his years whilst he was sipping tea and eating borscht at the same time.
It gets murky and muddy here, going back and forth from rainy, war-torn London streets in World War II to Philby's unveiling in '63.
It's impossible to hold all of this in your head at one sitting. It's all true. It all happened, look it up.
More upper class gentlemen in the British government were involved in double dealing, ready to sell 10 Downing to the Nazis, and dozens of films catalogued every inch of it.
Concentrate on every chapter of this dark, rainy alley-board, room-Whitehall thriller, sharply directed by Nick Murphy, and photographed darkly by Nanu Segal. So realistic it is, that it seems to have been shot in London's storm-doused war years.
Lewis, so American as we've come to know him, is back to his British ways, bespectacled, smartly dressed, briefcase and umbrella in hand.
Here he goes mano o mano with the superb Pearce in every scene, like two master swordsmen playing it out with pity and love glistening on the foil's edges. Egad.
It's Anna Maxwell Martin, who plays Lily Thomas, an MI5 agent sitting on a chair, with a cold typewriter and even colder cobra eyes, interrogating Lewis. We want to believe she was a real person, but she's only a compilation of characters. Still, she's chilling and convincing.
"A Spy Among Friends" moves slowly, as is the British style in these matters, noting every key stroke, phone call, pause, glance and dark street walk. We taste the tea and borscht with relish. Good show, "Jolly well done" and "Carry on."
"A Spy Among Friends" premieres on MGM+ which is also available on Prime Video.
Read the rest of the original article at Morning Sentinel