Music Chops
by Naomi Clarke | Daily Express, Independent and Evening Standard | April 12, 2023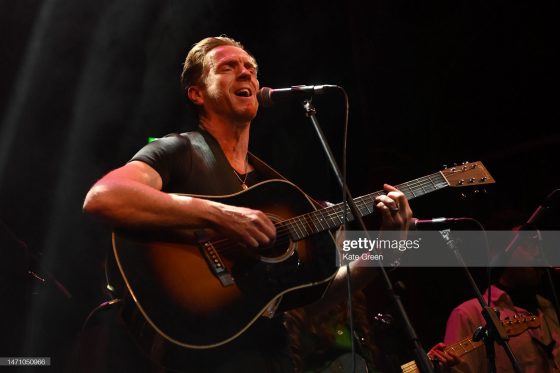 Not content with being a great actor, Old Etonian Damian Lewis is showing he is even more talented with his musical chops. Damian looks well on track to realising his dream of becoming a smash hit strummer this summer. The Homeland and Band Of Brothers star will release his first single today as he warms up for a string of gigs and live performances over the summer festival season.
Today the actor released the soulful track 'Down On The Bowery' from his debut studio album, Mission Creep (a war reference), which is due out on June 16. The song was written while he was in New York.
While it may look like a big change of direction for the award-winning actor, Damian busked his way through Continental Europe after he left school, so he's well up for the musical challenge.
He said: "I wanted the album to give a sense of a journey to this point, from busking 'til now. I suddenly had a lot to say. People will judge if it's any good or not, but for me, it felt entirely natural."
As his acting schedule freed up due to the pandemic, he began playing and writing songs and later teamed up with various musicians including Giacomo Smith. Damian has already notched up some gigs playing with the musician and his jazz outfit Kansas Smitty Band.
He is now due to perform at Cheltenham Jazz Festival on May 1 and the Black Deer Festival, in Kent, on June 16. His biggest headline show will be at Union Chapel in London on July 11 and more live dates are expected to be announced soon. Damian said he hopes to play Glastonbury in June.
Father-of-two Damian lost his actress wife Helen McCrory two years ago. The Peaky Blinders and Harry Potter star died of breast cancer in April 2021 aged 52.
His album, released on Decca Records, is described as: "A thoughtful collection of rootsy, rock and jazz-tinged songs that reveal a deep love of music and a deep need to communicate."
Record label co-presidents Tom Lewis and Laura Monks said, "We are so delighted that Damian chose Decca. His songwriting is poetic, poignant and deeply personal. The album has a raw and refreshing honesty to it. Damian really opens his heart and invites us in. It is a thing of great beauty."
According to the Mirror, Damian signed with Decca following a huge bidding war between major labels. About the album, he went on to tell the Mirror, "It encompasses many life experiences, and won't take Sherlock Holmes to work out what some of those are."
Damian Lewis Music Store (UK) here
Damian Lewis Music Store (US) here
Apple Music, iTunes, Spotify, YouTube, Amazon and more here
View photos of studio time and album artwork here
Read the rest of the original article at Daily Express
Secondary Source: The Mirror
Tertiary Source: Daily Mail
Additional Source: Evening Standard
Additional Source: The Independent
Additional Source: Belfast Telegraph
Additional Source: Virgin Radio UK