Well Crafted Songs and Strong Vocals
by Hannah Compton | Building Our Own Nashville | May 1, 2023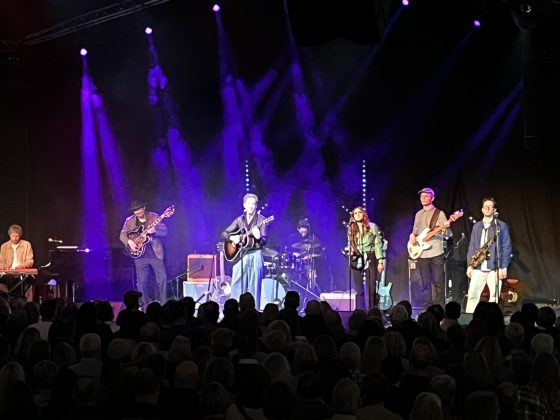 Actor Damian Lewis has always had a passion for playing music and putting out a record of his own. Signed to Decca Records, Damian released his first single 'Down on the Bowery' on April 13th 2023.
His debut album Mission Creep is out June 16th and can be pre ordered here.
Playing in the Jazz Arena at Cheltenham Jazz Festival with a seven piece band that consisted of the Kansas Smitty Band, the show was an absolute sell out full of keen fans of the actor who were curious to be a part of one of his first ever live performances promoting his forthcoming debut album.
"Hello Everyone", Lewis greeted "I am a Cheltenham Jazz Festival virgin only to be deflowered by this audience and I am glad it's you".
With that he introduced his first song which was his first single 'Down on the Bowery.'
A sensational band and great vocals from Lewis, the show was proving good from the get go. A great choice to kick off the set, fans were already getting into the vibe of what Lewis and the band had to offer.
"This is our second single" Lewis announced before playing Zaragoza "and then there are ten more after that" he laughs!

"There are only two songs out at the moment that you will know."

"There will be people in this audience who know who Ian George is and I want to dedicate this gig to him" said Lewis
A fully engaged audience, the time went by so fast and Damian fully proved his worth as a musician.
Highlights included 'Never Judge a Man By His Umbrella' (which is Side B on his 7" Record Store Day release) 'Werewolves of London' and beautiful songs I imagine are in honour of his late wife Helen McCrory. Two of those songs that stood out were first, 'My Little One' – An upbeat, bluesy, Jazzy number that celebrated his love for her. The second; 'Grow Old In Paris.' Before playing the latter her said "Wouldn't it be nice to grow old in Paris? I knew a woman who really wanted to once". The track was a stunning and emotive tune that really was incredibly powerful live.
As well as original material he covered a few songs such as Neil Young's 'Harvest Moon' and Tom Waits 'Little Trip to Heaven.' The Tom Waits cover found Lewis playing solo on the stage on the piano whilst the band temporarily exited the stage.
The entire set was wonderfully entertaining with exceptional musicians and great witty banter as well as strong vocals from Damian. A natural flare for the stage as a musician, you would think he had been a touring artist for years.
If the live music that he played is anything to go by then we are all in for a treat with his debut album Mission Creep. He truly is a gifted singer/songwriter. Many of the songs played were highly memorable and vey well crafted.
View more images from the event in our Gallery here
'Mission Creep' Album – Damian Lewis Music Store (UK) here
'Mission Creep' Album – Damian Lewis Music Store (US) here
'Down on the Bowery' – Apple Music, iTunes, Spotify, YouTube, Amazon and more here
'Zaragoza' – Pandora, Tidal, Spotify, YouTube, Amazon and more here
SINGLES:
Down on the Bowery
Zaragoza
Read the rest of the original article at Building Our Own Nashville