Cast Announcements
by Andreas Wiserman | Deadline | June 13, 2023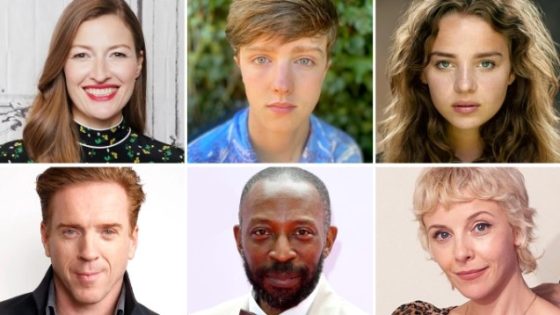 Filming is underway in the UK on Euros Lyn's (Heartstopper) black comedy The Radleys, starring Damian Lewis (Homeland).
Adapted from Matt Haig's (A Boy Called Christmas) novel and produced by Genesius Pictures (Good Luck To You Leo Grande), Emmy and Golden Globe winner Lewis will star in a dual role alongside Boardwalk Empire and Operation Mincemeat star Kelly Macdonald in the contemporary vampire story.
Rising actors Harry Baxendale (Holmes & Watson) and Bo Bragason (The Ballad of Renegade Nell) also join the cast together with Sophia Di Martino (Loki) and BAFTA nominee Shaun Parkes (Small Axe). UPDATE 6/17/23: Nilsen Report states Steven Waddington is set to join the project as well.
Damian Lewis as twins Peter and Will Radley
Kelly Macdonald as Helen Radley
Harry Baxendale as Rowan Radley
Bo Bragason as Clara Radley
Sophia Di Martino as Lorna Felt
Shaun Parkes as Jared Copeleigh
Steven Waddington as Mark Felt
The six-week shoot is underway in London and Yorkshire with Sky Cinema set to release in 2024.
Set in a quiet, suburban English town, the film charts the story of the Radleys, who to their neighbours are as ordinary as they come. But beneath the surface, parents Peter (Lewis) and Helen (Macdonald) are concealing a dark secret from their teenage children, Rowan (Baxendale) and Clara (Bragason). They are abstaining vampires, who choose not to drink blood despite their natural cravings, making them more and more bloodthirsty by the day. When Peter's twin brother Will arrives on the scene (also played by Lewis), a proud, practicing vampire who openly embraces his hedonistic, bloodthirsty lifestyle, the family has to confront some home truths.
The Genesius Pictures production was developed with British Comedy Award winner Jo Brand and is written by Talitha Stevenson. Producers are Debbie Gray (Good Luck to You, Leo Grande) with Lewis as executive producer through his production company, Ginger Biscuit Entertainment.
Additional executive producers include Julia Stuart and Laura Grange at Sky, Mark Gooder and Alison Thompson at Cornerstone, Peter Touche, Andrea Scarso and Christelle Conan at Ingenious Media and Julian Gleek of Genesius. The film is financed by Sky and Ingenious Media and Cornerstone is handling worldwide sales and distribution.
Heads of department include cinematographer Nanu Segal, production designer Sarah Jenneson, costume designer Joanna Eatwell, editor Jamie Pearson, hair and make-up designer Kate Benton and sound mixer Stevie Haywood.
Julia Stuart, Director of Original Film at Sky comments: "I'm very excited to watch Matt Haig's The Radleys come alive on screen as it begins production with top British talent including Damian Lewis and Kelly Macdonald. Wickedly funny and darkly compelling, I'm so pleased to bring this film to Sky Cinema in 2024."
Read the rest of the original article at Deadline