"Sod that, why can't I have a go at something else?"
by James Hickie | Music Week | June 14, 2023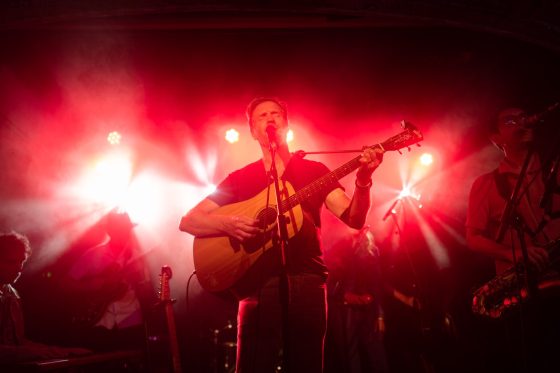 You may know him as the star of TV shows like Band of Brothers, Homeland and Billions, plus films like Once Upon A Time…In Hollywood, but Damian Lewis is adding another string to his bow in 2023. This week, he releases his debut album, Mission Creep, via Decca Records.
The journey to this point began a long time ago. A fan of everyone from John Martyn and The Rolling Stones to Velvet Underground and Eddie Cochran, Lewis tried to write songs in his early twenties before his nerves got the better of him. "I didn't feel comfortable doing it," he tells Music Week. "I didn't know how to do it, I wasn't confident."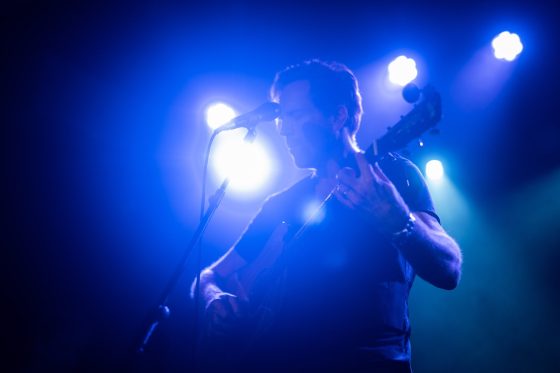 The same can't be said for his debut. Mission Creep sees him join forces with American jazz guru Giacomo Smith and musicians from Kansas Smitty's House Band, and proves to be a highly compelling, eclectic endeavor. It is, in his own words, "a sort of bluesy, jazzy, in-the-room, live sounding record" – indeed a lot of his vocals were recorded live playing with the band.
Here he takes us further inside his debut and how he came to join the likes of fellow Hollywood star Jeff Goldblum in landing a record deal with Decca.
Musicians becoming actors seems to be a lot more acceptable than actors becoming musicians. Do you have a take on why that is?
"I'm probably as skeptical as the next person – and I'm disappointed in myself for that. It's an innate British [trait], probably, that demands that people stay in their lanes and that there's a purity in doing so. And you somehow become a diluted 'entertainer' if you start doing different stuff – to be taken seriously you have to pursue one thing and do it profoundly. I probably subscribe to that a bit: an actor, married to an actress, and we felt that we were an acting couple with egos that worked in a very particular way, wanting to be admired by our peer group. So it's thinking you have to commit all your energies to that."
That said, you started out as a musician before you were acting. What made you return to it?
"Maybe something like a global virus locking us all in our homes in a dystopian way makes you stop and think, 'Sod that, why can't I have a go at something else?' People are going to snipe, but if I'm going to have a good time doing it, then why not do it? And phase one is complete – I had lots of fun doing it. I'd probably be lying to you if I said that it was enough – a bit of me that knows the adventure will be more fun if people actually like it."
What were your goals with this project?
"I wrote the songs on the steel-string and a bit on the piano and took them into the guys. [The songs] are complete enough that they could be busked, but they're better with a band. We recorded on tape, and I said to Giacomo who produced it and introduced me to a lot of music, 'Let's not do this big, over-produced digitized thing – let's do something that feels like we're all in a bar playing together'. Because that makes me feel more legit and authentic, because that's the way I've always played – getting out a guitar on the street and playing in a market square by a fountain, outside the Pompidou. In that regard, it should have that feeling."
What are the songs about?
"There are some love songs on there, and you don't have to be Sherlock Holmes to realize why I wrote those. I wrote them at a particular time in my life, just after my wife died. And then there are songs that come in and out of different places – there's a song about Kim Philby, a spy, because I'd just done a show about him; there's a song called Zaragoza that's a true story about me getting stuck in the Pyrenees and an electric storm coming overhead, and me thinking I'm going to get soaked in the rotten old tent I'd brought with me."
And how did you come to be involved with Decca?
"I started out wanting to do this 'softly softly' and have a nice time. If anyone showed any interest, I should be so lucky. It turned out that some of the 'majors' showed an interest and I always said I'm not doing 'major' label stuff, I don't want to, but Decca were very persuasive, very seductive and very supportive, and I thought, 'How lucky am I? – if I say no now, it may never happen'. And this is Decca. I feel connected to Decca, they signed Count Basie, Ella [Fitzgerald], Louis Armstrong, Louis Jordan and Bill Haley. When I grew up, I thought I was Elvis [Presley] for about ten years, but I was also listening to endless Bill Haley. I loved him and [Decca have] people I like now, like The Teskey Brothers and Jon Batiste."
How has it been, working with Decca?
"Decca have been really brilliant and supportive from the get-go. They've been really artist-friendly, I'll say that. I had interest from three or four labels, and one or two people showed up to meet me or come to a gig, but I went to Decca and there were 15 people sat around the table, and they've been brilliant since in allowing me to make my record the way I want to make it, and present it how I want to present it, and I see no reason why that should change. What's been fun is, as an actor, and as a production company as well, putting on a film, TV or play, is very collaborative, with lots of different, disparate elements – costume designers, production designers, hair and make-up, locations people, producers, directors, writers, actors – everyone is inputting into this project. What's been quite startling for me, but also quite fun, is that I've got to have an opinion about how I present myself on social media, I've got to have an opinion about what I wear for the gig – there's no costume designer working with me. I've got to make all the decisions on my own. Actually, the lighting design for the gig…"
Do you enjoy that side of things?
"I do like it. But I've had to kick-start myself a bit, thinking, 'Come on, Damian, you're used to making a tenth of the decisions and collaborating and delegating' – which is a lovely process, but because I've set this up as Damian Lewis, not as The Rolling Stones, where all four or five of them probably chip in, that's sort of down to me to make all of the decisions. I've got brilliant people to consult with, but I've noticed that everyone just says 'What do you want to do' – down to album cover, artwork, all of that. The brilliant graphic designer, Charlie Drinkwater, who I was introduced to by Decca, but it was my decision, I had to decide what was going on the album. And record dates, singles… and you just realize you've it's a holistic, multimedia exercise in creating a 'thing'. It's really fun."
If this side of your life were to be a success. How will you accommodate it with the various other facets of your career?
"I don't know the answer to that. What I do know is that I've spent the last 10 years in returning TV series – Billions and Homeland – which have been very good to me and a lot of fun, but they take up a lot of time, and I no longer will be doing those, so I am free to organize my year in a much more ramshackle, tapestried, patchwork way and I'll find time for all of it. I do want to make a second album, I think I already have a second album that I know we'll make."
Is touring an exciting part of the equation for you, too?
"Yes, totally, it is. When you make a TV show or a film, the old cliche is 'schedule is king' – it is king. Once the train leaves the station, you're fucked – they have your time, there's very little negotiation because they're spending so much money setting up certain locations. The amount of weddings I've missed, friends' 30ths, 40ths. because of filming. The thing about touring is you can make it a bit more of a bespoke experience. In September, I'm going on a mini tour, so I'm going to play nine or ten dates and you can play two a week – you can go and do Birmingham and Liverpool, Glasgow and Manchester, you can get back after a couple of days so I'm looking forward to that as a mini thing. If the music should ever be liked enough that there was a demand for a larger tour, sure. I don't think I'm going to go on a three-year world tour, but I understand that the big bands that do that – it costs money to run a band and make a record, so you've got to go out and sell it, I understand that. Some of these bands go on tour selling a record for two or three years, that's a lot. How much did Jeff Goldblum do? Quite a lot, right? I want to do that, and the reason is, I haven't yet played two gigs back to back and I'm really looking forward to that. I'd really like to play a week of gigs, really settle into it and allow it to move and change into something slightly different. Whereas, when there's a big gap of three months between each gig, every time you come back on stage, you slightly have to remind myself of what this is, rather than just being totally settled into it."
Now you're in the music sphere, are there any collaborations you'd like to do?
"I'm not going to say any, but there are a hundred of them – if they would deign to collaborate with me. There could be loads. But that's also a very Decca space – rock musicians aren't always asked immediately who they would collaborate with. I think in this area of music, people look for collaborations earlier on don't they, it seems to me."
Damian's debut album Mission Creep is set to be released June 16, 2023 and can be pre-ordered from several outlets here. Upcoming shows include Black Deer Fest on June 16, Rough Trade East (includes album signing!) on June 19 and Union Chapel on July 11 in London. And Damian just announced new UK Tour dates here. Don't miss out, get your tickets now!
'Mission Creep' Album – Damian Lewis Music Store (UK) here
'Mission Creep' Album – Damian Lewis Music Store (US) here
'Mission Creep' Album – Several music services here or Target
'Down on the Bowery' – Apple Music, iTunes, Spotify, YouTube, Amazon and more here
'Zaragoza' – Pandora, Tidal, Spotify, YouTube, Amazon and more here
'Makin' Plans' – Napster, Pandora, Tidal, Spotify, iTunes, Amazon and more here
'She Comes' – Spotify, YouTube, Apple Music and iTunes here
Read the rest of the original article at Music Week