Time to Make Some Calls for Charity Day
by Gingersnap | damian-lewis.com | September 6, 2022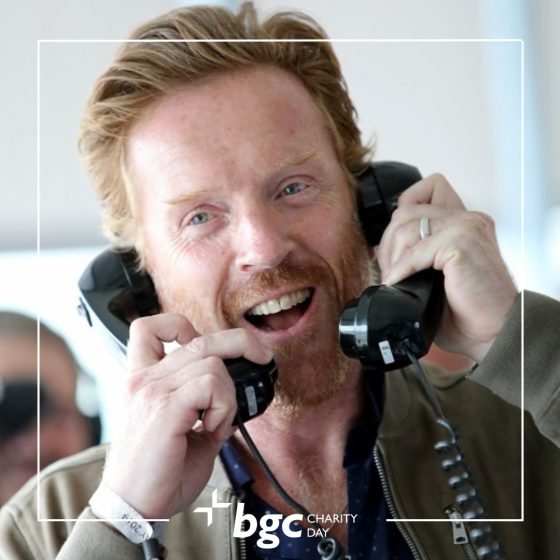 HvH Arts Foundation announced on social media today that their Patron Damian Lewis will be back on the trading floor this year to support their charity at BGC Charity Day 2023 with Ambassador Sadie Frost and CEO Debbi Clark. Damian will also raise funds for CureEB as Patron of that charity, alongside founder Sharmila Collins. He is scheduled to participate in the 19th annual BGC Charity Day on Monday, September 11, 2023 at Canary Wharf located at One Churchill Place in London, England.
Damian raises money for two local organizations: The HvH Arts Foundation, a foundation near to Helen McCrory's heart, provides free courses designed to deliver a route through the often prohibitive costs that comes with studying the arts for young people, as well as free after-school, weekend, and holiday tuition for vulnerable children and youth. Donations support their summer holiday programs which provides art, music, photography, film, sculpture, illustration, dance and drama workshops every day during summer break, and helps develop their Music Mentoring Project that supports young gifted and talented musicians with resources associated with live band or music studio. CureEB is an organization that supports those affected by epidermolysis bullosa, a severe genetic skin condition that leads to blistering and skin loss at the slightest friction. Children with the condition are often referred to as 'Butterfly Children' as their skin is said to be as fragile as a butterfly's wings.
Every year, in conjunction with the Cantor Fitzgerald Relief Fund and GFI Group, BGC Partners commemorate their 658 friends and colleagues and 61 Eurobrokers employees who perished on September 11, 2001, by distributing 100% of their global revenues on Charity Day to the Relief Fund and dozens of charities around the world. Since its inception, Charity Day has raised approximately $192 million globally. Each anniversary is a poignant occasion for the group. Charity Day is their way of turning a tragic day into one that is positive and uplifting by helping others.
For more information, please visit BGC Partners or Cantor Fitzgerald