Noodling Around:  Writing Songs and Suddenly an Album
by Staff | Virgin Radio UK | September 6, 2023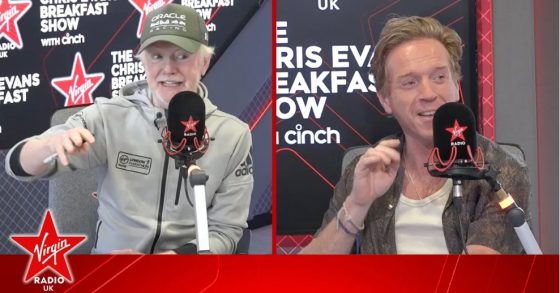 Damian Lewis joined Chris Evans in the Virgin Radio studio this Wednesday to talk about his debut album Mission Creep and his upcoming UK Tour. You can view more photos from his guest appearance in our Gallery.
Speaking on The Chris Evans Breakfast Show with cinch about how he got started creating his album, the 52-year-old revealed he'd started out experimenting with covers before he 'got bored' and as a result started writing songs.
"And suddenly we had an album," Damian said, before he summarised: "Decca [Records] showed an interest, they signed me, and now we're going out on tour. That is the long and the short of it."
The Band of Brothers and Homeland actor released his well-received first album in June 2023. The record is made up of 12 original songs which he wrote during the first lockdown, and after the death of his wife, the actress Helen McCrory, in 2021.
"Records are a bit like journal entries," Damian said, opening up to Chris about the inspirations which fed into his music. "I've had, you know, a particular sort of tough time over the last two years. I lost my wife, Helen. I was writing the record around the same time."
"It's absolutely, 100% not a grief record," he continued, "But definitely there are two or three songs in there that speak to that. Definitely."
Damian also explained how the Harry Potter and Peaky Blinders actress, who died of breast cancer in April 2021, was also a big fan of music.
"She loved it. We always had a guitar in the house, we always were playing music," he said. "Her mum and dad loved singing and they were always coming round and singing, playing songs. Her brother's a really good guitarist. So there was always music."
Speaking about his own love of music, he continued: "And I always had guitars because I used to take my motorbike and my tent around Europe with my guitar in the back and play all the market squares in the south of France and Spain. I just used to do that through the summers."
"So there's always been a guitar around, there's always been songs to sing… but I'd never really sort of sat down and taken it seriously and thought 'I'm gonna write my own stuff'," the Billions actor admitted. "Anyway I have, and I've ended up with a record, and a record label. And now I'm here talking to you about it, which was never – by the way – really the plan, but it is really good fun!"
Anxious not to be a star who suddenly "parachutes in" to a change of career in music, Damian also told Chris how that's why he's chosen to focus on playing smaller venues on his UK tour.
"It's a bit weird; why's Captain Winters singing me a love song in Basingstoke? "
"What we've tried to do is, I've just played really small gigs with the band in London, at festivals, we're going out on a UK tour, you know, under no illusion you can suddenly go out and play arenas! We're playing really iconic, cool venues, starting with the Rescue Rooms on Saturday in Nottingham…it feels authentic, it feels like we're doing it the right way."
"[Last night] I tuned into the latest episode of Billions," Chris told the 52-year-old actor. "I know you're back in it," he continued, but then explained his confusion when he found Damian's character Bobby didn't turn up in the episode he watched.
"Has somebody been yanking my chain, or are you back in it?" Chris questioned.
"Bobby Axelrod is back in it," Damian responded, before clarifying: "But he's in and out of it… He's in and out of it episode by episode, I think he showed up in the first two.
"He'll be back – he's coming," he then guaranteed.
Damian Lewis' album Mission Creep is out now, and his UK tour begins on 9th September and will end 6th November. For tickets, visit: damian-lewis.com (<–that's us!)
Billions season seven is currently airing on Sky Atlantic and can also be streamed via NOW TV.
Read the rest of the original article at Virgin Radio UK