ITV News Meridian with Natalie Boare
by Gingersnap | damian-lewis.com | September 29, 2023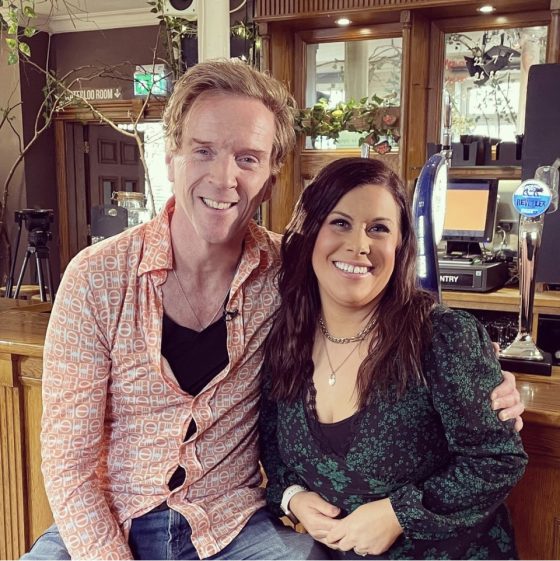 Damian is scheduled for an interview with entertainment reporter Natalie Boare airing on ITV News Meridian and ITV London tonight, Friday, September 29, 2023 at 6:00 p.m. BST to discuss his debut album Mission Creep and UK tour. Check your local listings! You can view more photos from the interview in our Gallery here and watch clip below:
Excerpts from the interview:
Billions star Damian Lewis has reflected on his time on the stage showcasing his musical talents, praising his "amazing" family and friends for their support.
Speaking about his journey into music, he said: "I was always in school choirs and I learnt the guitar when I was 13. I was playing classical guitar and I knew I just wanted to strum songs and shout at people in the street."
Lewis has starred in hit TV dramas Band of Brothers, Homeland and Billions, but actor Damian Lewis is now on tour showcasing his musical talents with his debut album 'Mission Creep' released by Decca Records.
It's a tour that's proved so popular he's added dates.
Lewis said: "We've played London, we've played New York, but now we're getting serious and bringing the music to great towns and cities… and, am I allowed to say this, 'due to popular demand', we've just added three more dates at the start of November so, all of you in Basingstoke, Eastleigh and Milton Keynes, get your glad rags on."
The songs on the album are all written by Lewis, with one or two favourite tracks thrown in as covers.
Lewis' friend, jazz musician Giacomo Smith, helped him produce the album and the pair then set about putting a band together.
Speaking about how his family and friends have responded, Lewis said: "Once they stopped sniggering they've been very generous. No they've been amazing about it actually."
He added: "It's really a fun vibe playing."
Source: ITV