BBC Radio 2
by Gingersnap | damian-lewis.com | October 8, 2023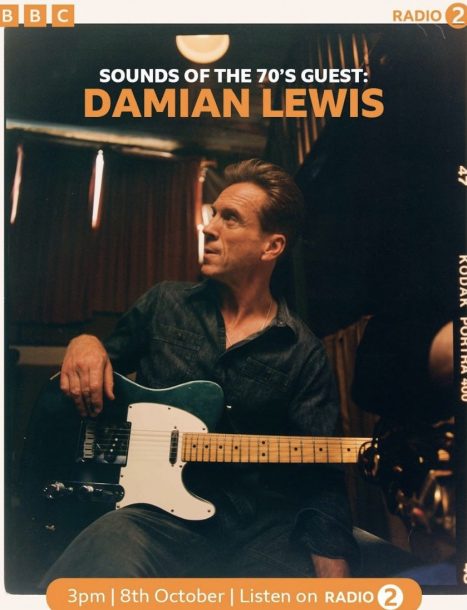 Damian was a guest on Sounds of the 70's with Johnnie Walker on BBC Radio 2 today, October 8, 2023 at 3:00 p.m. BST. Listen to him discuss his music, his debut album Mission Creep and current UK Tour here. Damian's segment begins approximately at 1:10:16 and will be available for 29 days from today so hurry and take a listen!
Damian told Johnnie Walker that he is loving life on the road, loves jumping in a van with his band – air conditioning or not – and rattling along to the next town. "It's great fun."

When asked if acting or music was his first love, Damian said that as a kid he always did both, theatre and playing guitar at age 13 or 14. "I suppose the very fact that I trained as an actor, went to drama school, that sort of became my proper job and music became a hobby at that point." They discussed the title of his debut album Mission Creep and Damian explained it is a military term. Johnnie said he loved the harmonica sound in Damian's band to which Damian replied, "Kitty Liv is phenomenal." Johnnie did not hold back and asked Damian if he'd sing the National Anthem at the British Grand Prix if he had to do it all over again. Damian explained he was encouraged to perform an interpretative rendition, but wouldn't open the Olympics 😉 However, he thinks the next person should be just as creative.
The discussion then moved to television. Damian shared that it takes 6 months to film a Billions season and roughly 13 days an episode. Johnnie said it's a great part to play and that Damian can swagger around as Bobby Axelrod like nobody's business. Damian said audiences don't seem to mind he's a white collar criminal. Damian shared it was a great experience playing alongside Paul Giamatti, David Costabile and Maggie Siff, and that filming with Metallica in season one was mind blowing.
Damian chose the following playlist:
Pink Floyd – Comfortably Numb. Damian said he loved the soundscape of this song and guitarist David Gilmour's guitar playing is silky smooth. Damian told listeners he played this song while busking in Spain/France.
Aaron Neville – Hercules. Damian shared that in his late teens/early twenties he got into this rare groove with the likes of Al Green, Bill Withers and Parliament-Funkadelic, and Hercules is from that period of time in his life. Johnnie reflected it has a bit of that New Orleans sound to which Damian shared that he had been to 'Nawlins once for Halloween, "It's great, with a little dark undercurrent."
Led Zeppelin – When the Levy Breaks. Damian said he thinks Led Zeppelin is just the greatest of all the rock bands and he loves them. Johnnie and Damian spoke about how great the drum sound is on this track, and that John Bonham played a sort of splashy cymbal, almost jazz drum style within this heavy rock tune. Damian went on to say that Bonham's sound makes the groove so deep and sophisticated.