Jazz and Jazz Influences
by Lola Crossman | Basingstoke Gazette | October 26, 2023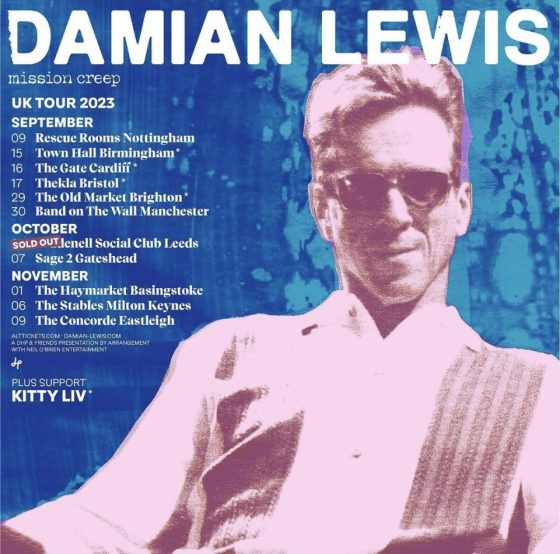 HOLLYWOOD actor and singer-songwriter Damian Lewis has spoken to the Gazette ahead of his show at The Haymarket in November.
Damian Lewis is best known for portraying US Army Major Richard Winters in the Steven Spielberg HBO miniseries Band of Brothers.
Damian has also played notable roles in the TV shows Billions and Homeland, and portrayed actor Steve McQueen in Once Upon a Time…in Hollywood by Quentin Tarantino.
He released his debut album, Mission Creep, on June 16, with influences of rock and 'jazz-tinged songs'.
He will be playing at The Haymarket on Wednesday, November 1, and is looking forward to playing in the town.
He added: "Amazing-stoke! These shows were added later, I'm on a break now, but my first show back will be Basingstoke, so I'm excited to meet the people there."
With a background in acting, Damian is used to performing, so we asked him how differently he approached playing a gig to acting.
"This is far less cloaking yourself in another reality. You go out into the real world, and the people in the auditorium still feel like part of your world, whereas in acting you go down the rabbit hole into a parallel universe and live there for three hours."
Mission Creep was written solely by Damian, with the instruments contributed by his band. Clarinet and saxophone were provided by jazz musician Giacomo Smith, with the album recorded on tape for the 'rich sound'.
He added: "I wrote the songs, the melody and the lyrics, on my guitar and on my piano, and then I took it to the band, and everyone contributed their part, piano part, guitar part, drum, bass, and then horns when we have horns.
"Clarinet and saxophone were contributed by Giacomo Smith, he produced the album with me, and sort of became a musical director for the project.
"We produced it in a studio in Kentish Town in London, all on tape, something called phonographic services, Lewis Durham engineered it for us.
"It's all done on tape, that's where I hope you get that lovely rich sound, feels like you're in the room with everybody – that nice, warm textured feel.
"It's a bit like listening to vinyl or listening on a streaming platform, there is that difference. And you know, to some people that difference is important; I wanted that difference."
With a background in music of busking, Damian wanted his album not to sound overly produced, and instead "more spontaneous, like people picked up instruments in a bar and started playing".
Damian has always had a keen interest in music, busking since he was a teenager, and pulling bands together to play songs at wrap parties.
He explained his decision to move professionally into music: "Because someone approached me. I sat on a radio, a Jazz Radio show, a few years back, and they just said would you be interested in taking this any further and I was.
"But we didn't do anything as I went off and I made a television show called Billions for five years in New York, and then in lockdown, I was playing my guitar and sitting around at home and just got back in touch with this guy.
"And he put me in touch with these musicians and so I came out of lockdown and started playing music with people. We didn't know where we were going, really but you know, within a short period of time, I've written songs that were enough for a record, so we made a record.
"We made a record and then a label picked us up and then we went on tour.
"So it's all just been a happy series of accidents, but really lockdown. I just wanted to come out of lockdown and so I said why don't I attempt to do music more seriously than just busking or putting together bands at the end of film shoots, and performing at wrap parties, you know?"
According to Damian, the lockdown allowed him to "think what life would be like after a lot of people make changes".
The album features influence from JJ Cale, Neil Young, and lots of people Damian loves, including John Martin, Bowie, T Rex, Elvis.
"They all come out differently in the wash once you've run it through your own filter. But I think those people I was listening to a lot. Jazz and jazz influences," he added.
The tracklist features 13 songs, curated by Damian for "what works for the listener's ear".
"You do choose songs. Yes. Often the ends and beginnings of songs and what's going to work for the listener's ear.
"You might have a big song, but if you put it after the wrong type of song it is reduced somehow.
"So you have to find the right place for it. And you know, where you start your A side and end your A side is important too. So, all that goes into it."
Damian Lewis will be playing his debut album, Mission Creep, at The Haymarket on Wednesday, November 1. Tickets are available on the Anvil Arts website.
Read the rest of the original article at Basingstoke Gazette