Soccer Aid for UNICEF: Two Teams, One Goal
by Gingersnap | damian-lewis.com | March 22, 2022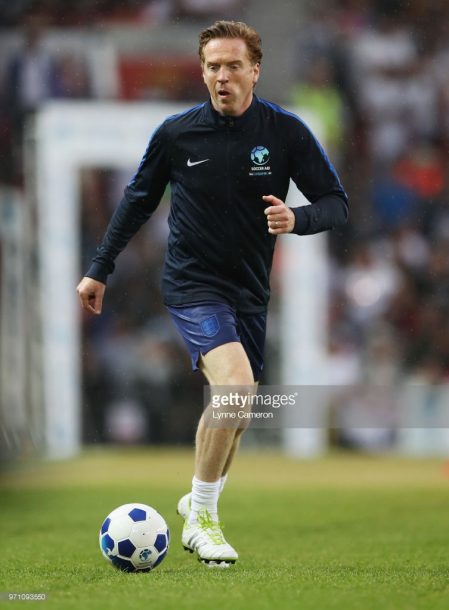 Today it was announced that Damian will return for Soccer Aid 2022, joining Team England.
Damian played in the very first Soccer Aid back in 2006 and has gone on to make several subsequent appearances in the match, mainly as a central midfielder.
A source said: "Damian's had an incredibly hard year after losing Helen but when Soccer Aid approached him about being part of the charity game, he wanted to help out. Damian is a massive Liverpool FC fan and can't wait to get out on the pitch."
This year's celebrity charity match has been moved from Chelsea's Stamford Bridge to London Stadium, featuring a special half time show from Mr. Soccer Aid himself, UNICEF UK Ambassador, Robbie Williams. Prices starting from £10 for children, £20 for adults and premium from £75. A family of four (2 adults, 2 children) can attend from £60.
Team favorites Usain Bolt, Tom Grennan and Martin Compston will lace up their boots once again to play alongside footballing legends Gary Neville, Jamie Carragher and Patrice Evra. Taking to the pitch for the first time, new signings for 2022 include Alex Brooker, Lucien Laviscount and Liam Payne as captain of the England team.
Visit our Gallery here for more photos (work in progress).  We'll keep adding photos as they come in up to, and through the June match. Keep checking back!