Accents and How He Handled Overnight Fame
by Joel Keller | Industry Mag Staten Island | July 19, 2020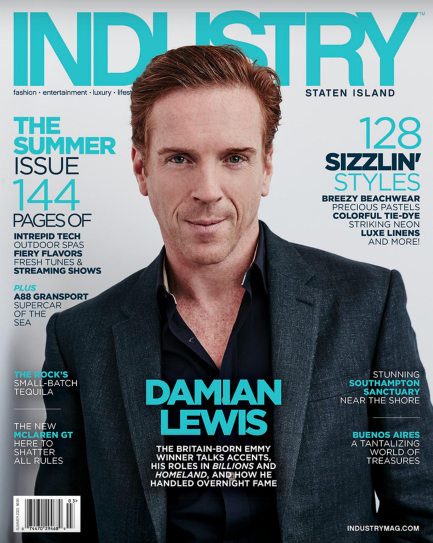 He may be an officer of the British Empire, but the London native is best known for playing Americans, including Bobby Axelrod in Billions.
Damian Lewis has been playing American characters on and off (mostly on) for 20 years, since he was cast as Maj. Dick Winters in the 2001 HBO miniseries Band of Brothers. He's played so many American characters that people are genuinely shocked to hear his natural west London-accented voice. He's so used to it that sometimes he forgets to go back to his natural voice.
"I go get my groceries in an American accent," he told ABC News in 2016. "And I get halfway through paying and I'm like, 'I'm so sorry. I'm British, and I have no idea why I'm talking in an American accent to you, but I've been doing it all week."
His American roles have been so prominent in his career that BBC America's website actually has a listicle with the title "7 Roles Featuring Damian Lewis' Real Accent."
Suffice to say, playing American characters has been very good to Lewis. He won an Emmy in 2012 for his powerful turn playing war hero-turned-terrorist Nicholas Brody in the first season of Homeland, and since 2016, he's played scheming billionaire Bobby Axelrod in another Showtime series, Billions. "Hello, I'm Damian Lewis, one of those pesky Brits," he said somewhat apologetically when he went up to accept his Emmy.
Continue reading Industry Mag Staten Island Cover Story – July 19, 2020