The Moment
by Sarene Leeds | Vulture | May 26, 2019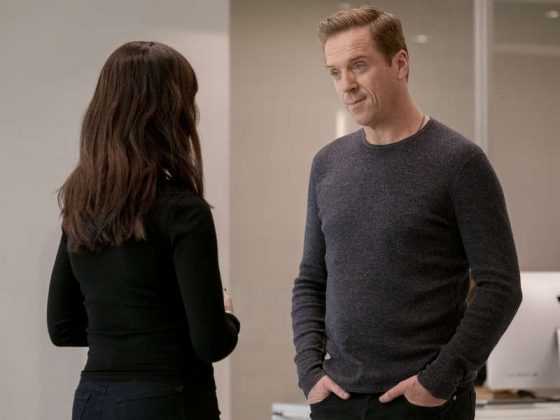 At first listen, the use of U2's classic 1983 track "New Year's Day" to open this episode seems like a cross between laziness and eagerness to once again show off Billions' music budget. But the energetic bassline and corresponding piano riff actually provide the right amount of blood-pumping energy to kick things off. Because all is not quiet on New Year's Day in the Billions world — not when there are medical board hearings to prep for and international banking laws to circumvent.
Wendy's review is looming, so a mock panel is staged at the Axe Capital offices, with a crackerjack legal team consisting of Chuck, Axe's personal counsel Orrin Bach (Glenn Fleshler), Ira, and — groan — Spyros presiding. But it's presented as a fait accompli, even after Axe surprises Wendy by interrupting his Fiji vacation to be by her side: All four attorneys, including Chuck, think Wendy is guilty.
The mock panel scenes are fantastic, because I agree with the all-male lawyers that Wendy has done wrong, and that her career is based on a dangerous concoction of psychiatry and performance coaching. However, I take issue with their condemnation of her difficult behavior. It's another infuriating reminder that we live in a world where it's okay for Brett Kavanaugh to throw a tantrum in front of the Senate, but heaven forbid a woman gets frustrated in a legal proceeding.
Adding to Wendy's resentment is the fact that her medical-license troubles are messing with her husband's to-do list. Instead of supporting his wife, Chuck would rather see her take a deal so he can focus on far more pressing concerns, like his father's latest real-estate financing snag. Continue reading Billions Season 4 Episode 10 Recap: Vulture – May 26, 2019