United By Play
by Gingersnap | damian-lewis.com | June 12, 2022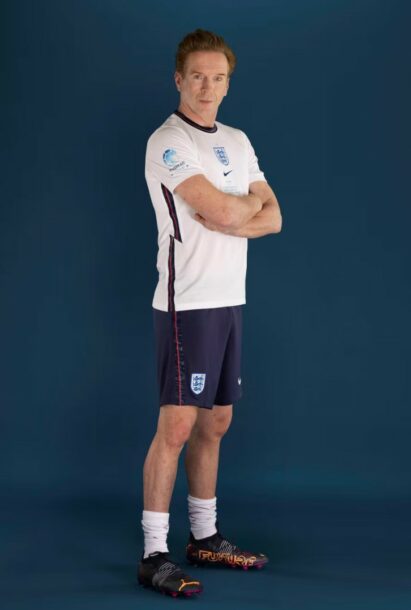 If you thought the World Cup was going to be the biggest sporting event of the year, think again because the world's biggest celebrity football match Soccer Aid is back! The annual star-studded charity football match returned today, Sunday, June 12, 2022, playing at West Ham's London Stadium at Queen Elizabeth Olympic Park in Stratford, but not before training sessions at Champneys Tring in Wigginton, North Yorkshire days prior.
There were footballing greats and celebrities involved in this year's game, and off-pitch the show was presented by UNICEF UK Ambassador Dermot O'Leary, joined by Maya Jama and Lionesses legend Alex Scott returned as pitch-side reporter. Kick-off began at 7:30 p.m. BST and coverage of the event aired on ITV television, with streaming available via ITV website and ITV Hub.
There was even a half-time musical performance from Soccer Aid founder Robbie Williams, who performed his famous hit 'Angels' and an appearance from UNICEF Goodwill Ambassador David Beckham.
During arrivals at London Stadium Damian had a short interview and predicted the match result as 4-1 in England's favor. While on the pitch he further elaborated and claimed England would indeed win it. He was asked if it was a coincidence that England lost without him in the last three years and he said it was one of the biggest coincidences. 😉  View video of that portion here. At the half-time mark the match was tied 1-1 as Damian donned jersey number 66 and played in the second half. He missed a sitter, as he looked certain to score, but dragged the shot wide. Damian looked stunned and gutted! And we were gutted for him. At 84 minutes in, Damian spotted Tom Grennan's dart into the area but he was offside. Going into tonight's match the two teams were tied with five wins each after 10 matches, yet this match ended in a 2-2 draw at full-time, going into penalties. World XI scored four penalties and England scored one. The winning Team was World XI, with a final score of 6-3. Sorry Damian! See Damian's score prediction here.
To view more photos of the event, please visit our Gallery here. We will keep adding photos as they are shared and published. Keep checking back!