All For A Good Cause
by Gingersnap | damian-lewis.com | June 8, 2022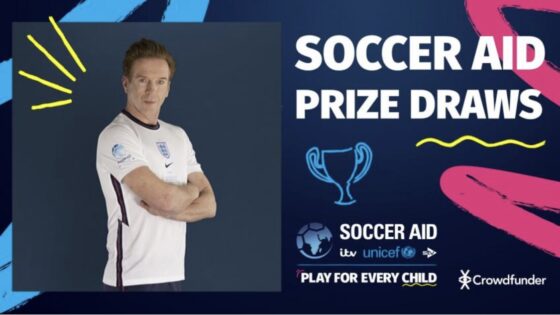 Enter the prize-draw to win Damian Lewis' match-worn shirt from Soccer Aid 2022, which will be signed by him! There are different tiers to enter, starting from £5 and escalating to £10, £25, £50 and £250. Each £5 you spend earns you a raffle in the drawing for a chance to win some exclusive prizes from the match. And you can enter as many times as you'd like! Winner is chosen by random draw. All proceeds go to Soccer Aid for UNICEF.
Click here to enter the Crowdfunder UK Prize Draw.  Submissions end June 17, 2022 at 6:00pm BST.
By being part of Soccer Aid for UNICEF you are joining one big team! Entering the prize-draw is a great way to show your support for UNICEF UK and win some exclusive prizes from the match at the London Stadium.
Free postal entry, send your details to:
UNICEF UK, Damian Lewis Prize draw
1 Westfield Avenue, London, E20 1HZ
See Terms and conditions above.