Mutual Heroes
by Shane Watson | The Telegraph | June 16, 2022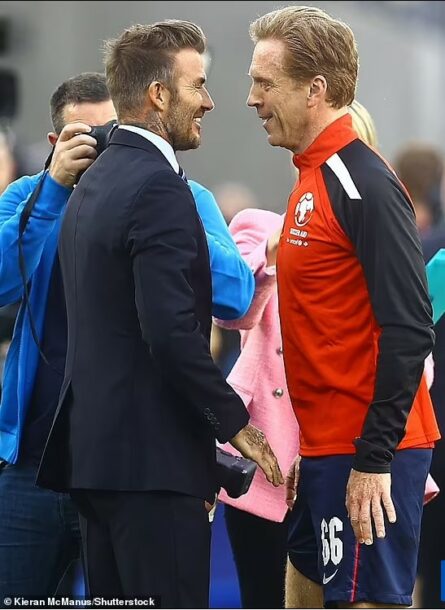 Men have friendships that women can't help but envy – and it's never clearer than when they're famous.
When Damian Lewis locked eyes with David Beckham on the football pitch at Soccer Aid, it was an electric moment. David lit up like a small boy meeting his dad at the arrivals gate and Damian smiled like he'd missed him and only just realised how much. This is what the Mutual Hero friendship looks like.
David looks up to Damian and Damian looks up to David. Because Damian is an Etonian with sporty aspirations, he will be in awe of David, and because David admires a classy bloke, and Band of Brothers is almost certainly top of his watch-once-a-year list, he will feel much the same. But with the Mutual Hero friendship it's also a matter of chemistry. Mixed in with the respect and the joy ("Look at us – we've still got it!") there's a whiff of a man crush going on. They both think each other are pretty fine specimens – all the more so because they're from different tribes.
Women will have looked at the pictures of these two walking into each other's arms and been reminded that male mates – especially in midlife – are surprisingly different from female ones. We may have friends who will instantly rally in a crisis, friends who know us better than our mothers and friends with whom we share every secret; but there are male friendships we can't help but envy for their mysterious unshakeable bonds and inexplicable loyalties. Here are some of the four types of friendship that midlife men have:
Read the rest of the original article at The Telegraph