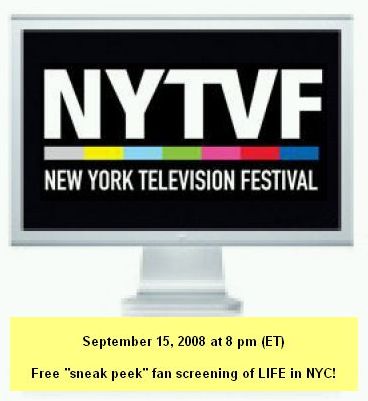 On September 15th the New York Television Festival will host a free, "sneak peek" fan screening for season 2 of Life starring Damian Lewis! ➡

According to Variety the television networks will use "premiere week" to gauge audience response to new and returning shows.

The information below comes from the Wall Street Journal:

Monday, Sept. 15, 8:00 PM – NBC's "Life"
Network premiere event (Premium or Festival passes only)
On Monday, September 15th, the NYTVF offers a special sneak-peek fan screening of the premiere episode of the sophomore police drama, "Life." Tickets to this event are free and open to the public. "The second season of "Life" premieres Monday, September 29th on NBC before moving to its new timeslot on Fridays at 10 PM ET.

"Life," from Rand Ravich ("The Astronaut's Wife") and Far Shariat ("Confessions of a Dangerous Mind"), focuses on a detective who is given a second chance. Golden Globe nominee Damian Lewis ("Band of Brothers") plays complex, offbeat Detective Charlie Crews, who returns to the force after serving time in prison for a crime he didn't commit. Crews' new lease on life has provided him with a Zen-like outlook, peace of mind and no need for vengeance, an attitude which can be challenging to maintain when someone he cares about is threatened — or when he is investigating the mystery surrounding the murder he was falsely accused of.

Lewis is joined by cast members Sarah Shahi ("Rush Hour 3") as Dani Reese, Charlie's skeptical and demanding partner; Brent Sexton (HBO's "Deadwood") as Officer Bobby Stark; Donal Logue ("Grounded for Life)" as Captain Kevin Tidwell, and Adam Arkin ("Chicago Hope") as Crew's former cellmate Ted Earley. "Life" is a Universal Media Studios production. Creator Rand Ravich is executive producer and writer; Shariat is also executive producer and writer, and Dan Sackheim serves as executive producer and director on the series.

Thanks to Connie for the news that NBC has started running a new promo for the season 2 debut of Life showcasing Charlie's interest in Zen beliefs.
According to Buddy TV writer Debbie Change:

"Frankly, it's surprising that Life was even renewed for a new season. But now that the show is relegated to Friday night at 10, it'll be even more surprising if it lives to see the end of the second season." 🙁

Click here to cast your vote and let poor, misguided Ms. Chang (and the rest of the world) know that you plan to watch season 2 of Life this fall!