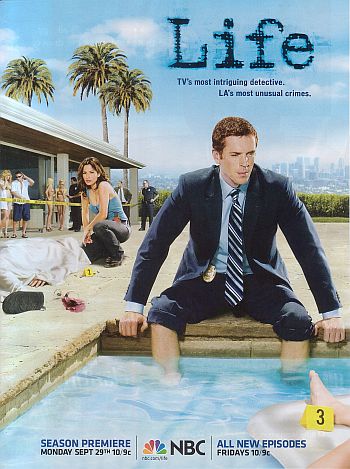 The September 12, 2008 issue of Entertainment Weekly has a fantastic article about season 2 of Life starring Damian Lewis! ➡

Thanks to Terry you can view scans of the article at the Warehouse and the text is available here. Click here to visit the project page for the upcoming season of Life.

Spoilers! Click here to read casting calls for episode 2.09 of Life titled "Badge Bunny." 😀
Only eight episodes of Life were televised in Australia last year but the remaining three shows from season 1 will air on TEN beginning September 24th. The series will pick up with 1.09 Serious Control Issues. According to this Australian viewer: "Lewis' performance is what gave the show a point of difference."

Unaired season one episodes will also broadcast on Spain's Telecinco network.

Walmart is selling the Life Season One DVD for US $19.86. The set is available: "online", "check store for availability", and "free shipping to store". They will also match competitor pricing if it is being sold elsewhere more cheaply.
Neil Miller at Film School Rejects describes Life as "one of the most fascinating shows on television."
Here's some more information from the lucky blogger who recently spotted Damian in a "Peet's Coffee and Tea Shop" in Los Angeles. He was with Helen and the children when she saw him, how lovely!

He was indeed with his wife and his two kids. Honestly, I saw him for about a second and didn't stare too much, so I'm assuming it was his wife. He had one baby on his back and there was another in a stroller, I think. I don't know what he was wearing. Unfortunately, I am the least observant person ever. I was kind of excited but I played it cool before going out and calling everyone I know.