➡ Happy 2nd birthday to Miss Manon Lewis! ➡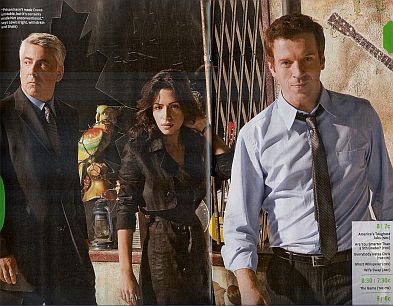 Spoilers! The NBC Universal Media Village now offers this synopsis for "Find Your Happy Place":

"ANOTHER TRUNK ANOTHER BODY—In the season two premiere, detectives Charlie Crews (Damian Lewis) and Dani Reese (Sarah Shahi) are on the hunt for a serial killer when three numbered trunks containing suffocated bodies are found scattered across Los Angeles. With their new boss New York transfer Captain Kevin Tidwell (Donal Logue) pressuring them to get answers, Crews and Reese race to find a connection between the murders before the killer strikes again. Meanwhile, Ted (Adam Arkin) and Crews attempt to track down the daughter, the lone survivor, of the family Crews was wrongly convicted of killing. Brent Sexton also stars."

The NBC Universal Media Village has added a brief page for "Everything…All the Time", episode 2.02 of Life which will broadcast in the US on October 3rd.

This interesting article is about a young man named Dan Samiljan, an assistant to Daniel Sackheim the executive producer for Life starring Damian Lewis.
News from the Blogosphere!

» Michael Kabel of Screaming Blue Reviews calls Life "One of last year's best new shows."

» The closing sequence from "The Fallen Woman" (episode 1.05 of Life) has been added to YouTube by mutualfunmanager.

» This blogger describes the Life – Season One DVD as "The best $20 you'll spend (this week, anyway)!"

Happy news! 🙂

Rupert Wyatt's acclaimed film The Escapist will screen in competition at the Dinard British Film Festival which takes place in France from October 2nd through the 5th; Click here and here for more information.

Jack Foley of Indie London gave The Escapist 4 stars and said:

"The Escapist hooks from the beginning by making clever use of a fractured narrative, cutting between the breakout itself and the build up to it. Hence, it poses questions about its central
characters that are only answered as the film progresses. It also tips its hat to established genre rules without necessarily copying them for exploitative thrills… Cox almost inevitably emerges with the most credit, his wily veteran offering a fascinating character to be around as he's forced to wake from his slumber to do what's right by his daughter and cellmate. But there's strong support from the likes of Fiennes, as a volatile bruiser; Lewis, as a softly spoken killer, and Cooper, as the youngster clearly out of his depth."

Helen McCrory's new feature film Flashbacks of a Fool starring Daniel Craig will also screen at the Dinard British Film Festival.

Sad news! 😥

Play.com and Tesco are now showing the release date for the region 2 DVD for The Escapist as January 5, 2009 instead of October 13, 2008 as originally listed.