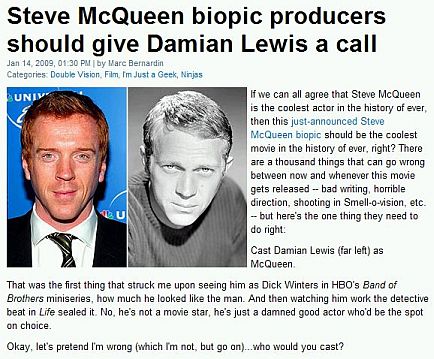 Production plans for a new biopic film about legendary actor Steve McQueen have just been announced in Variety and Marc Bernardin of EW's Popwatch feels that Damian Lewis should be cast in the role of McQueen! 😀

Click here and here for additional side-by-side pictures of Lewis and McQueen and click here for a McQueen film poster that has already been created by Adlervan!

The February 2009 issue of Empire magazine includes a review of The Escapist with Damian Lewis. Click here and here for scans of the review. The article gives the film "4 stars" and offers information about "DVD Extras" that include a commentary from director Rupert Wyatt and actor Dominic Cooper and a "Making of" featurette about the production. The Escapist will be released on region 2 DVD in the UK on February 9th.

The article references Get the Picture, a short film by Rupert Wyatt with Brian Cox, star of The Escapist. Click here to watch clips from this film available on composer Theo Green's MySpace page.

Writer Samuel Adamson talks about his new, modern adaptation of Ibsen's Little Eyolf (titled Mrs Affleck) in this Independent article. Samuel also discusses his 2005/06 National Theatre adaptation of Ibsen's Pillars of the Community starring Damian Lewis.