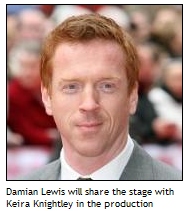 Damian Lewis is quoted in Metro.co.uk discussing Keira Knightly, his co-star in The Misanthrope:

Damian Lewis is positive that Keira Knightley will do a terrific job when she makes her debut on the West End stage. The Band Of Brothers star will be appearing alongside the British actress in the West End production of Moliere's comedy The Misanthrope, which opens in December. "She's got quite a successful acting dad and playwright mum, so she can handle herself – Keira is fabulous, she's an absolute sweetheart – she's looking forward to it as well so we're going to have fun," he said.

He added: "I'm very excited about doing The Misanthrope – massively. We did the photo call for it the other day, and it made it very real, very exciting." And Damian joked that he wouldn't mind the paparazzi attention. "If I can get in and out the stage door every night without fighting, I'd feel hurt – I'd be insulted," he quipped. The Misanthrope will be at the Comedy Theatre from December 17.