Homeland: Damian Lewis adopts the patriot act
How the flame-haired Brit became the star of TV's heir to 24
by David Stubbs, The Guardian, February 18, 2012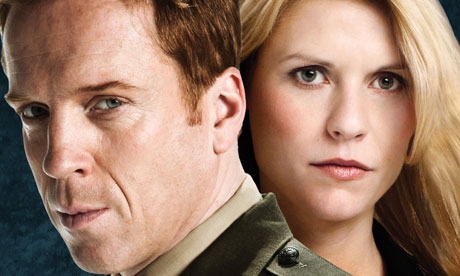 Survey Damian Lewis's CV and you'll find he's had a string of roles that required him to exude a certain kind of laconic, tight-lipped, battle-hardened maleness, holding it together as things fall apart. In 1999, he starred as a lieutenant in Warriors, a BBC production about British peacekeepers. He then crossed the Atlantic and starred first as Major Winters in Spielberg's Band Of Brothers, and then in Life as Charlie Crews, a detective imprisoned for a crime he didn't commit. Now, in new US drama Homeland, he's playing Sergeant Nicholas Brody, a marine who, while held captive in Iraq, might have been turned by al-Qaida. It's perhaps his most testing role to date, but one in which Lewis proves remarkably effective.
Those are the roles, but then there is Damian Lewis, actor, who breezes into the library of a Soho hotel, cheery and effusive in a big scarf, yellow buttonhole and slimcut jacket. He reminisces about hanging with fellow Etonian Dominic West and tracking down George Clooney's party at the Golden Globes (Lewis was a Best Actor nominee), generally holding forth 19 to the dozen as he tucks into a breakfast order of pancakes, maple syrup and bacon. The contrast with the characters is quite astonishing, like Sean Bean turning out in real life to be more like Russell Brand.
"I do have this dual persona," admits Lewis, who spends seven months of the year in the UK and five in the US. Does he maintain the American accent when he's working in the States? "I do! I'm one of those idiots," he roars. "When I'm working in America, I wake up with an American accent and stay with it all day till makeup comes off. I just want everyone to be at ease, and not have the show's creators think, 'Oh my god, he's so English, why did we hire him?'"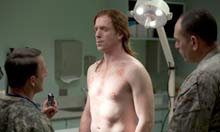 Damian Lewis bares all in the Homeland pilot. Photo: Jim Bridges/ShowtimeHire him they do, however, most recently in Homeland, which debuts in the UK this week. It's made by Howard Gordon and Alex Gansa, both of whom worked on 24. But whereas that series eventually palled for many, Homeland – while equally gripping as it twists and unfurls – might find greater longevity thematically and in its central characters (Claire Danes won a Golden Globe for her role as a tenacious loose-cannon CIA agent with a bipolar condition). If 24 espoused a wishful, bravura sense of America as the world's most effective global policeman, attaining results via methods that weren't always for the squeamish, Homeland is more reflective and ambivalent, more conscious of the blowback that can result from ill-considered overseas intervention, bringing home the anger and resentment bred by US foreign policy.
Read the rest of the article here.