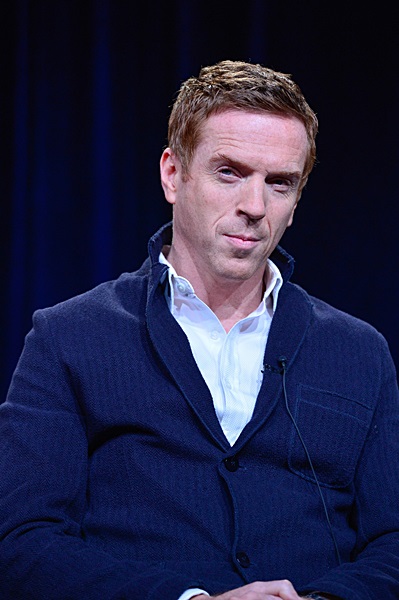 The Homeland alum relied on two decades of invaluable Hollywood lessons to tackle lead roles in a pair of new television projects, BBC Two's period drama Wolf Hall and Showtime's high-finance pilot Billions.
When Damian Lewis faced the press on Jan. 19, for the first time since he was killed off Showtime's Homeland in December 2013, the 43-year-old still bore an uncanny resemblance to Sgt. Nicholas Brody, thanks to his close-cropped hair, rigid posture, and clean-shaven face. But it quickly became clear that, on the inside, he couldn't be more different than the man who signed on to the series in 2011.
Thanks to Homeland, Lewis — who calls himself an "autodidact" — was afforded some incredibly unique learning experiences. "I love doing projects where there's something to be learned," Lewis told BuzzFeed News, sitting at the far end of a long, empty dining room table of an ornate hotel conference room in Pasadena, California. To properly bring Brody to life, he studied the Qur'an and learned about the Islamic faith and the experiences of U.S. Marines deployed in Afghanistan. "The wonderful thing about acting is you can be on a 40-year university course."
But Lewis has also grown through the wisdom gleaned from his own professional mistakes — again, most recently through his role on Homeland, for which he won an Emmy Award in 2012.
Lewis' character, Nicholas Brody — an American prisoner of war who was rescued and returned home a changed man (not so spoiler alert: He was a sleeper agent for the enemy) — was not designed to remain on the series indefinitely. But when the show clicked with critics and fans took a shine to Brody's burgeoning relationship with CIA agent Carrie Mathison (Claire Danes), the creators' initial plan was scrapped. But by the third season, many viewers had grown weary of the duo's increasingly operatic romantic entanglements and the character was, as initially planned, killed off in a brutal and shocking death scene.
"He had to go," Lewis said, without hesitation. "When I took the show, I was really of the understanding I would only be there for two years. I stayed for a third season because TV rollover came into play: 'This is our show and we can't get rid of him.' I think the one area of the story the writers weren't clear would work was this relationship. So when it worked, they were ambushed by success of that central storyline and they had a problem because people were now tuning in to see this relationship.
"We set out to make a different drama: a show about the flawed characters at the center of a flawed central intelligence agency that is protecting the interests of a flawed country in the name of a flawed idea — which is called democracy — against a bunch of radical, violent people. This was our big central idea and [then we had] people tuning because they want to see if these people are going to get together or not."
A Brody-less Season 4 of Homeland premiered in October 2014 to promising reviews, as hopeful critics noted the show looked to be returning to its roots. That promise paid off — in spades — as Homeland experienced a complete creative resurrection. "I think they did a brilliant job of just extricating themselves, tiptoeing away from the situation," Lewis said of the fourth season, which went on to earn rave reviews. "What they've been able to do in Season 4 is get back to the nuts and bolts of the CIA and this great, brilliant, flawed character, the manic-depressive at the center of it all."
Homeland's presence is still felt in Lewis' life. "It can be aggressive, that kind of adulation," he said, crossing his arms and leaning back in his chair. "People can go a little bit crazy, so there's quite a lot of manhandling in the streets. Now I know what it must have been like to be Brad Pitt for an entire lifetime, ever since he did that scene in Thelma and Louise where he took his top off — I'm straight and that scene did it for me as well. There's a very small group of people who have lived at that elevation and at times it was overwhelming, but I've enjoyed slightly calmer waters subsequently."
During that downtime, Lewis returned to Guildhall School of Music and Drama, his alma mater, in an attempt to parlay some of his Hollywood knowledge to a new generation of actors. "I tell the students, your ambition shouldn't be to be in Homeland or Lord of the Rings because those really are so rare," he said. "You can be a talented, brilliant, successful, well-paid actor without having one of those moments. That moment is a phenomenon when something like that happens. No one goes to drama school to be famous; I had no notion I would be doing American TV shows or films — I grew up going to the theater, a very middle-class family that toddled off to the theater all the time, and that was my love and my experience of the art form. So I went to drama school saying, 'I'm going to go to the Royal Shakespeare Company and I'm going to be the new generation of great theater actor.' Then the entertainment landscape shifted dramatically just as I was coming of age as a male actor.
"Suddenly, the TV industry transformed itself and, arguably, I was in the vanguard of that with Band of Brothers," he continued. "For the first time, someone was prepared to spend $120 million on a TV show, go and film it abroad, hire local crews and local talent to make use of the tax break — that's starting to sound a bit like a film to me. Then, after that, Brits were allowed to do American TV, Australians were allowed to do American TV. It had always been a very American thing. I can only think of Pierce Brosnan on Remington Steele. Sure, there was the occasional Brit that showed up in things, but it just got opened up to us and it's because TV became this more independent-feeling art form and people would go abroad to shoot. The whole thing is terrific for someone like me; I'm just very lucky that it happened in this time."
After HBO's acclaimed WWII miniseries Band of Brothers, Lewis starred in 2002's 10-episode retelling of The Forsyte Saga, 2003's big-budget adaptation of Stephen King's Dreamcatcher, 2005's powerful Keane, and Life, a 2007 NBC drama about a man who is released from prison after 12 years for a crime he didn't commit.
"After Band of Brothers I was given opportunities and I just had a not very good experience being in Hollywood," Lewis said nonplused, the passing years having dulled the sting. "At that point, I resolved to follow the good scripts, whether they be in film, TV, theater, or radio. And I've done that — mostly. I think I'll continue to try to do that. I'm not very good at taking projects because there is some perceived wisdom that this is what one does next. If it doesn't speak to me, I won't do it. That's the truth of it."
If the industry finds Lewis unwilling to play their game that's because he carries with him the lessons of years and projects past, and reminds himself as he would remind his students: "Just remember that people have short memories. They will love you while they love you, and then after that it's 'Damian who?' That's show business. You've got to just concentrate on doing the thing that exercises you, energizes you."
Hollywood is — at least for the time being — a much more hospitable environment for Lewis this time around. "I have even more choice," he said of the projects offered to him with Homeland on his resume and a Best Actor Emmy on his shelf. "I made two or three films, the scripts of which I really liked, and then I didn't really read any other film scripts I really liked. Gone are the days when you take a movie because it's a movie. Fifteen years ago, that's what you did. You don't do that anymore because you could very quickly be in three very not good films and that's it — your Homeland window just closed. Because TV is now what it is, you can choose TV and no one looks at you funny and says, 'Why are you doing TV instead of movies?'"
That notion led Lewis to Wolf Hall, a six-part miniseries adaptation of Hilary Mantel's Booker Prize-winning novels about Thomas Cromwell (Mark Rylance), the conniving confidant to King Henry VIII (Lewis) during his reign. "I loved the books, I loved Hilary Mantel's reimagined world, and a little bit of a reappraisal of this central character, Thomas Cromwell, who — certainly if you're a Catholic — is second only to Satan," Lewis said.
He was also attracted to Mantel's incarnation of the oft-played Henry VIII. "We find a man who is not this great philandering, syphilitic Elvis," said Lewis. "He's a rounded, complex, Renaissance prince who desperately wants a son and is clearly, in our version of it, at times childlike, impetuous, explosive, tender, and loving. It's interesting to get a look at Henry in this rounded way — and also quite a fresh way to approach Henry because he's not the star at the center of his own story. You tell a story about the Tudor court, Henry the VIII is usually the starring role. Thomas Cromwell is the star here, so you get snapshots of Henry and I think it gives us opportunities to show the man, individual moments of him that I think will ring very clearly and loudly in a different way."
Through that role, Lewis learned that sometimes you must rely on the gifts of others to support and enhance the skills that you bring to the table. "It's hard to play a king," Lewis said. "You realize that you have to let external things influence your power. So, [they] put me in these extraordinary clothes — he's very much the peacock, always the most colorful man there. He's always got a bit more fur than anyone else, his codpiece is a little bit longer. Then, with the brilliance of Mark and others, they play a slightly more deferential role. Choosing when to make eye contact, choosing when not to make eye contact, stillness, sometimes a measured quality in the delivery: All of those things can help you with status. People who … feel no need to rush, they're used to being listened to and not interrupted. It's finding different pace and rhythm."
Lewis will next return to a place he knows all too well, starring (alongside Paul Giamatti) in an episodic television series for Showtime, Billions, a Wall Street drama written and executive produced by Brian Koppelman and David Levien (Rounders) and Andrew Ross Sorkin (Too Big to Fail). While Lewis learned the hard way what can come from building a character piecemeal as scripts come in, it's also an exhilarating experience that he can't wait to tackle again.
"I used to worry that you won't always know what's going to happen in the story because, quite frankly, sometimes the writers don't know," he said. "They have a broad outline, but things shift and change from week to week. People come in with ideas and they develop a slightly different storyline than they thought they were going to. I've come to like the spontaneity of that. Getting a new episode every 10 days is like going to bed, picking up your novel, and reaching the next chapter. And it's great fun to go, 'Wow, I did not see that coming — and now I'm going to play that!'"
Perhaps the most important lesson Lewis has taken to heart is to confront the past and not run from it.
"I put myself back in the situation I was in before, which is always a slightly ball-tightening moment," he said, with a laugh, of committing to another long-term series. "There's no way of knowing how a show is going to turn out, but it's the same with film. You can sign up with some of the most respected names in Hollywood and it can be a turkey.
"Everyone's doing their best, but things don't always work out. It's the same in everything you do. I'm going to do a play in the West End (American Buffalo) and it's David Mamet, so it's only ours to fuck up. I mean, we won't try to — but we might!"
Wolf Hall premieres Jan. 21 on BBC Two and April 5 at 9:55 p.m. on PBS's Masterpiece.
Source: BuzzFeed