Designing His Own Philanthropy, Part 2
by Lynda – guest blogger for Fan Fun With Damian Lewis – May 18, 2017
Part II of Lynda's detailed survey into Damian's generous heart. In case you missed Part I, it is here.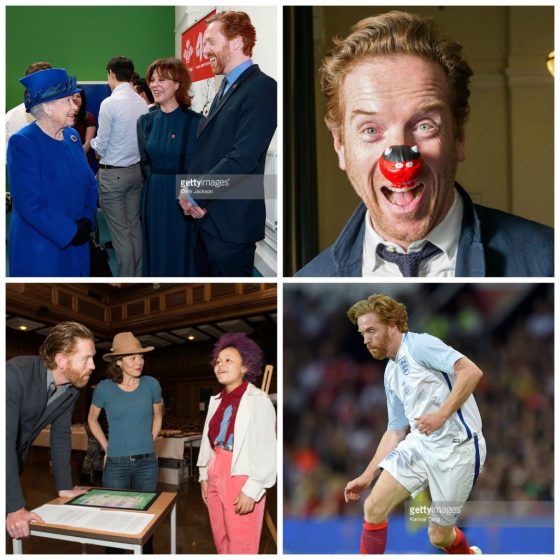 Programs benefiting children are near and dear to Damian's heart. Since 2000, he has donated his valuable time serving as an Ambassador for The Prince's Trust. In 2008, in a brief street interview on London news, Damian spoke about the importance of The Prince's Trust providing opportunities for at-risk young people who might not otherwise follow positive paths in life.
In June 2013, for the 30th anniversary event at the Centre, he and Helen, also an Ambassador, donated their time at the vocational center Enterprise Programme, which supports youth development, mentorships, self-confidence building, and entrepreneurship. There, they actively engaged with program participants, learning about the benefits of the program and offering encouragement.
Most recently, on February 9, 2017, Ambassadors Damian Lewis and Helen McCrory attended The Prince's Trust "Invest in Futures" formal reception enjoying the company of Prince Charles himself.
Sure, Damian loves to play footy and has told interviewers that playing sport might have been another career choice for him. We know he thrives on the competition and playing alongside soccer legends (including Zidane, Sheringham, Redknapp). And, we fans love to see those red locks flying as he runs the length of the pitch.
But the charitable cause was UNICEF and Damian played in the pro-celebrity games in 2006, 2010, 2014, and 2016. These games have brought in the stadium crowds, the television viewers, and the sponsors to raise large sums of money for the cause (more than £20 million since 2006; nearly £5.4 million in 2016). Damian's celebrity, along with that of other arts, entertainment, professional sports (former professional players, known as "The Legends"), and public figures helped attract donors to the stadium (15,000 fans attending in 2016!), and lots of autograph and selfie-seekers on those days. No one says you can have fun "doing good"!
*(As an aside, we learned that *Lewis plays football for a team in King's Cross called Anvil FC. He's always loved the game and told London Evening Standard he uses it as a form of therapy.
"I enjoy the total absorption in a white ball and 10 other guys and the focus, and the way it releases everything else from your mind. It's brilliant, it's the best occupational therapy I can think of. You run around and get fit and it releases any anger or tension that you have. I used to play at 7.30 on Thursday mornings in New York. I'd haul myself out of bed, even if I'd had a night shoot that finished at 2am and go and play. I love it."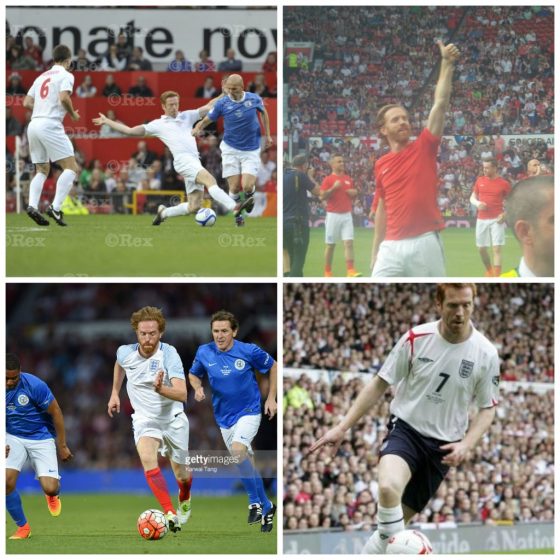 Damian has participated in some international charity activities, as well. He served as a Trade Justice Ambassador for Christian Aid, traveling to Bolivia in 2005 to make a film "Bolivia for Sale," focusing on inequality and survival of the people and communities where the natural resources and public services are being sold off to private interests. Recently, Damian asked his Twitter followers to support ShelterBox, an international disaster relief charity that delivers emergency shelter and vital aid to people affected by disaster worldwide. And, in January 2017, Damian donated a drawing of his to Anno's Africa for a raffle to raise funds for arts education for children in Kenya.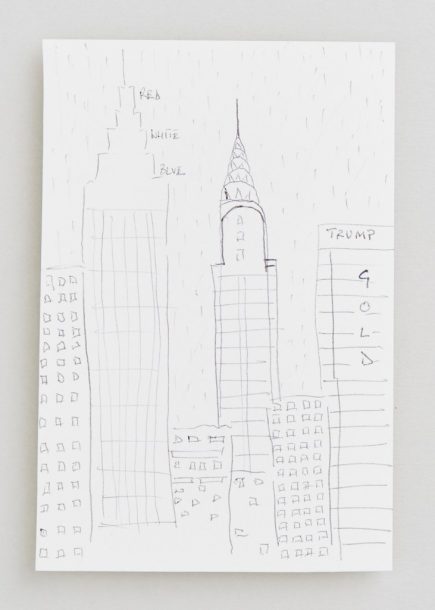 Family and community are important to this philanthropist, as well. In May 2013, he was the featured guest in the official opening of the restored historic medieval Aberglasney Mansion and Garden at Llangathen, in Carmanthenshire, West Wales. Both Damian and Helen are of Welsh heritage, and they have a family farmhouse in West Wales where they gather periodically with their large families.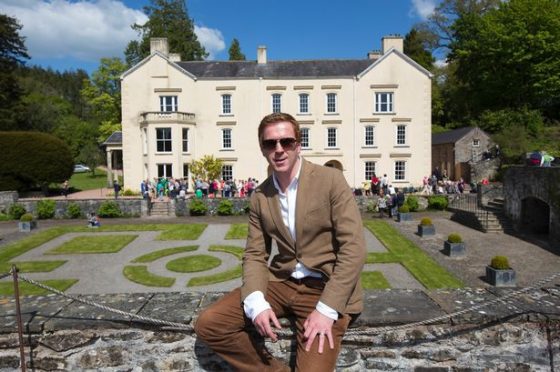 At the ribbon-cutting at the renovated mansion, he spoke of the importance of Wales to his family and the need to preserve its special historical sites. Speaking of his love for the area, Damian said, "I rush here."
In September 2014, Damian and Helen participated in a sweet, civic-minded, video to welcome U.S. President Barack Obama to Wales.
We know that Damian loves London and repeatedly expresses his civic pride for this "best city in the world." Most recently, in his April 19th Guardian Webchat, he said:
". . . one of the great things about London is its ability to change, morph, and become different cities for different eras, in a way that some European cities don't. And interestingly, they can feel quite provincial when you visit them as a result. Albeit beautiful. But I think London's ability to be a constantly changing, breathing organism is a good thing. We have to protect its soul, that's true."
In his local community, Damian was a guest of honour and speaker at the 50th anniversary celebration of Acland Burghley School, a state school with special emphasis on performing arts and creative studies. In this visible gift to his community, Damian said in his speech:
"It seems to me that this evening is about a celebration of our community here in Tufnell Park and the role the school has played here in Tufnell Park in the last 50 years. . . It strikes me every time I walk down the street that there is more creativity, independence and support in this neighbourhood than any other neighbourhood I have lived in London. . . exactly the qualities they teach the students here at Acland Burghley."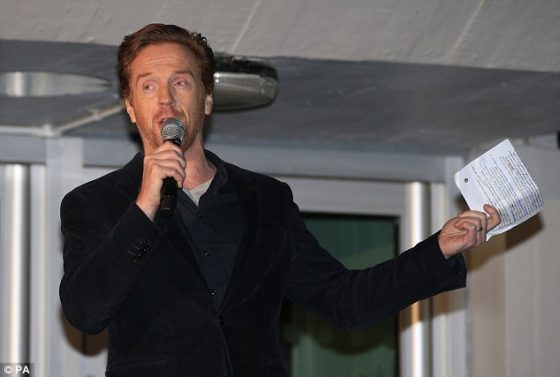 Damian and Helen don their evening finery and regularly attend fundraising events for environmental causes, programs supporting at-risk populations, and arts programs for children. These include the 2016 Rainforest Fund Concert, to raise awareness for the work of the Rainforest Fund, which provides support to communities of indigenous peoples throughout Brazil and other countries. In February of this year, they attended the Sheriffs' and Recorder's Fund fundraiser, "In the Spotlight with Martha Kearney," an event to support ex-prisoners and their families in starting a new life.
Helen also attended the March 2014 Save the Children fundraising event. In September of that year, Damian and Helen were patrons of a fundraising gala to support learning projects at the U.K.'s National Theatre. Damian and Helen are both patrons of Scene and Heard, a Somers Town, London registered charity, that provides mentoring for inner-city school children, using playwriting and other drama skills to benefit the children who might otherwise not have these enrichment opportunities.
Damian and Helen are strong supporters of children's arts enrichment programs. In June 2015, Helen became a patron for the Sir Hubert von Herkomer Arts Foundation, which funds after and out of school arts classes in primary and secondary state schools in England, providing children with the inspiration and tools to develop lifelong artistic passions.
Both she and Damian previously sat for photographic portraits for the Foundation to be used to raise awareness of the Foundation's work and for a fundraising exhibition.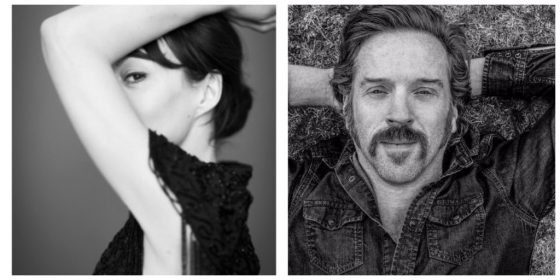 In the recent Guardian webchat, Damian repeated his passionate support for funding children's arts programs:
". . . it goes without saying, I hope, that theatre and the arts generally in my view are a fundamental and important part of any child's education, and to see any more cuts would be sad."
London Evening Standard Dispossessed Fund joined forces this year with Comic Relief Red Nose Day, an event to support at-risk individuals who face poverty and injustice. Damian said:
 "I am particularly interested in helping people both in London and the rest of the UK. A damaged life here is not only damaging to the person but the people around them. That can have a long-lasting and far-reach impact."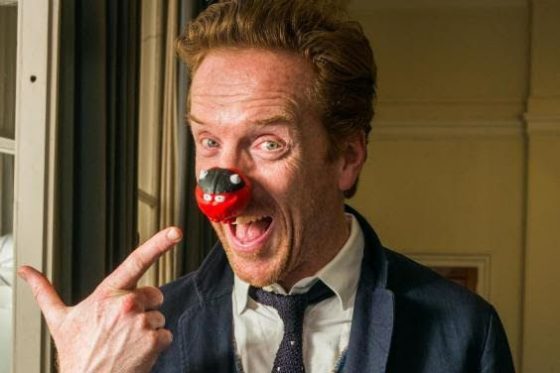 Below is a photo from a Red Nose Day 2013 skit created by the Vicar of Dibley actors and Damian.
In another family shout out, Damian tweeted this past March 22nd his support for his niece Malika and her London upper school friends for their work to support Zero Hunger Plan, an effort to fighting hunger worldwide. Looks like the family has philanthropy in the blood; even its young ones have the spirit.
So, while we lack the definitive word from Damian about his charitable giving priorities and whether his family has designed a purposeful giving strategy, we can see from his philanthropic actions that he has a warm heart and has donated considerable time bringing visibility to charities that serve vulnerable young people (suffering illness, living in poverty, facing challenges in career development, lacking arts enrichment and opportunities) and to medical charities that offer research and treatment funding (particularly for prostate cancer, cancer generally, and RDEB). He generously gives his time to perform, record, make speeches, make phone calls, and to engage with program participants on behalf of these important causes. (As a side note, Damian Lewis is the polar opposite of the fictional Bobby Axelrod, who uses his crass "philanthropy" to exact revenge, to distract law enforcement from his criminal acts, and for reputation repair.)
We assume that Damian and Helen want to carry on their charitable efforts and raise philanthropic children, as well. In the future, we will likely see them engage Manon and Gulliver in " work days" on behalf of local and national charities. There are many life lessons to be had there. My philanthropy consulting practice has taught me that giving together makes a great family outing, a rewarding one for this highly visible and inspiring family – and for all of us, too.
Source: Original blog post from Fan Fun With Damian Lewis