XXXXXXXXXXXXXXXXXXXXXXXXXXXXXXXXXXXXXXXXXXXXXXXXXXXXXXXXXXXXXXXXXXXXX
Showtime Launches App for LG Smart TVs
UPDATED March 28, 2018
by Jeff Baumgartner | Multichannel.com | March 28, 2018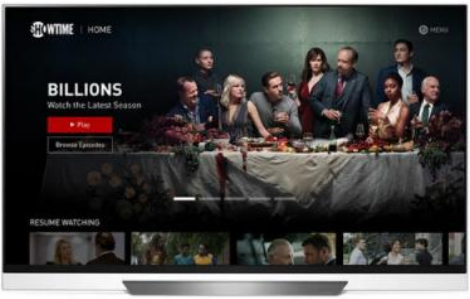 Showtime said it's the first cable network to launch an app on LG Electronics smart TVs that run webOS.
The launch, which includes access on LG's new 2018 OLED TVs and Super UHD TVs with AI ThinQ built-in, spans both Showtime's standalone OTT service (called SHOWTIME and sold for $10.99 per month) as well as Showtime Anytime, its authenticated TV Everywhere service that is part of a pay TV subscription.
Showtime said its standalone OTT service, launched in July 2015, has well over 2 million subscribers.
The app launch on LG smart TVs expands on Showtime's streaming reach on other platforms that include Samsung smart TVs, Roku, Apple and Amazon devices, and the Xbox One console. Showtime is also distributed by vMVPDs and digital partners such as Hulu, YouTube TV, Sling TV, DirecTV Now, PlayStation Vue, fuboTV and Amazon Channels.
Read the rest of the original article at Multichannel.com
XXXXXXXXXXXXXXXXXXXXXXXXXXXXXXXXXXXXXXXXXXXXXXXXXXXXXXXXXXXXXXXXXXXXX
When Does Billions Return?
by Keisha Hatchett | TV Guide | February 12, 2018
Season 3 Premiere: Sunday, March 25 at 10 EST/9 CST
Channel: Showtime
Watch Online: Watch on Showtime network app or fuboTV (try for free)
Stream First Two Seasons: Available on Hulu
Paul Giamatti and Damian Lewis will continue their quest to destroy each other when Billions returns for its third season. The drama centers around federal prosecutor Chuck Rhoades Jr. (Giamatti) as he goes to bat with hedge fund billionaire Bobby Axelrod (Lewis) over his financial crimes as an inside trader, and explores how things aren't so black and white when it comes to the so-called villain Axelrod, who uses some of his illegally obtained funds to pay the college tuition for the children of his colleagues who perished on 9/11.
As Chuck and Bobby continue their dangerous game of chess, they must also fight for their own survival when outside forces threaten their livelihood. The new season will see John Malkovich join the cast as Russian billionaire Grigor Andolov.
Catch the Season 3 premiere Sunday, March 25 at 10/9c on Showtime or stream it on the network's app. Plus, you can also watch the episode live on fuboTV. If you need to catch up, the first two seasons are available on Hulu.
Read the rest of the original article at TV Guide