Wall Street Wizard and Self-Made King Who Makes it Rain
by Elizabeth Kaye | Watch! Magazine | June 8, 2018
Award-winning actor Damian Lewis makes fans swoon as powerful Wall Street wizard Bobby Axelrod on Showtime's hit series Billions.
Some say that acting is an exercise in pretending—though mere pretending, with its intimations of considered fakery, seems too shallow a frame. More accurate are those who insist that acting is, at its best, a form of lying; a masquerade so thorough and convincing that it can seduce the viewer into believing the masquerade and the person behind the mask are one and the same.
By this measure, Damian Lewis is a masterful professional liar whose searing portrayals of blue-collar Americans belie his own rarified roots as the grandson of a Lord Mayor of London and an upper-crust Brit educated at Eton for whom Queens, we can safely assume, evokes not a borough east of Manhattan, but Elizabeth and Victoria.
His Bobby Axelrod—Axe—in Billions is performance as hostile takeover, a barrage of cyclonic energy commingled with the eerie stillness of a tiger about to pounce.
Bobby's unvarnished swagger behooves a man who delivered newspapers as a boy and now finds his image, for better and worse, emblazoned on their front pages.
But he's not your generic self-made man. He's a self-made king: the former parking attendant who's amassed a stable of cars, the erstwhile caddy once forced to settle for a measly 16 bucks a loop who secures naming rights to a building currently inscribed with the name of the golfer who fired him.
If you need proof that revenge is a dish best served cold, take a look at the barely concealed smirk on the face of Bobby Axelrod when he stiffs the man's family for a tidy $16 million.
The uniformly adoring descriptives of Bobby offered up by his relentlessly self-indulgent wingman Wags (David Costabile) run to macho-drenched phrases like "a jaguar shark" and "as steely as a Roman centurion."
Axe surrounds himself with characters as complicated as himself, like David Costabile's manic, insecure Wags and Maggie Siff's loyal yet divided Wendy Rhoades.
For an index of how seriously Bobby takes this bellicose identity, and how seriously he requires others to take it, consider that his chief of staff commits a firing offense by telling him, "You are not a machine. You're human."
It's a statement that would offend a less furiously driven man purely because it's so absurdly obvious, but Bobby responds by saying, "I'm not human. I am a machine. I'm a f*cking terminator." Lewis issues those rapid-fire words, spat rather than spoken, with the fatal intent of bullets from an Uzi.
All of this bludgeoning behavior is delicious to watch, not least because Lewis has given us a character who clearly delights in it too. Yet what vaults his riveting performance from the pedestrian "good" to exceptional—even great—are those unexpected flashes of vulnerability when the stony machismo melts away like frost confronted with sunlight.
"I'm a flawed man," he tells his young sons. "I'm not perfect. I'm not always right. I don't always win." A moment like that can leave you wondering if, at times, Bobby's revved up Master of the Universe persona serves the same purpose that thorns serve on a rose.
Damian Lewis knew he wanted to be an actor by the time he was 16 years old. A few years later he did what gifted British boys do enrolled in the Guildhall School of Music & Drama, where he absorbed a classical theater training that readied him to perform in Hamlet by the age of 23. As a student, one of the actors he admired most was Jack Lemmon, with whom he would come to share a gift for portraying dubious, scheming characters in a way that somehow made them attractive and sympathetic. He was also, as he once put it, "cowed" by the brilliance of an actor a generation ahead of him whom he described some years ago as "a British actor working at the moment called Mark Rylance." These days, Rylance is the much-lauded Sir Mark, the man who played Cromwell in the BBC Two miniseries Wolf Hall opposite Lewis' Henry VIII, another powerful figure harboring furtive concerns of illegitimacy.
British actors often rely on a meticulous, all-encompassing technique which allows them, as Emma Thomson told me, "to stand in the wings trading recipes for kidney pie and then go onstage and play Medea." It's a cool and reasoned approach, one that prompts Lewis, when constructing a character, to work from the outside in, seizing initially on defining physical traits. His tautly wound Bobby is peppered with qualities he noted when scrutinizing hedge fund guys who were, he says, "very, very concentrated listeners-watchful and articulate and quick to defend, if needed."
With azure eyes alternately clouded and blazing, he adroitly depicts Bobby's kaleidoscopic shifts of mood and mind, in the process creating a uniquely mesmerizing and anomalous figure: neither wholly bad nor good, expansive and constricted, impetuous and canny, the duke of a domain over which he rules, variously, as Robin Hood and Gordon Gekko.
Ultimately his Bobby is a human litmus test, given that the way you perceive him may say less about him than about yourself. From a certain vantage point he's merely a rapacious profiteer. Yet from another stance, he's an avatar of this confused and confounding time: the compromised man who blithely screws his enemies but never cheats on his wife and has an unexpected moral dimension.
Axe and Lara's relationship is painted as solid from the first episode, with each character actively choosing the other. But in a show as nuanced as Billions, the choices characters make are utterly human.
Billions' combustible action is fueled by Bobby's blistering death match with the self-compromising U.S. Attorney Chuck Rhoades, played by Paul Giamatti with the requisite sleazy shamelessness. But Bobby's consider nuances are exposed more notably through his interplay with the two women he loves for antithetical reasons: his wife, Lara, portrayed by Malin Akerman, who, like Bobby, started out with nothing, ended up with everything, and now wants more; and Maggie Siff's Wendy Rhoades, wife of his nemesis and the ingenious performance coach who became his professional partner long before either of them were married. It's Wendy who has kept him grounded as he went about the tangled task of building an empire.
He'll deceive Wendy when he thinks he has to, but his regard for her abilities is absolute. Lara was a nurse, but Wendy is a psychiatrist whose unparalleled skills Bobby relies on. Lara not only knows this, she resents it. And it's what makes Bobby's contemptuous words so vicious and searing when he snarls at her, "What is it you do that you're the best in the world at?" It's a scene in which Lewis substantiates that ice can burn you.
By the end of season two, Bobby and Lara's preternaturally solid marriage has become soluble because of his need to keep Wendy in his life. So much so that before he surrenders to the FBI and is hauled off to jail, he tells Lara that he's coming home to say good-bye to her and their two boys merely as a way to throw his arresters off the scent, arranging instead to meet Wendy at the World Trade Center Memorial, the site where they embarked on their journey together back when the Twin Towers had just gone down.
In this key scene, Bobby's alpha male bluster has been stripped away, subsumed in a sudden solemnity. "What if I told you," he says to Wendy, "that pretty much every decision I've made since we've worked down here together has been the wrong one. Would you help me find my way back?"
Perhaps, given Lewis' multilayered performance and his character's serpentine ways, Bobby is employing his own vulnerability to service a cause known solely to him. Or maybe Bobby's words are simply what they seem and he's discovered, at least for the moment, that honor is a commodity more previous than winning.
Then the Fed show up and swoop toward him and he signals his resignation and helplessness by simply gazing at Wendy and raising his eyebrows. The poignancy that Lewis achieves so economically in this delicate scene is the acting equivalent of etching on glass.
Now, at what can be no more than the midpoint of his career, the man who once explained "There's something of the puritan work ethic about me" has earned the right to say what Laurence Olivier said of himself: "I'd like people to remember me for a diligent expert workman. I think a poet is a workman. I think Shakespeare was a workman. And God's a workman. I don't think there's anything better than a workman."
Part Two of the Feature Story:
The Real Deal
by Christina Banks | Watch! Magazine | June 8, 2018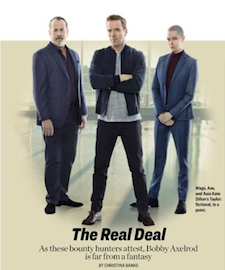 Bill Ackman, Steven Cohen, Ray Dalio, and Dan Loeb: As these bounty hunters can attest, Bobby Axelrod is far from a fantasy. For a complete professional profile of these hedgies and their reported net worth, billionaire lifestyle, boss style and what each are famous for, then visit Watch! Magazine and subscribe today for the rest of this feature story.
Pick up the May-June 2018 issue of Watch! — on newsstands now!
Watch the season finale of Billions on Sunday, June 10, 2018 at 9/8 Central on Showtime and stream full episodes on Showtime Anytime.