Battling it Out for England Alongside His Band of Brothers
by Gingersnap | damian-lewis.com | June 10, 2018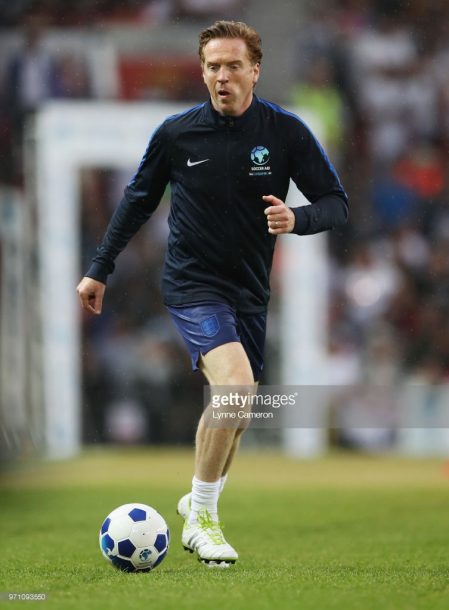 THE ANNOUNCEMENT
As we previously announced, Damian returned to the Pitch as Central Midfielder for 2018's Soccer Aid for Unicef charity event, held Sunday, June 10, 2018 at Old Trafford football stadium in Manchester, UK and he could not wait for it!
PREPARATION
In the days leading up to the event the kits were pressed for a Soccer Aid Reception with the Prime Minister at 10 Downing Street and the squads limbered up with training practice at Fulham FC training ground, Motspur Park, in New Malden, England.
But not before Damian took the Keepy-Uppy challenge for Department for International Development (DFID), an organization that leads the UK's work to end extreme poverty.
And the pre-festive rounds didn't stopped there, as Damian and fellow teammate Lee Mack appeared together on the BBC talk show 'The One Show' to discuss this year's Soccer Aid event. You can read more about that here.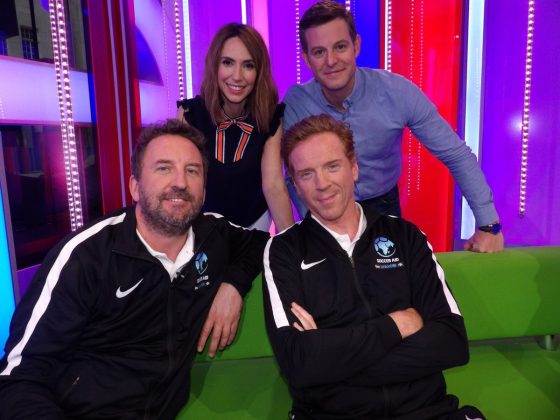 EVENT AND TEAM INFORMATION
In a bid to lift that coveted trophy, Damian joined England's team led by Captain Robbie Williams vs. Soccer Aid World XI squad led by Captain Usain Bolt. The international football extravaganza is one of the biggest fundraising events in sport all in the name of charity, with proceeds going towards Unicef's children's programs providing vaccine doses, improving drinking water and updating school facilities.
The match kicked-off at 8:00 p.m. in front of the biggest ever Soccer Aid crowd of 71,965, refereed by Mark Clattenburg, presented by Kirsty Gallacher and Dermot O'Leary, and broadcast on ITV and STV, but not before DJ, songwriter and producer Jonas Blue opened the show with an exclusive performance, as well as live music from Jessie Ware.
SQUADS & LINE-UPS
Soccer Aid Manager– Kenny Dalglish
Team Robbie Williams (England)– Robbie Williams, Coach Ben Shephard, Manager Sam Allardyce, Assistant Manager Bradley Walsh, Assistant Manager John Bishop, Olly Murs, Joe Wicks, Mark Wright, Michael Owen, Robbie Fowler, Jamie Redknapp, Danny Murphy, Phil Neville, David Seaman, Wes Brown, Mo Farah, Paddy McGuinness, David Harewood, Lee Mack, Andrew Flintoff, Myles Stephenson, Jermain Defoe, Billy Wingrove, Blake Harrison, Jack O'Connell, Darius Vassell, Darren Bent, and Damian Lewis
Team Usain Bolt (Soccer Aid World XI)– Usain Bolt, Coach and player Eric Cantona, goal keeping coach Vic Bettinelli, Clarence Seedorf, Robert Pirès, Gordon Ramsay, Brendan Cole, Yaya Toure, Edwin van der Sar, Jaap Stam, Patrick Kluivert, Kevin Pietersen, Dan Carter, Ashley Fongho, Martin Compston, Ioan Gruffudd, Nicky Byrne, Robbie Keane, Jeremy Lynch, Juan Sebastián Verón, Danny O'Carroll, and Hayden Christensen.
England XI: Seaman, Wright, Neville, Brown, Farah, Lewis, Stephenson, Murphy, Lynch, Murs, Bent
World XI: Van der Sar, Fongho, Stam, Pietersen, O'Carroll, Toure, Veron, Compston, Carter, Keane, Bolt

TAKING THE FIELD
THE MATCH HIGHLIGHTS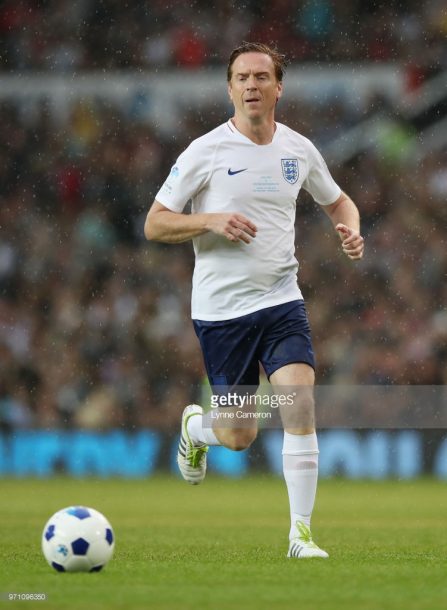 Darren Bent takes the kick-off and we are off! The world's fastest man, Usain Bolt, was unable to get onto the end of a dodgy back pass in the direction of David Seaman. Darren Bent was able to catch Edwin Van der Sar out but the goalkeeper managed to head the ball clear as he dived down to the side. Jeremy Lynch tried to lob from an awkward angle into the open goal but got his angles wrong. Straight down the other end and Robbie Keane is wrongly flagged as offside when he would have been one-on-one.
First to score is England – the ball was rolled in and Darren Bent turned in front of Edwin van der Sar, sending the veteran goalkeeper tumbling to his knees, allowing him to tap into an open goal. Big shout out to Olly Murs for the assist.
Veron took a tumble in the box under Mo Farah's challenge and referee Clattenburg says no! No yellow card, but Veron is in disbelief.
First celebrity goal of the night! It's F2 Freestyler Jez Lynch who taps past Van der Sar after an absolutely stunning ball from Mark Wright on the left-hand side. England is up 2-0 and Damian and team hug it out.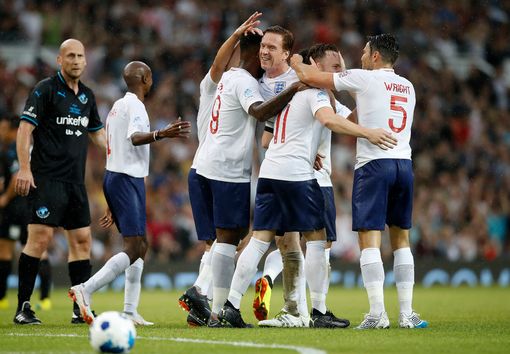 At 20:27 into the game, Keane scores for World and it's 2-1, England. Usain Bolt receives a linesman's flag for offsides. The pitch isn't looking all that great with all the rain. This picture should sum up what Damian is dealing with.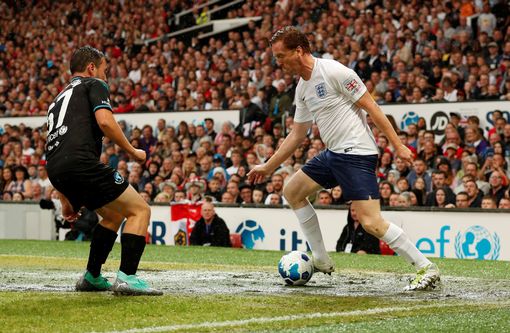 At 20:45 into the game, Juan Sebastian Veron scores a goal, tying it up 2-2. Damian leaves the field with a substitute before half-time.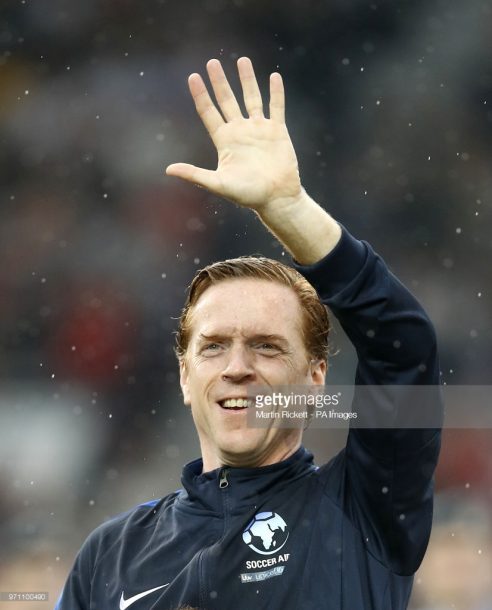 We're back from the half and that means celebrity goalkeepers! David Harewood is in for England, while Nicky Byrne is between the sticks for the World. Still no Eric Cantona at this point. Much better start to the second half for the World XI. But there are changes afoot for England – with Michael Owen coming on in place of Darren Bent.
Clarence Seedorf brushes past Wes Brown and fires home after a one-two with Patrick Kluivert. World XI is up 3-2. At 21:20 in, Bolt tried to score but no goal as Cantona warms up to come in the game. Looking at the teams on the pitch now, England seems to be getting worse and World seems to be getting better.
At 21:34 Eric Cantona is on! A rapturous reception for the legend, who is playing for the first time in over 20 years. This is what everyone came here for. He replaces Yaya Toure. Bring on the King!
Nicky Byrne, the goalkeeper for the World XI, spills the ball and it leaves popstar Olly Murs with an open goal. But he's fluffed his lines and put it over the bar! An absolute shocker from Olly… even worse than his miss two years back! And it's Olly's last act, as he's subbed off in place of Joe Wicks. Score is still England-2,  World XI-3.
Jamie Redknapp off the mark for England, as they look to work their way back into the game. They're getting a few chances now the game is stretched. Meanwhile, Cantona has had a couple of touches. Michael Owen fires home after Jamie Redknapp's effort cannons off the post, tying the score 3-3.
21:46 Eric Cantona played a cool little backheeled pass through to Usain Bolt on the edge of the area. He's got his mojo back!
21:49 That's a wrap! Score is tied up 3-3 and penalties will decide.  Somehow, England have taken it all the way to penalties so we have ourselves a shootout and it will be the celebrities taking. They have to take all the penalties before the professionals get involved.
21:56 Bolt scores! Goalkeeper Harewood goes the right way but it's so precise it makes it into the corner. Freddie Flintoff up for England now.
21:57  Flintoff scores! Keeper goes the wrong way and it was right into the corner. 1-1 after one penalty each.
21:58 Rak-Su's Ashley Fonghu scores. Then does Joe Wicks for England. 2-2 after two each!
21:59 Pietersen misses! England take the advantage. Kevin Pietersen has his penalty saved by Harewood!
21:59 Mark Wright scores. It's 3-2 to England after three each!
22:00 Match point for England! Dave Harewood saves once again!
22:01  Paddy McGuinness misses! What an awful penalty! It was for the victory but the scuffed effort is stopped by Byrne. It remains 3-2 England after four each.
22:01 Brendan Cole scores! Cool penalty, so the game continues! England now have a shot to win it again!
22:02  Lee Mack misses! Another match-winning penalty missed by England! Lee Mack the comedian fires it well, well wide! 3-3 after five each.
22:02 Christensen misses! The penalty goes over the bar from the Star Wars actor! England have a third penalty to win it.
22:03 Blake Harrison SCORES AND ENGLAND WINS! ENGLAND WINS!
England win 4-3 on penalties and this guy is super happy!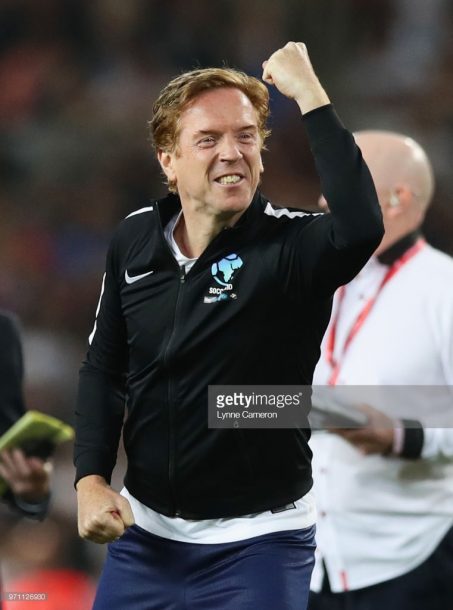 And that's a wrap.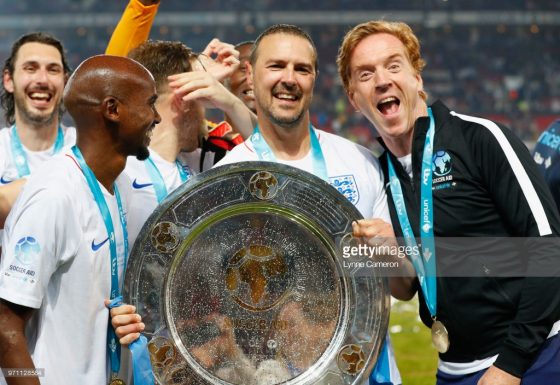 THE CAUSE
Soccer Aid brings celebrities and former professional players together to raise money so that more children around the world can grow up healthy, happy and safe. Over the last 10 years, the £24 million raised by Soccer Aid has enabled Unicef to help more children than any other humanitarian organization. Unicef provides life-saving food, vaccines, clean water and protection from violence to millions of children around the world.
To view more photos, please visit our Gallery
Read the rest of the original article at The Mirror
For more information, visit Soccer Aid's website or Twitter Page
And visit Unicef's website or Twitter Page