Town Scooters, Spanx, and Face Slaps
by Miles Surrey | The Ringer | June 11, 2018
Here is the best, worst, and most from the final episode of Season 3
The penultimate Billions episode of this great third season ended with a meteoric mic drop: Taylor was setting up their own firm and leaving Axe Capital. That's the kind of emphatic moment that could've ended the season then and there, but Billions had plenty more strings to pull in the Season 3 finale, "Elmsley Count." The episode title refers to a sleight-of-hand trick that magicians can use with a stack of cards, so the show wasn't exactly being subtle: You knew some deceptive shit was about to go down.
"Elmsley Count" lived up to its name—there were several moments when I made involuntary, somewhat inhuman squeals over truly shocking narrative twists, and also because Russian oligarch John Malkovich slapped a dude in the face. I love this show so much. Let's celebrate it one more time this year and break down the finale superlatives.
Fanciest Car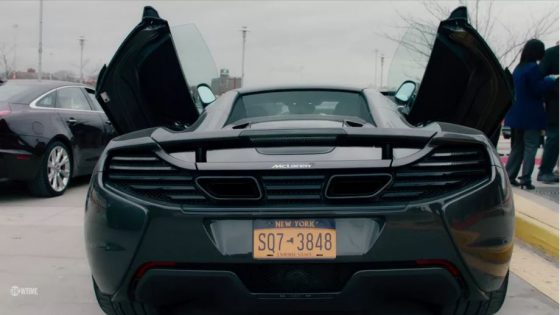 Axe is headlining a hedge fund meet-and-greet event hosted by Spartan Ives at Citi Field. It feels like an ominous setting to hold a very important meeting where billions of dollars will be tossed around because the Mets are extremely bad at baseball. Nonetheless, the event brings rich AF people in by the droves, and they all arrive in very fancy cars that'd make the hosts of Top Gear salivate. There was a Bentley, an Aston Martin, a Porsche—but the fanciest car that pulled up to the stadium was a McLaren 12C.
It's on the [clears throat] cheaper end of McLaren models, but it's still a six-figure sports car. I can barely afford the Hot Wheels version, so I'm just a little jealous.
Most Random Cameo
Axe is walking through the event and runs into … Sara Blakely, the founder of Spanx?!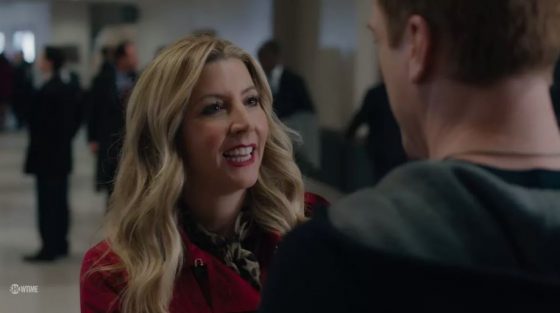 This season, Billions has snagged cameos as far flung as Mark Cuban, Kevin Durant, and now the founder of Spanx. I won't put anyone past them in Season 4—except for maybe getting Vladimir Putin to share the screen with John Malkovich. That would be too surreal.
Best Musical Cameo
Axe raises $3 billion at the Citi Field event from several prospective clients, so it's time to party! The band performing at the Axe Cap banger is the Hold Steady, who play their song "Entitlement Crew." If Billions was any more on the nose, Damian Lewis would jump through the screen and slap you in the face.
Strangest Temporary Living Situation
Connerty assumes that he's got Chuck pegged for something dirty after noticing that he's backchanneling with some FBI types, but Sacker informs him that Chuck is actually trying to do something good by taking down Attorney General Jock Jeffcoat. It's a shame that Connerty was so mistaken, since he dragged Oliver Dake all the way up to New York for it and, no joke, the guy had to crash on his couch!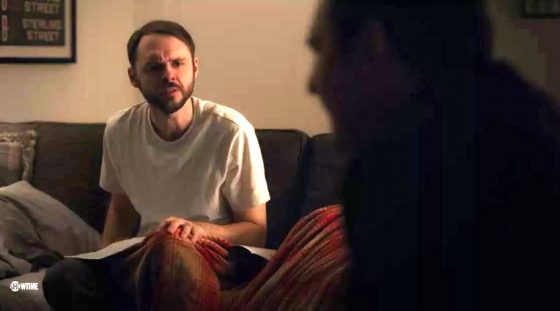 I'm sure they were just trying to keep it on the low that Dake was in New York, but could he really not have checked into a hotel or something?
Best Nervous Ben Kim Moment
Taylor has successfully staged their coup. Everyone willing to put money in Axe Cap has suddenly gone silent, and Taylor successfully lured Mafee to their new company with the prospect of more money and a partnership stake. Ben Kim is late to work that day, so Axe, Wags, and Wendy suspect he's also been poached.
But, LOL, Ben Kim was just late, although he was late because Taylor tried to snag him in the middle of the street. Naturally, it made him nervous—as did recounting this sequence of events to Axe, who looked very, very angry.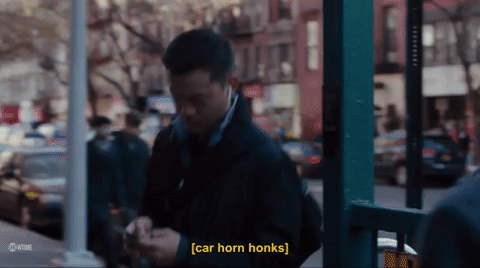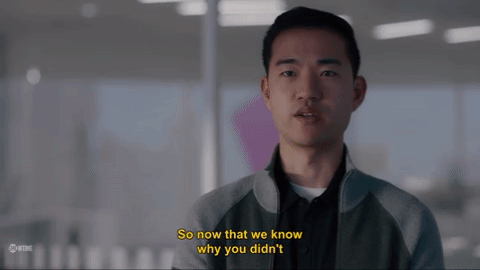 I just want to give Ben hot chocolate with marshmallows and assure him everything will be fine.
Creepiest Meeting Spot
Grigor's meeting spot of choice is the kind of freak-ass house that'd be a great setting for a horror movie.
I never thought a foosball table could give me goosebumps, but here we are!
Best Slap
Grigor was pitched by Taylor to bring his money over to their new firm, but he sets up this meeting with Axe—who also brings his security dude, Hall—to talk options. Grigor wants Axe's approval to kill Taylor—and Hall tries to interject with his own input. It was a bad idea to interrupt.
OH MY GOD. I have never seen Hall so shook before. That slap is still reverberating across his face; he might need to grow out a beard and hide on a dock in Nova Scotia again.
Also, I can't stress this enough: GRIGOR MIGHT KILL TAYLOR! Axe doesn't give him an answer, but he's wise to weigh his options. Do you want to seem cowardly in the face of a guy whose money you're holding, and who clearly has no qualms about killing people? But also: Is Axe the kind of person who'd let someone get murdered?!
Best Threat
After his meeting with Grigor, Axe wants to confront Taylor in person, but that first means going through Mafee, who tries to apologize and explain his rationale for leaving Axe Cap. It goes about as well as you'd expect.
This is an all-time great Axe threat.
Most Unnecessary Disclosure
What's Chuck been up to? He's been planting the seeds for Jock Jeffcoat's destruction, and that means pretending to be on his side when Jock asks him to look into Ashley Cutler, the Jeffcoat financier Chuck has already corralled, unbeknownst to Jock. Jock shit-talks Cutler anyway, and then posits that Cutler dislikes Jock and his televangelist brother because they "bedded his sister."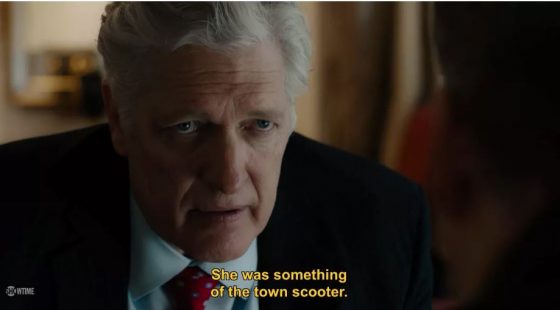 I did not need this image seared into my mind! Please, I want to forget.
Most Nerve-racking Decision
Thankfully, Axe wiggles his way out of deciding whether to kill Taylor by assuring Grigor that he wants to keep Taylor alive so that they can suffer in the long run. I was genuinely on the edge of my seat until the credits rolled, but Taylor is safe and alive—for now.
Grigor has been a really fun, really deadly addition to this show, so here's hoping we'll see plenty more of him in Season 4. (Can he also please slap Hall again? That was incredible.)
Biggest Betrayal
Just when Chuck thinks he's cornered Jock and is going in for the kill … Sacker approaches him and says, "You recognized I was a political animal. You fed it, nurtured it. And I warned you it might bite you—that's where we are." And where they are is in a room of people—Jock, Oliver Dake, Connerty, Sacker, and New York State Attorney General Alvin Epstein—who have turned the tables on Chuck for their own political advantages. (Well, except for Dake, who is now a damn professor and just wanted to watch it unfold.)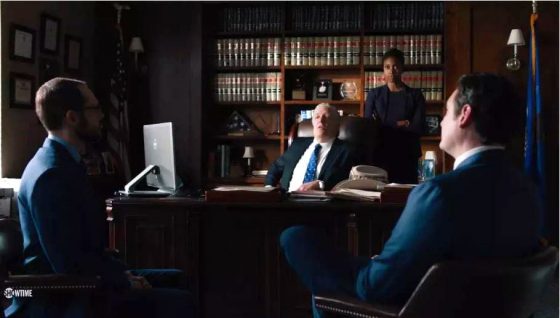 Chuck is fired from this post as the U.S. attorney for the Southern District of New York State; Connerty is instated. When you play the Game of Lawyers, you win or you die.
Worst Reverse Chuck Pat
Read the rest of the original article at The Ringer