Billions Makes the List!
by Ben Yakas | The Gothamist | December 13, 2018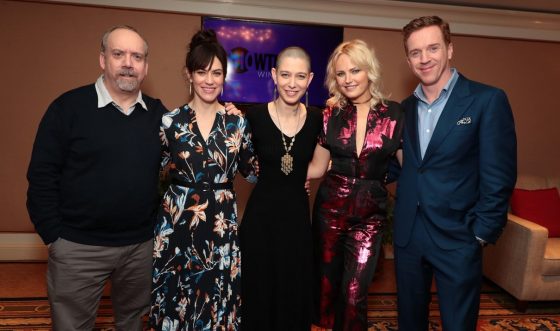 In 2016, over 400 television shows were aired or released. In 2018, that number has jumped to at least 555, which we know thanks to this handy spreadsheet made by Liz Shannon Miller. The Netflix-ification of television is truly upon us: the networks have a desperate desire to compete with the streaming giant, and they're doing so either by throwing every idea against the wall and hoping it finds an audience, or by launching their own streaming services… with limitless capacities for more content.
And television isn't just exponentially growing with new programming—any show with any sort of core fanbase could be brought back to life as a reboot (Murphy Brown, Charmed, The Chilling Adventures of Sabrina), spin-off (The Connors, Young Sheldon), or whatever hybrid monstronsity Kevin Can Wait turned into became before it was mercifully cancelled. There are over 20 more such zombie shows coming in the next year, with unlikely reboots of Conan the Barbarian, Gone Baby Gone and…The Bone Collector? Like the Greyjoys are found of saying: "What Is Dead May Never Die" (also, "Shut Up, Theon").
So it has become increasingly difficult to sift through—let alone watch—all the shows in the endless stream. TV critics seem increasingly burned out by the quantity of shows, and peak TV seems to have flattened out somewhat—the average show might now have a better baseline than shows 20 or 30 years ago, but there's not quite the same flurry of innovations and daring programming happening like there was five or six years ago.
Still, there are plenty of great shows to recommend—and below, you'll find ten such dramas and ten such comedies. Maybe you'll discover something you haven't heard of, maybe it'll inspire you to finally watch a show you've been putting off, maybe you'll have your own recommendations, or maybe you'll just want to argue in the comments section.
Methodology: I didn't include any late night programs or talk shows (otherwise, the essential Last Week Tonight and a reinvigorated Late Show with Stephen Colbert might crack the comedy top 10), no reality shows (sorry Salt, Fat, Acid, Heat, sorry Queer Eye), no web series, and no documentaries. And no Dogs, Netflix's delightful six-part docu-series on various dog/human relationships that made me weep like a child (Ice & Zeus & Rory FOREVER).
And of course, as stated above, I can't watch everything. Here are my BLIND SPOTS: I've heard very good things about AMC's limited series' The Terror and The Little Drummer Girl and hope to catchup on them during the holidays. I've yet to see a single episode of The Marvelous Mrs. Maisel, though I've never been a Amy Sherman-Palladino superfan]. I've got no idea how to watch The Good Fight, which has gotten some really nice end-of-year write-ups. Despite Rectify being one of my favorite shows of all time, I just don't know if I have the emotional bandwith to watch the grief-stricken Sorry For Your Loss. And I had not even heard of Showtime's America to Me before reading the NY Times' writeup. [ed. note: Ray Donovan is a really good show, but Ben laughs every time I suggest it.]
Now (a lot of) HONORABLE MENTIONS: Hugh Grant gave a very splendid performance in A Very English Scandal. Maniac and Trust both had very good individual episodes, even if the shows on the whole never quite came together. Elisabeth Moss gave a typically incredible performance in the frustrating second season of The Handmaid's Tale. My Brilliant Friend is looking like one of the best adaptations of the year, and Pose was one of the best new shows of the year. The long-delayed new season of Arrested Development was actually pretty hilarious (even if it got overshadowed by a lot of off-screen drama). Insecure and Silicon Valley remain always enjoyable viewings. The romcom lover in me fell hard for British exports Lovesick and The End Of The F***ing World, two very different kinds of modern romances. And if you could get into its rhythms, Sharp Objects was a fantastic Southern gothic with a one-of-a-kind performance from Amy Adams.
And so, here are the DRAMAS that moved and compelled me:
9. Billions (season three): If you're going to go on and on about how great Succession is (and I will—see below), you better pay respect to the king. During its first seasons, I thought Billions was an enjoyable guilty pleasure rather than a truly great show. I was wrong: between the deep well of supporting characters who pop up again and again (long live Spyros) and the underlying criticism of capitalism and the dick-measuring rich dudes who worship at its feet, Billions is both ridiculously watchable and ridiculously good TV. Add in Asia Kate Dillon's utterly compelling and conflicted non-binary character Taylor Mason, Paul Giamatti's ridiculously fun scenery-chewing performance, and the show's insistence on shedding plot whenever things get too stale—no wonder this is the only show on television Metallica, Mark Cuban and Salt Bae all want to make a cameo on.
Read the rest of the original article at The Gothamist