"Billions Has Become Something of an Obsession…"
by  Kevin Yedman | Screenrant | January 15, 2019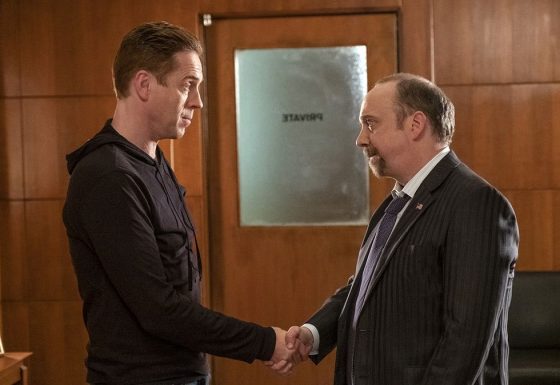 Season 4 of Showtime's Billions is just around the corner, and the new full trailer suggests Axe and Chuck will be making deals to ensure their enemies pay dearly. One of the most consistently entertaining series on television, Billions has become something of an obsession for a portion of its audience, as every season seems to raise the bar in terms of the level of its central characters' audacity, while the series itself seems intent on upending viewers' expectations with surprising twists, like the season 3 team-up between Chuck (Paul Giamatti), Axe (Damian Lewis), and Wendy (Maggie Siff).
That deviation from the show's initial premise — that U.S. Attorney Chuck Rhoades was going to use the considerable power at his disposal to bring shady hedge fund manager Bobby "Axe" Axlerod to justice — gave the series new legs last season, and from the look of what's ahead in season 4, series showrunners Brian Koppelman and David Levien will be using those legs to run their characters into uncharted territory. What kinds of storylines that will bring remains to be seen, but it looks as though the upcoming season will make great use of its strange bedfellows.
The new trailer comes just a few weeks after the initial teaser and premiere date announcement for season 4. That trailer more or less confirmed the Axe-Chuck partnership, so this more complete look at the upcoming episodes is really more for noticing certain details, like the very weird mask someone in Axe Capital is wearing, the way Bryan Connerty (Toby Leonard Moore) rips into a sandwich, and, of course, the return of everyone's favorite unscrupulous Russian, Grigor Andolov (John Malkovich).
Both Axe and Chuck will be operating from a vantage point unfamiliar to them both: that of the loser or underdog. That alone should make season 4 worth checking out in March, but it should also give the series a welcome change of pace, as watching both men attempt to duke it out with one another time and time again has proven entertaining, but one has to question whether or not that scenario would be enough to sustain the series for the usual Showtime run of eight seasons.
Read the rest of the original article at Screenrant