The True Story of Once Upon a Time in…Hollywood Characters
by Rebecca Alter | Vulture | August 2, 2019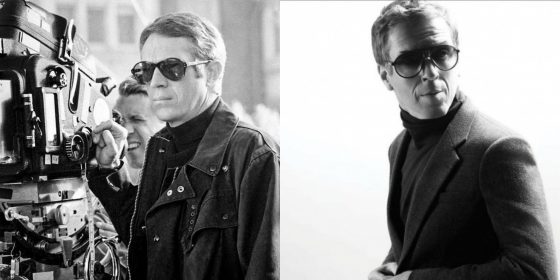 Warning: spoilers ahead.
Quentin Tarantino plays fast and loose with historical revisionism like he's a kid left alone with action figures, or a Harry/Louis slash-fic writer drowning in AO3 tags. He takes a piece of history that's captured his imagination, creates a Mary Sue or two to beat the boogeymen at the boss level, and poof! His avenging avatars kill Hitler, save Sharon Tate, and burn down one more plantation blighting the earth. Like Inglourious Basterds before it, Tarantino populates his ninth film, Once Upon a Time in Hollywood, with real figures alongside more reality-adjacent ones. So for those of us (all of us) less versed in his brand of fanboy ephemera, here's a map to the stars, real and pretend, in OUATIH.
Steve McQueen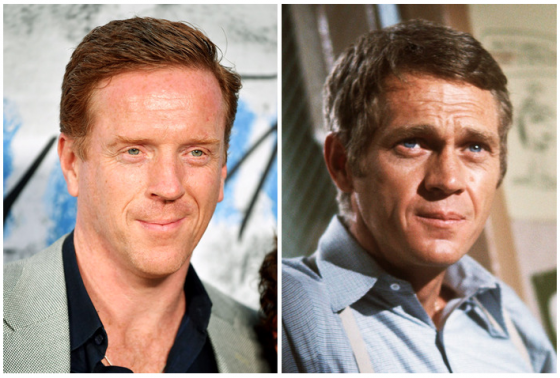 McQueen, who will henceforth be known as the guy who robbed Rick Dalton of that Great Escape gig, did many of his own stunts, but he was also one of the first major action stars to publicly credit his stunt double. In real life, McQueen passed on an invitation to a party at Tate's house on the night of the murders, and it was later reported that his name was on Manson's hit list. McQueen had a persistent cough (not unlike Dalton's) that led to a fatal mesothelioma diagnosis.
Rick Dalton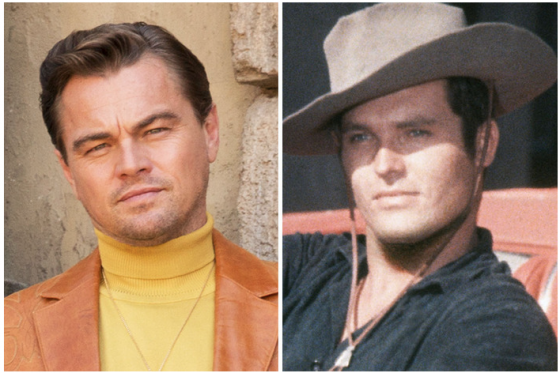 Tarantino didn't base Leo DiCaprio's washed-up matinee cowboy Rick Dalton on any one actor, but the director has cited inspiration from '60s-era actors like Ty Hardin, whose career has shades of Dalton: Hardin went from starring in a TV show called Bronco to late-career Spaghetti Westerns. (Tarantino also mentions Tab Hunter as Dalton inspiration, lending credence to the Rick-Cliff shippers out there.)
Cliff Booth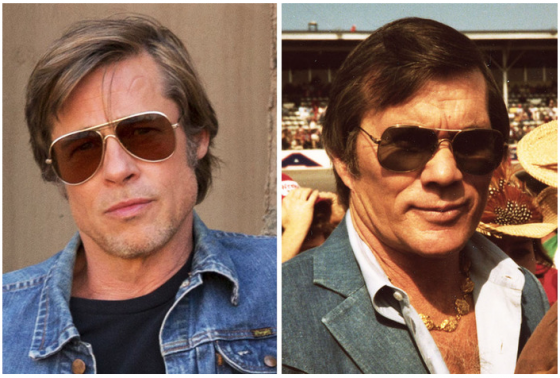 There's a clearer real-life parallel to stuntman Cliff Booth: Hal Needham, Burt Reynolds's best buddy and stunt double. Like Booth, Needham served in the Army before pivoting to stunt work, and met his professional partner on a black-and-white TV Western (Reynolds's Riverboat). Needham and Reynolds even lived together for five years. Needham went on to write and direct Smokey and the Bandit and direct Cannonball Run. In 2012, one year before Needham passed away, Quentin Tarantino presented him with an Honorary Academy Award at the Governors Awards.
Cliff's Wife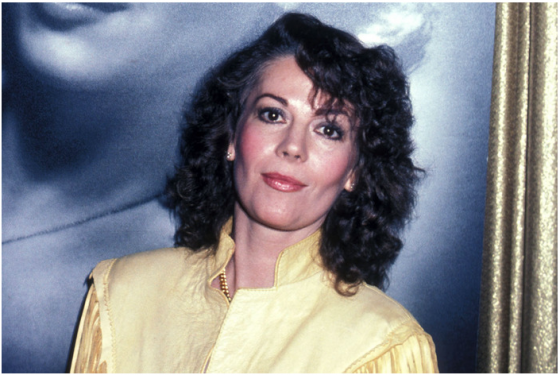 In a flashback that entirely harshed this movie's mellow, we see the lead-up to the rumors that Cliff murdered his wife: On a choppy fishing boat, he sits in a wet suit and goggles and calmly aims a harpoon at his shrill, nagging spouse. For one, Serenity already gave 2019 moviegoers the Citizen Kane of fishing-boat murders. For another, the whispers and ambiguity surrounding the circumstances of Mrs. Booth's death echo the eternal Hollywood mystery of Natalie Wood's passing, off a boat near Catalina Island in 1981. An L.A. County sheriff named her husband Robert Wagner a person of interest in 2018.
Roman Polanski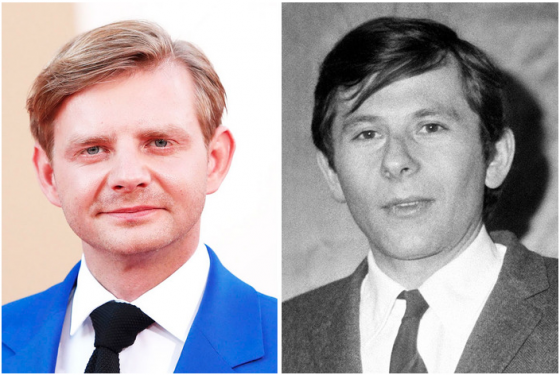 Polanski, who married Tate in 1968 and who was in London on the night of the murders, fled the United States after pleading guilty to "unlawful sexual intercourse" with 13-year-old Samantha Gailey in 1979. He still directs and evades extradition between France and Poland, and has served time under house arrest in Switzerland. Since then, many more women have come forward with accusations of Polanski assaulting them as minors.
Sharon Tate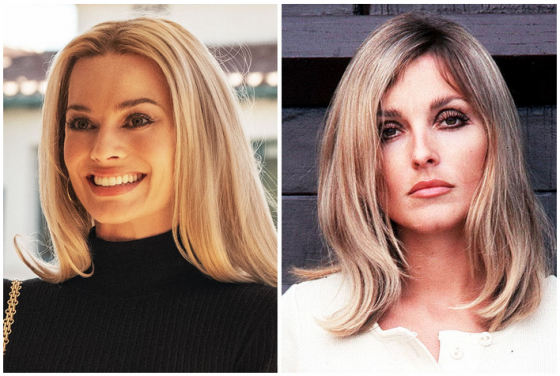 Despite some criticism about Margot Robbie's lack of screen time, her portrayal of Sharon Tate has earned praise for its depth and accuracy from Tate's own sister (who's been outspoken about her distaste with past depictions). Tate really did train with Bruce Lee and sustain relationships with Jay Sebring, Abigail Folger, and Wojciech Frykowski. Tate also really did have lunch on the day before she was killed, with her friend Joanna Pettet (Rumer Willis), who retired from acting in the '90s.
Jay Sebring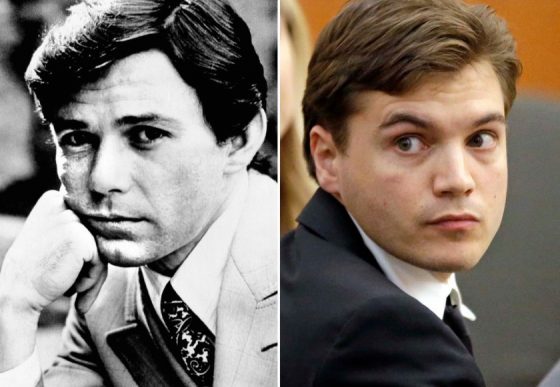 Steve McQueen got a lot of it right at that Playboy Mansion scene: Jay Sebring (played by Emile Hirsch) did indeed date Tate until she met Polanski on the London set of The Fearless Vampire Killers in 1966. The real-life McQueen, along with Bruce Lee, were both close friends of Sebring's and clients at his salon. Sebring remained close with Tate, befriended Polanski and Frykowski, and had been involved with their mutual friend Abigail Folger. Sebring's legacy lived on in Hollywood as the inspiration for Warren Beatty's hairdresser character in Shampoo.
Bruce Lee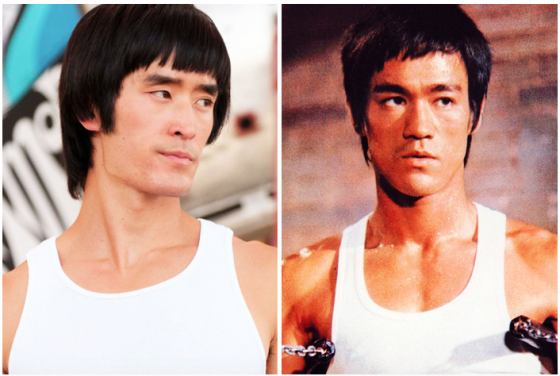 Cliff's rooftop flashback shows Bruce Lee (Mike Moh, wearing the Kato jacket) behind the scenes of The Green Hornet, which aired for one season in the mid-1960s. What the scene doesn't show is that Sebring, an amateur karate enthusiast, had seen Lee at an event in 1964 and is the one who first recommended him to Hollywood producers. And as shown in Tate's flashback, Lee's first Hollywood movie gig was as the "karate adviser" for her scene in The Wrecking Crew. Lee would go on to become one of the most iconic action stars of the 1970s before passing away suddenly at the young age of 32 in 1973.
Wojciech Frykowski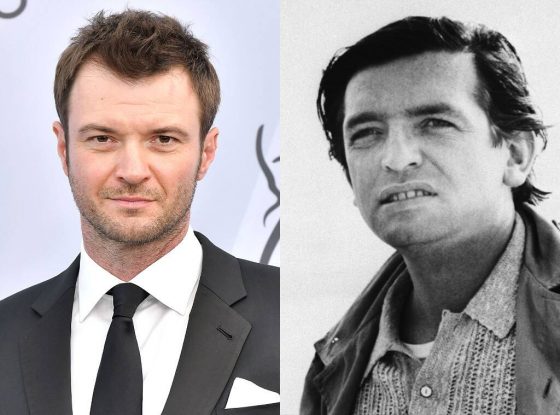 Wojciech (stylized Voytek in English) Frykowski (played by Costa Ronin) was an old friend of Polanski's and was also involved with Abigail Folger. His son Bartek worked as a cinematographer in Poland until his death in 1999.
The Hullabaloo Dancers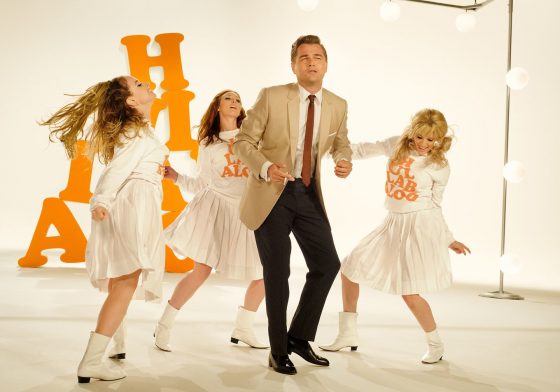 Of all the genre pastiches teased in the promotional materials for OUATIH,my favorite might have been this Corny Collins–style variety show. Hullabaloo was in fact a real program on NBC that had the misfortune of being slotted as counterprogramming to the much more popular American Bandstand. The Mamas and the Papas — who we see partying with Tate at the Playboy Mansion — made an appearance on the series in 1966. Those pigtailed Hullabaloo Dancers we see twisting with Rick Dalton had some surprising careers beyond this two-season oddity: One of the show's go-go girls, Lana St. Edmund, went on to become the highest paid Hollywood stunt woman of all time.
James Stacy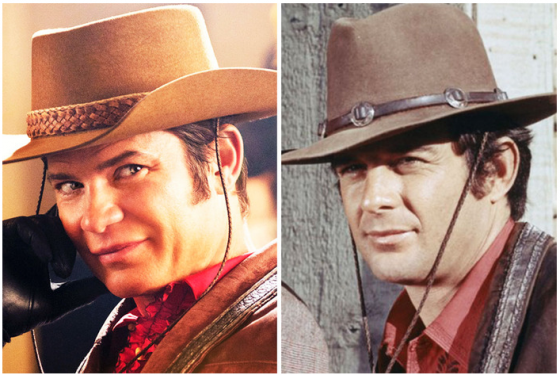 The TV cowboy played by Timothy Olyphant really did star as one of three Lancer family gunslingers on the 1960s Western series Lancer. Fitting with the hinting references to mythical Hollywood tragedies that hang over OUATIH, the real-life Stacy had his left arm and leg amputated after suffering a motorcycle accident in 1973, not long after the events of Tarantino's film. (In Once Upon a Time, Olyphant's character drives a motorcycle off set.) Stacy died from an anaphylactic reaction to antibiotics in 2016.
Wayne Maunder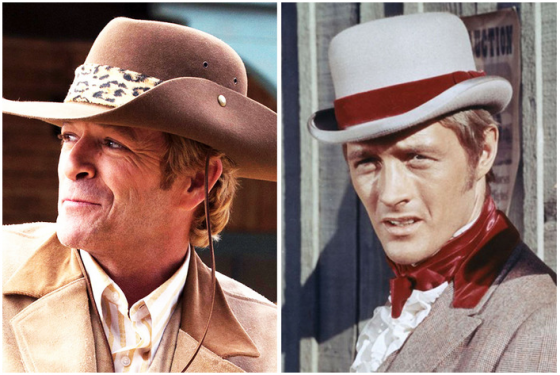 A blond Luke Perry briefly appears as actor Wayne Maunder, who really did play the flashier Lancer (that leopard print!) on Lancer. The actor went on to do stints on other OUATIH-featured series, including The FBI. Curiously, Maunder only acted in two films, one being the Manson-tinged Beyond the Valley of the Dolls, by pulp king Russ Meyer. Not only does the original 1967 Dolls get a mention for Sharon Tate's performance in the film, but Tarantino referenced Meyer's Faster, Pussycat, Kill! Kill! in his film Death Proof, and of course, named a character Pussycat in OUATIH. 
Trudi Fraser/Mirabella Lancer
"Johnny gets more than he bargained for when he goes after a horse trader who cheated him and ends up taking care of the trader's feisty 10-year-old niece." That's the IMDb plot description for a 1968 episode of Lancer called "The Heart of Pony Alice," and it's the closest thing in the show's history to the episode we see in OUATIH (featuring Julia Butters as Trudi Fraser as Mirabella Lancer). The feisty 10-year-old in question was played by Eve Plumb, although it's unclear if she applied Trudi's rigorous commitment to her craft on the set of The Brady Bunch. Others have suggested that Trudi may be an avatar for a young Jodie Foster, who made guest appearances on shows like Gunsmoke.
Sam Wanamaker
Nicholas Hammond plays the actor turned director who insists on that floppy mustache for Leo on Lancer (great call, by the way) and likens the Dalton role to Hamlet. The year after the events of OUATIH, the real Wanamaker made it his life's mission to restore Shakespeare's original Globe to a working theater. His foundation raised millions for the project by the time he passed away in 1993, and he is still credited in England with leading the charge for restoring the icon.
Pussycat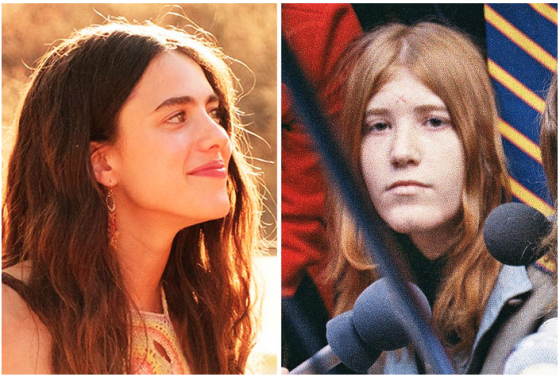 Margaret Qualley's hitchhiking Manson girl is probably a composite rather than a direct historical figure. Many have drawn comparisons, though, between Qualley's character and 17-year-old Kathryn Lutesinger, nicknamed Kitty Kat. Kitty has been cited as giving one of the testimonies that helped detectives crack the Tate-LaBianca case. She got married in 1973 and has not been heard from since.
Tex Watson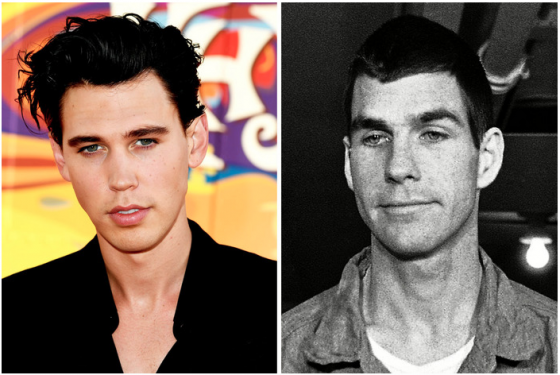 Following in the proud tradition of teen idols playing true-crime murderers, Austin Butler plays Tex Watson, a member of the Manson family who committed the Tate-LaBianca murders alongside Susan Atkins (Mikey Madison), Linda Kasabian (Maya Hawke), and Patricia Krenwinkel (Madisen Beaty). Tex really did tell his victims, "I'm the devil, and I'm here to do the devil's work," but now he is a fervent Christian and very online minister, who frequently blogs his preachings to his e-congregation from prison.
'Squeaky' Fromme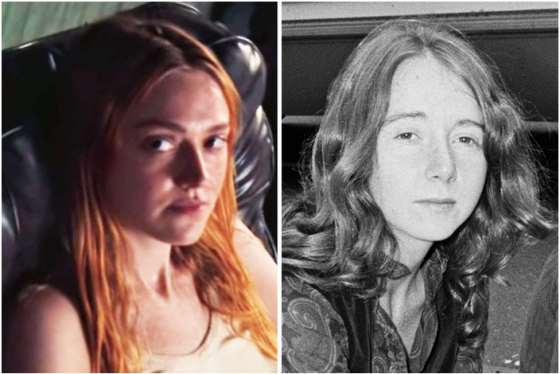 Dakota Fanning plays creepy, stringy-haired Manson devotee Lynette "Squeaky" Fromme, who did reportedly sleep with and tend to George Spahn (Bruce Dern). She remained a Manson devotee for life. After decades in prison, she now lives in a skull-adorned house in upstate New York with her husband, another Manson acolyte.
Gypsy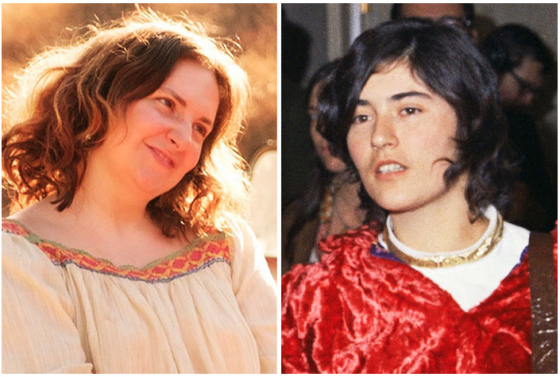 Manson family member Gypsy, played by Lena Dunham in OUATIH, did not directly participate in any of the murders, although she was charged along with Squeaky for attempted murder in 1971. Unlike Squeaky, however, Gypsy began distancing herself from and speaking out against the Manson cult after she was released from prison in the 1970s. She had a son with Manson family member "Clem" Grogan, who you'll know as the character Cliff punches out on the ranch in the film.
George Spahn
Bruce Dern plays the old, incapacitated owner of Spahn ranch, who in reality really did rent it out to the Manson family in exchange for sexual favors with the women. Spahn, not Manson, is the one who gave the women their nicknames. Furthering the film's connection to the story of stuntman Hal Needham, Burt Reynolds was originally meant to play Spahn in OUATIH before passing away in 2018.
Terry Melcher and Candice Bergen
In the movie, when Manson first scouts out the Cielo Drive house, he's told that "Terry and Candi" don't live there anymore. Terry Melcher, a record producer and Doris Day's son, had previously passed on recording Manson's music. He went on to win a Golden Globe for writing "Kokomo." The "Candi" in question was his then-girlfriend Candice Bergen, who has never spoken about the murders. In addition to starring in Book Club and the recently canceled Murphy Brown reboot, Bergen has a very delightful hobby and side-hustle: painting portraits of people's dogs on their Louis Vuittons.
Husband and Wife Stunt Team Randy and Janet
If Zoë Bell's stunt-coordinator character is based on anyone, it's probably herself. While there's no record of a female stunt coordinator on the original Green Hornet TV series, Bell has worked as a stunt double in Tarantino's films since Kill Bill: Vol. 1, and was the stunt coordinator on OUATIH.Meanwhile, Kurt Russell's stunt-coordinator character does not appear to line up with any one Hollywood figure in particular, but Tarantino notes that Kurt Russell helped him keep the Lancer scenes period-authentic, as the son of a Western character actor (Bing Russell) who himself starred in the 1963 TV Western The Travels of Jaimie McPheeters.
Marvin Schwarzs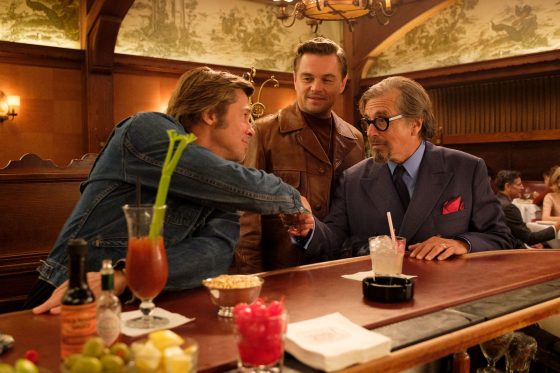 Al Pacino's colorful Hollywood-agent character doesn't have an immediately identifiable real-life counterpart, although real-life producer Marvin Schwarz, who worked on shoot-em-ups with Kirk Douglas, Burt Reynolds, and Rock Hudson in the '60s and '70s, may have given Tarantino the idea for the name.
Read the rest of the original article at Vulture