Damian Lewis as Rob Ford Generated Worldwide Chatter
by Susan Minuk | The Canadian Jewish News | February 28, 2020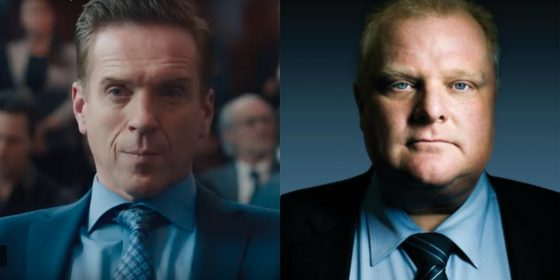 The wildly anticipated movie Run This Town follows three millennials struggling to find their place in the world against the backdrop of the Rob Ford scandal that engulfed Toronto in 2013.
This is the directorial debut for writer/director Ricky Tollman, and is produced by Randy Manis and Jonathan Bronfman. The three-year project was filmed in Toronto in 20 days, shooting at landmarks such as Nathan Phillips Square, city chambers and the Thompson Hotel. Tollman says viewers, Toronto ones especially, may be surprised to see the iconic United Bakers Dairy Restaurant on screen.
In the film, Tollman examines the relationship between news, politics and entertainment.
"With the surge in clickbait headlines and 140-character reporting, politics has shifted. What can get the most likes? It's entertainment," Tollman said. "I wanted to tell a story about people that took place in the walls of news, which has shifted over the last 10 or 12 years from binding fact check news to opinion and the most eyeballs."
Bringing actor Damian Lewis to play Ford generated worldwide chatter. "We needed a specific actor that could be that politician. And Damian is charming and funny – but can also play shades of darkness in one moment and then in the next moment you can be laughing with him," Tollman said. "And you're not sure you should be laughing!"
Although the film is set during the Ford scandal, it isn't specifically "The Rob Ford story."
"He appears in just a handful of scenes – it's really a jumping off point," Manis said. "I think that the portrait of Rob is sympathetic in that we definitely see multiple sides of him."
The Ford angle, Manis said, is "a way to explore our characters' lives and just what that story means to them at that time, because we thought it was empathetic of a lot of things in the world."
In the film, we meet Bram Shriver (Ben Platt), who grew up in Jewish Toronto, and is a young intern working at a newspaper, relegated to making 'Top 10' lists in order to steer readers to his newspaper's website.
Through layoffs and chance, he gets word of a blistering political scandal – a leaked video involving Toronto's mayor, Rob Ford. As Bram works to break the story, political aides Kamal (Mena Massoud), and Ashley (Nina Dobrev) are at city hall fighting to bury it at the expense of their integrity.
"It's a film about millennial ambition and the pitting of young people against each other," Tollman said.
Tollman explores millennials' frustrations of feeling stuck. We see Platt's character rant about the constant pressure to do it all.
"I was choked up when Ben Platt delivered a speech on set that's very important for millennials to hear, but also for the older generations who don't really get it," producer Manis said.
Throughout the course of the film, the millennials encounter issues such as immigration, gender politics, the changing landscape of media and sexual harassment in the workplace.
"I hope we start a conversation about some of the issues brought up in the movie," Tollman said.
Run This Town opens in theatres on March 6, 2020.
Read the rest of the original article at CJN