Why Wendy Rhoades is Bobby Axelrod's Most Deadly Weapon
by Damianista | Fan Fun with Damian Lewis | March 2, 2020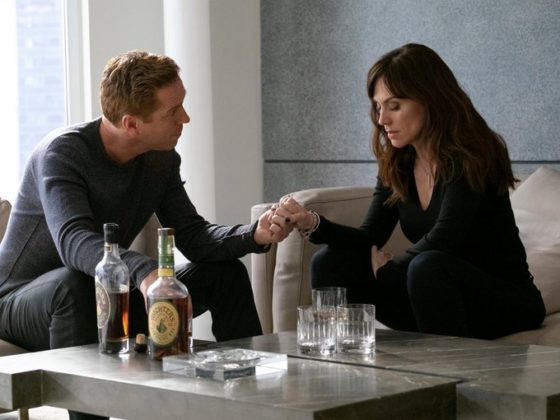 Damian Lewis and Maggie Siff bring to life one of the most intriguing and complex relationships we have ever seen on TV. It is sincere and it is strategic. It is friendly and it is flirty. It is personal and it is professional. It is delicate. It is difficult. It is delicious. The first three seasons have revealed there is no romance in their relationship, but there is real partnership. Bobby and Wendy find meaning in what they built together and can draw the best out of each other. In case you missed my earlier posts on these two, you can find them here, here, here,  here, here, and here.
Season 4 is a true testament to why Axe values Wendy at a level where he is even willing to go to jail for her. Do not get me wrong, loyalty rules Bobby Axelrod's world and he can drop Wendy in a millisecond should he suspect any disloyalty as he did in Season 1 Finale. But as long as he trusts Wendy is one loyal confidante and also the smartest person in the room, there is nothing Axe will not do to keep Wendy safe and happy. And the key is in his words to Wendy in Season 4 Episode 10 New Year's Day where Bobby remembers the exact time and place he knew Wendy was a keeper.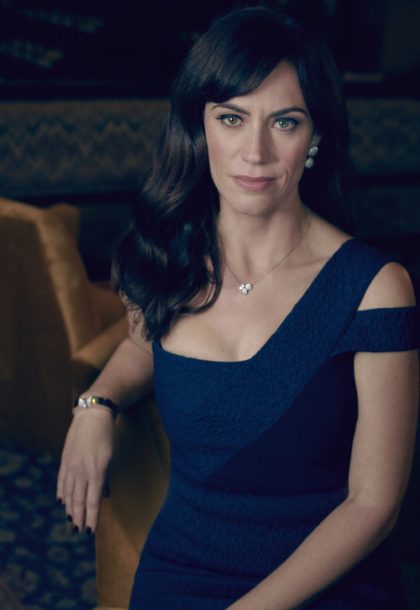 Wendy.
"Shut the fuck up. You lost family. So did everyone else here. And this man is the only hope you or any of you have of paying for the rest of your lives. And I'll tell you another story. I have begged him not to. Because I think it'll destroy him next. He doesn't need it. He can move on clean and in a couple of years he'll have enough wealth for 20 lifetimes. But if he's really too slow for you, if you really think that he's stealing from you, say another word, and I'll make him shut it down. Otherwise, shake his fucking hand, say thank you, and we can all mourn together."
But the moment Axe knew she would be his partner for life came later when Wendy came to his car and told him:
"Bobby, you better fucking deliver for those people. Or I won't just make you quit. I'll kill you myself."
Wendy being loyal to him in public and her holding him accountable in private and her dedication to the greater cause sealed the deal for Axe. And, Wendy proves time and again this season that the decision Axe made at a funeral years ago was spot on. So let us talk about why Wendy is Axe's most deadly weapon today.
Now that Taylor has betrayed Axe Capital, we find Wendy as a truly different beast in Season 4. While she was mainly the performance coach priming the C-suit occupants as well as the portfolio managers and the analysts to get the job done in earlier seasons, that she sat in the background, if you will, Wendy is now in the war room with Axe, Wags and Hall and is the mastermind behind "Operation Taylor."
We know Axe has the capacity to reach high paranoia levels when faced with credible threats: Think of Season 1 Finale where he suspects Axe Capital was bugged. He tears down the company and turns it into Fort Axe with turnstiles, magnetic ID cards and what have you! And the current paranoia levels Axe has reached after Taylor left with Mafee and a big chunk of Axe Capital money, including Andolov's, match the levels he reached back then.
We find him in Season 4 Episode 1 Chucky Rhoades' Greatest Gamehaving every Axe Capital employee sign no-competes so Taylor cannot steal anyone else from him. And, oh, he has just appointed Wendy as the new head of Human Resources at Axe Capital who gives her authority to keep everyone in line. Anyone that is not on Axe's side will be gone.
As Axe makes an example of Rudy who has a picture with Mafee from a Taylor Mason Capital picnic, Wendy seconds him forcefully and reminds everyone what they should do with the new law of the land.
"You get on with it, or get fucked."
WOW.
Next we find out Wendy has already bought Taylor's headhunter so Taylor is not  able to interview the best applicants in the pool. And as soon as they hear from the head hunter that Taylor is trying to recruit Mick Danzig, they hire him, too! And this is just the first episode!
Well, we have already seen that Wendy can be very good at being bad in Season 3 when she faces jail time. Yet, while she is extremely disappointed when Taylor pulled an "Elmsley Count" at the Axe Capital raise and left Axe Capital along with Mafee and a good chunk of the capital they raised the day before, Wendy's first reaction is that they should look within to understand what they may have done to cause this. And when she and Bobby regroup later in the evening she recommended patience.
Most people in the industry would think Axe sent his protege off to open their own shop and invested with them. And he can still do it. Or he can take comfort in knowing it is inevitable Taylor will suffer internally in a few years and they will have no one to turn to. But Bobby does not think he can wait.
But the thing is Wendy is about to lose her own patience with Taylor. Well, it is one thing that Taylor used her empathy for them to get on the raise team, and it is another when Taylor makes her a job offer because a fresh start would be good for Wendy who could not stop Bobby from succumbing to his worst nature but succumbed to it!
Read the rest of the original article at Fan Fun with Damian Lewis