Bobby Axelrod the Predator and That First Table Read of Season 5
by Amy Lyall | 9Entertainment | May 1, 2020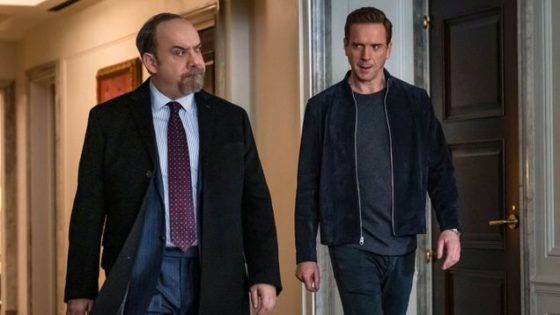 Joining the cast of the hit series Billions for Season 5 was a lot like coming home for Corey Stoll, but it was also a long time coming. The actor admitted he was originally approached by the show's creators Brian Koppelman and David Levien back in 2016 for the first season. What got him over the line this time was "an offer I couldn't refuse," he joked to 9Entertainment.
"During the first season there was a role that they offered me, and it was a fun role for a few episodes but it almost felt like a waste," he explained. "I remember telling them at the time, let's wait for something a little juicer, a little more fun — something I can sink my teeth into, and I'm really glad that I did wait because this role is incredibly rich and I get to do so many fun things. I'm glad I waited."
The first table read was like a reunion with old friends as Stoll revealed he knew a lot of the cast previously from acting school. It was watching friend Maggie Siff (Wendy) on the show that originally drew him in, but he quickly became a fan.
Stoll plays a "social impact pioneer" named Michael Prince who's set to become Bobby Axelrod's (Damian Lewis) newest rival.
"I think my character shares a lot with Bobby — we're both deca-billionaire, hedge fund managers, you know, at the top of our game," said Stoll.
"But Bobby has embraced the part of himself that is unashamedly capitalist, just a predator — he's really embraced that and Michael Prince dreams to see himself as a force of good in the world, even though he is very much a part of this capitalist system."
Stoll explained that difficult choices are forced on you when your main objective is to "make money" and Michael struggles with it. There's a darkness inside him that gets pushed to the surface as the rivalry with Axe rages on and he can't ignore it.
In previous seasons we've seen a lot of the key players go through the internal struggle of what's right and wrong and their justification for their actions.
Chuck Rhodes (Paul Giamatti) has crossed plenty of lines trying to take down Axe, while Axe and Taylor (Asia Kate Dillon) have both pushed boundaries in their attempts to destroy the other, something Stoll hinted we will see in his character Michael too.
"I think Michael Prince, maybe more than most, sees himself as good. He almost fetishises his sort of 'nice guy' persona and we've found through the season that it's actually his most powerful weapon in his arsenal, that he can use his righteousness and his niceness as a cudgel against his enemies," said Stoll.
One of the key elements fans have come to know and love about the hit series is the ongoing and shifting power struggles between the big players.
But when Chuck realises that there's a power struggle going on between Axe and Prince, he sweeps in and tries to use this to his advantage.
Read the rest of the original article at 9Entertainment