Chopping Heads
by Sean T. Collins | New York Times | May 3, 2020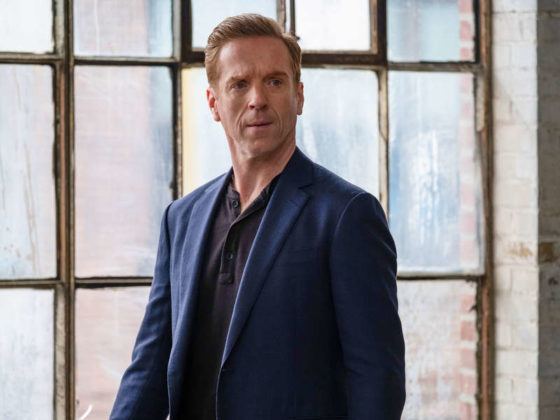 Season 5, Episode 1: 'The New Decas'
Move over, Bobby Axelrod: You're not the only pugnacious redhead in Axe Cap's hallowed halls anymore.
For a brief time during the wildly entertaining Season 5 premiere of "Billions," the truculent employees of both Bobby's company and its quasi-independent subsidiary Taylor Mason Capital unite to admire a surprise guest, the flame-haired Irish professional wrestler Becky Lynch, playing herself. (Well, technically it's Rebecca Quin, playing the same character she plays as a professional wrestler. Wrestling is complicated like that.)
At the end of last season, Taylor Mason's breakaway firm was brought back into the fold as part of an elaborate scheme — as if there were any other kind of scheme on this show — and tensions have been running high. After a staged fight with Wendy Rhoades (Maggie Siff, who one hopes will get more opportunities to beat people up on this show), Lynch tells the assembled traders about the importance of "doing the job," of allowing oneself to be humbled in the interest of the greater good. In professional wrestling, someone needs to lose in order to maintain the illusion that what's going is unscripted — without a loser, no one could ever win.
"There's nothing more noble than taking a beating and making someone else look good for the good of the whole damn operation," Lynch says.
I think it's clear that neither Lynch nor Wendy wants any of these people to roll over; Axe Cap is strictly a winners-only operation. The point is more that Bobby's people-powered view of the market and Mase Cap's mathematical approach both have their place. Their culture clash is counterproductive. Only when they start working together — and, yes, stepping back and allowing the other side to take the lead when necessary — will they be able to maximize their success.
Of course, that's the explanation of the Axe/Mase relationship made available for public consumption — the pro wrestling explanation, so to speak. The reality is much more complicated. (Again, this is "Billions.") Last season, Taylor (Asia Kate Dillon) slunk back to Axe Cap in defeat, company in tow … a fate accepted in large part because Chuck Rhoades (Paul Giamatti), Axe's old enemy, revealed to Taylor that he planned to come after Bobby (Damian Lewis) all over again and needed help from the inside.
But with brio that would be shocking on any other show, the script by the series creators Brian Koppelman and David Levien spills the beans on this arrangement almost immediately. Taylor comes right out and tells Bobby that Mase Cap is Chuck Rhoades's Trojan Horse. For his part, Bobby is too perceptive to be surprised by this. (Unless this, too, is part of Taylor's plan to get back at Axe.)
Perhaps feeling a bit too cocky now that he has officially unearthed Chuck's mole, Axe makes a big show of friendship by returning to Chuck the signed first-edition Winston Churchill volumes he had previously purchased just to spite Rhoades. Bobby being Bobby, the gesture is meant as a quid pro quo. He wants Chuck to drop some charges against a bitcoin-mining operation in which Axe has a stake.
Chuck takes the books, but he also takes the unintentional hint. A gesture of this sort, he deduces, must mean that Taylor has triple-crossed him and joined forces with Axelrod to bring Rhoades down rather than the other way around. Why else would Bobby make such a show of their continued friendship, if not to cover up the fact that it no longer exists? (What a way to go through life it must be, wondering if every present you receive is poisoned.)
Chuck tells his right-hand woman, Kate Sacker (Condola Rashad), that he'll maintain this ruse — right up until the time comes to take Bobby down for good.
He may have some competition in that arena. During a cover shoot for a Vanity Fair issue on "The New Decas" — the latest crop of ultrarich people with $10 billion fortunes — Bobby gets big-footed right off the front of the mag by his fellow oligarch Mike Prince (the new series regular Corey Stoll) and buried in the accompanying article. Seemingly cut from the same swaggering cloth as Bobby, he could make for an interesting foe the same way Superman's fellow Kryptonian, General Zod, serves the Man of Steel.
Chuck's problems are much closer to home, in the sense that his home is now broken. His father (Jeffrey DeMunn) has remarried a woman at least half his age. His son, Kevin (Zachary Unger), gives himself alcohol poisoning at the wedding. And Wendy busts him for disappearing into an all-night dominatrix session, at a moment when she needed his help with Kevin.
Now Wendy has rendered a unilateral verdict on their trial separation, issuing a news release announcing her and Chuck's divorce. It's not that their latest blowup is unforgivable — indeed, Wendy moves past it quickly. But she does so with a spirit of independence that indicates to them both that an irreconcilable breach may have formed.
"I am on the brink of a huge change," Chuck tells her in her current residence, one of Axe's spare apartments, in a last-ditch effort to change her mind. "I am going to force myself to evolve."
"I believe that you believe that, Chuck," she replies, cutting him to the quick.
Indeed, Wendy may well be the only character who has proved capable of genuine growth. Chuck will always have his white whales to pursue, damn the collateral damage. Taylor, in Bobby's words, is "a profit-generating organism," which makes Axe rather than Chuck Taylor's natural ally. And Axe? He opens the episode by tripping on ayahuasca with Wags (David Costabile).
Does he achieve enlightenment? Far from it: He envisions a king, conquering the world and chopping off heads. He can't turn that part of himself off; to borrow again from pro wrestling, he's living the gimmick.
Read the rest of the original article at New York Times