Billions MVP Awards for Season 5, Episode 1, "The New Decas"
by Gingersnap | Fan Fun with Damian Lewis | May 6, 2020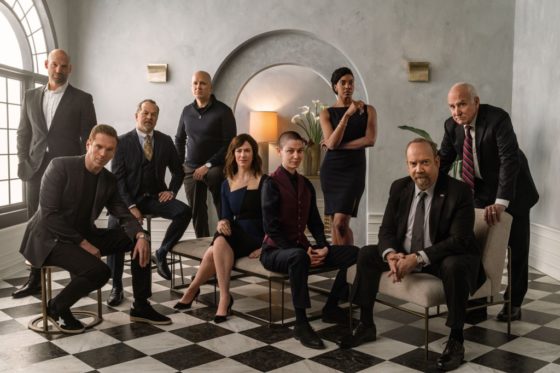 Dominance. Corruption. Influence. Vicious rivalries. New enemies. New alliances. Shifting loyalties. Formidable feuds. Predator vs. prey. Take-downs. The struggle for power and the struggle for survival. All of this can only mean one thing: BILLIONS IS BACK BABY!
This season we will review each episode and award our Most Valuable Players (MVPs) for the utmost brazen, uber shameless, ultra scheming, unmatched bad asses to date – from sports references, music and tasty food, to pop culture remarks, shocking twists and ultimate paybacks. This will serve as our prize 'Billions MVP Fanbook' commemorating all those in honor of such achievement.
Here are the Billions MVP awards for Season 5, Episode 1, "The New Decas."
Gingersnap
Overall Stellar Display of Badassery – Bobby Axelrod on a motorcycle in riding gear to the beat of a cool ass tune in beautiful scenery. Nothing says 'I am the coolest bad boy from high school Gingersnap had a crush on' than the way Axe commanded that zipper on his leather cruiser jacket or the vigor with which he punted the motorbike's kickstand with his adventure/touring boots. As if it couldn't get any better than that, add Bad Company's Bad Company song to the scene as Axe steers his BMW R1250 through the winding roads along the Alaskan-Canadian Highway with his loyal lieutenant Wagsy by his side.
"Company, always on the run
Destiny is the rising sun
Oh, I was born 6-gun in my hand
Behind the gun I'll make my final stand
That's why they call me

Bad company
And I can't deny
Bad company
'Til the day I die"
Can we just discuss for a moment how Wags and Axe mounted their BMW motorcycles in choreographed style, like two synchronized swimmers performing an artistic routine? Sign me up!
Sagest Chuck Senior Marital Advice – "Go get some ass if that's what you want and then re-up with the unit." *smfh*
First Class Art Pieces – Van Gogh's Road with Cypress and Star (1890) aka Country Road in Provence by Night that hung in the entry way and Noon – Rest from Work (after Millet) that hung in the living room of Bobby Axelrod's additional Manhattan apartment.
Dirtiest Gift Giver – Bobby Axelrod. He returned Chuck's prized Churchill first-edition, inscribed volumes of The Second World War, just like I had guessed in our Billons Season 5 Expectations post here. And all under the guise of an act of friendship.
Best Goddamn Walk on the Face of the Earth – Damian Lewis, I mean, Bobby Axelrod 😉 as he busts through the door of the Vanity Fair cover photoshoot, clean shaven, looking all svelte in a sports jacket, with purpose in his stride and legs for days.
Video of the walk:
Lady Trader
Best Banter – These two have had some of the best back and forth, but Axe and Wags at the Vanity Fair photo shoot was classic!
Is this why you made sure she came with? So I wouldn't kill you?

I think if there was a witness, it would be harder to commit homicide.

Harder. Not Impossible.
Biggest Hypocrite – Mike Prince. Please. The greater good? Stop with that crap. Ain't nobody got time for that!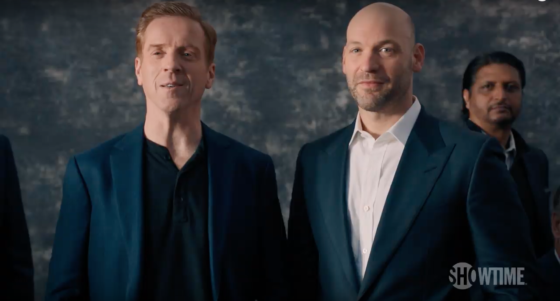 Best School-Yard Rumble – The Axe Cappers vs the TMCer's. It didn't come down to fisticuffs (the ACs would definitely win that one!), but the lines were drawn! Yes, unity for now, but for how long?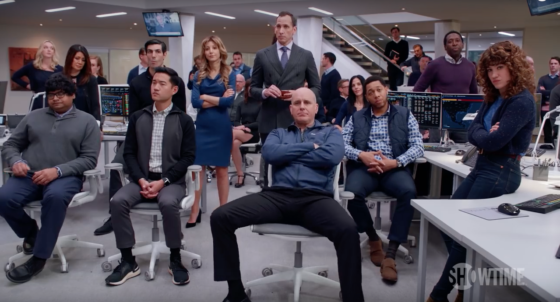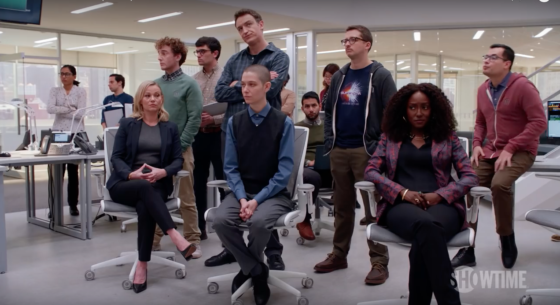 Biggest WTF? – Chuck Senior's Wedding. I'd love to know two things: how the hell he got a quickie divorce, and the settlement he had to give to his ex!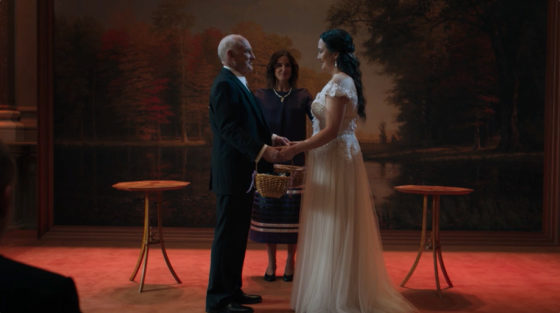 Read the rest of the original article at Fan Fun with Damian Lewis