Everyone Has A Price
by Dana Feldman | Forbes | May 17, 2020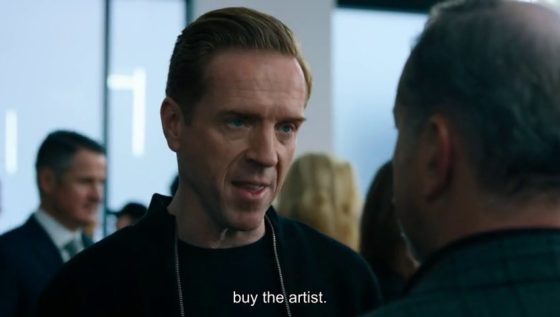 All would be copacetic in Axe's world if he could just buy a painter, a school headmaster and a bank. To him, everyone has a price and all he needs to do is figure out how many zeros it'll take to make his problems go away.
If there's a word Axe (Damian Lewis) doesn't like to hear, it's "no" but he's faced with obstacles in the latest episode of Billions entitled "Beg, Bribe, Bully." His main competitor this season is Mike Prince, played by Corey Stoll (House of Cards).
When Wags (David Costabile) gets Axe a pre-viewing of a favorite painter of his, the two are caught off guard when they realize the coveted paintings are no longer for sale. In their latest duel, Mike won the battle (but not the war) when he snatched up "The Implosion Series" by the elusive artist Nico Tanner (Frank Grillo).
Mike thus far seems to be one step ahead of Axe at every turn but this week our favorite billionaire gets his mojo back. At first, Axe does hit a snag when Nico says he doesn't paint for money or demands but to him, this simply means no one has made a big enough offer.
"If you can't buy the art, buy the artist," Axe says to Wags. Eventually, after breaking bread, he convinces Nico to sell him his next eight paintings.
Axe has to put the war with Mike on hold briefly after his son Gordie (Jack Gore) gets in trouble at boarding school. When his cryptocurrency-mining experiment goes extremely wrong, causing the entire town to lose electricity, Axe arrives with check in hand. Axe sees his son's misadventure as an independent lab project that knocked down some lights yet showed initiative. The school headmaster, Julien Kessel (J.C. MacKenzie) doesn't quite see things the same way and Axe's penchant for check-writing doesn't go very far.
He can't let his son get expelled and enlists Wags to find dirt on the guy. He also struggles and asks Wendy (Maggie Siff) if bailing Gordie out is the right thing to do. Will intervening screw his son up in the end?
He decides he has to step in and he and Wags find dirt on Kessel. Apparently, funds were taken from athletic donations and reallocated to Syrian refugees for scholarships. However, it appears as though the headmaster is actually using these people for free domestic labor when it's uncovered that they're staying and working at his home. Needless to say, Gordie stays in school and Axe gets to address the student body with a speech on the benefits of greed and capitalism.
Witnessing this touching display of fatherhood, Wags has an epiphany about his role as a dad and decides he will reach out to all his children! He's shocked when he brings his eldest son George to Axe Cap with hopes he'll someday work there. His son actually wants to help his dear old dad find religion.
Hard Bob (Chelcie Ross) and Todd Krakow (Danny Strong) add another blow when they tell Axe he'll never be a bank because of his past legal troubles, which were just the tip of the toxic iceberg, and that he got too dirty too soon and because of it, the FDIC will never give him approval.
He asks for a Plan B and is advised to take a chance with a state charter, a path that is more open to "the bribing, the begging and the bullying." To get through the flaming hoops, he'll need a high level of liquidity, an airtight board, an unassailable CEO and an image rehab.
Chuck faces his own challenges when he returns to his alma mater Yale to pursue the opportunity to teach at the law school. He reflects on his dreams as a student to fight the evil in this world, which is ironic when you think about some of his life choices. In the midst of his trip down memory lane, he's informed that Chuck Sr. (Jeffrey DeMunn) agreed to an annual donation of $100,000, which he's failed to pay. To get his dad to write the check, Chuck must make his new stepmother Roxanne (Lily Gladstone) and baby sister feel like a part of the family.
There's only one way to do that: Wendy and the kids must join him for a family gathering and formal introduction. After placing a financial restraining order on Wendy's assets, this won't be easy. The two horse-trade and Wendy gets her money back and the family gets together.
Kate Sacker (Condola Rashad) proves herself irreplaceable to Chuck yet again. After the governor took the monies from past criminal cases, she was tasked with finding civil cases with big settlements they could keep and spend. Sacker comes through with a $5 million check. However, when a member of the governor's office comes for the money, she has to find a way to keep it. She finds a workaround. Before the money is returned to the governor, they can designate the funds to a public good. She convinces Chuck to allocate the cash to a law school clinic earmarked to do good, which works very much in Chuck's favor with Yale.
Taylor (Asia Kate Dillon) asserts independence with a risky play for Mason Capital. They are relying on NLP (Natural Language Processing), a computer program that analyzes the subtext of speech through artificial intelligence by going beneath what someone is saying and analyzing speech patterns, vocal frequencies, tone and sentence structure. In this case, they target the head of a university they believe wants to divest the school's billion-dollar fund from fossil fuels but doesn't want to give in to student protestors.
Taylor is so close to getting him but the chairman of the board of trustees, a Navy admiral, isn't so easily swayed. This is where Sara (Samantha Mathis) steps in. As a former naval officer, Sara knows how to talk to him and she's able to get him to divest. She also has the idea of Mason Capital investing, which Taylor says defeats the entire purpose. Furious with her boss, Sara quits.
When Billionaires Go To War
How will the rivalry between Axe and Mike play out? Showrunner David Levien recently said in an interview that in Mike Prince, Axe has truly met his match as he has equal financial fire power and drive.
Stoll spoke with me about the rivalry between the two billionaires. "Mike is just as ambitious and greedy as Axe but his worldview is rooted in morality. This is his framework and the basis for all he does. His self-image revolves around being a good person and it's central to how he gets up in the morning and how he sleeps at night."
The irony, adds Stoll, is just how contradictory his beliefs are with how he makes a living. "In his mind, he argues that he's facilitating great good by moving markets but as an impact investor, the realities of operating in that market are such that to continue to see yourself as a good person involves a bit of mental gymnastics."
Stoll explains what it takes to play such a layered character. "In order to play a character, an actor has to believe in them. My job is to be the advocate for my character but that doesn't mean I soften the edges or lessen their faults. But I must make this character human and so I'm definitely seeing the good in him. If I were to see any character as all good or bad, he'd be less human and less compelling as a character.
Read the rest of the original article at Forbes