Family Support: In Memory of Hugo Yaxley and Helen McCrory
by Staff | Ride4Hugo | June 15, 2021 *updated May 03, 2022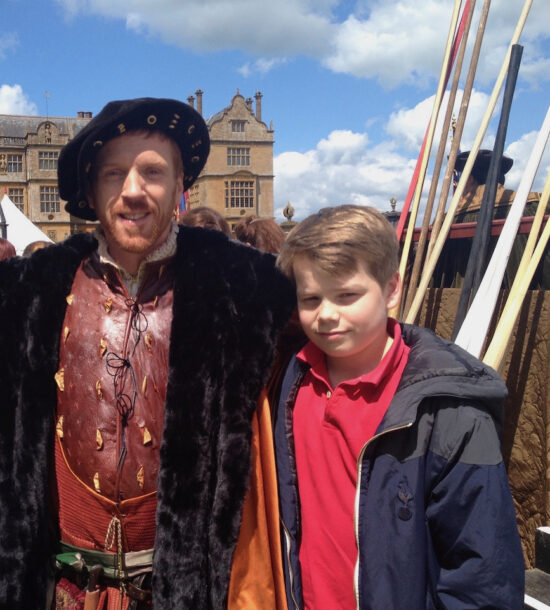 Ride4Hugo is in memory of Hugo Yaxley, Damian and Helen's nephew, who tragically died in a car accident in November, 2020.
Hugo was a big advocate of facing up to mental health issues and changing the stigma attached to it. Ride4Hugo aims to raise funds and awareness for four great charities that were close to both his and Helen's heart. His Aunt, Helen McCrory, passed away five months after Hugo's accident.
Uncle Damian, as he was to Hugo, is Ride4Hugo's patron. Best known for his performances on screen and stage, Damian has also contributed a huge amount of charity work. Most recently he and his late wife Helen McCrory helped raise over £1m for the FeedNHS campaign.
Damian recently reflected on Hugo, stating:
"The recurring theme talking to people about Hugo, is that, for one so young, he leaves an incredible legacy. He truly inspired people of his generation, through his own bravery, to be more confident and open about their mental health. This is an extraordinary thing to have achieved by the age of 20. He's touched more people in his short life than most do in their longer ones. One great memory is of our family holiday in Mallorca when Hugo perfected and demonstrated (endlessly) the art of "bombing" in the swimming pool. Face down mostly. For ages afterwards, we called him Bomber Yaxley. He became many other fabulous things as he got older but that fearlessness never left him. And he used it to help others. Love you Hugo."
Below is information about the upcoming bike ride campaigns, the bike routes, and the charities Ride4Hugo supports: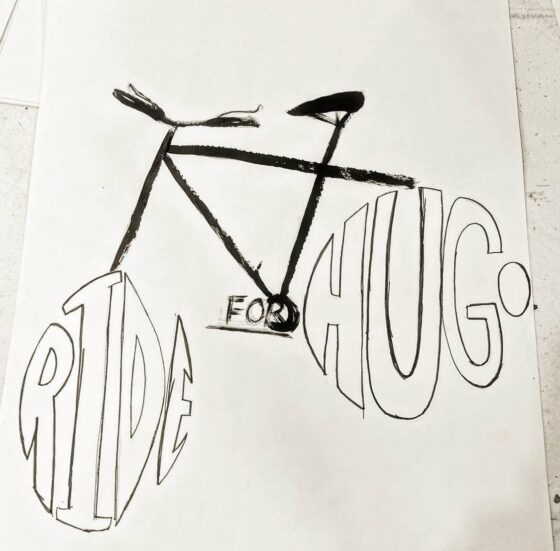 Sketch by fashion designer Lola Turner, artist Miranda and HvH Arts Foundation CEO Debbi Clark
Ride4Hugo T-Shirts
As part of the ride, HvH Arts Foundation has produced a t-shirt to commemorate the event. It has been designed by the youth of HvH Arts, which is one of Ride4Hugo's charity partners. Each t-shirt is 10£ to cover production and includes a donation to the charities, with an estimated delivery set for June. To purchase a t-shirt, click here.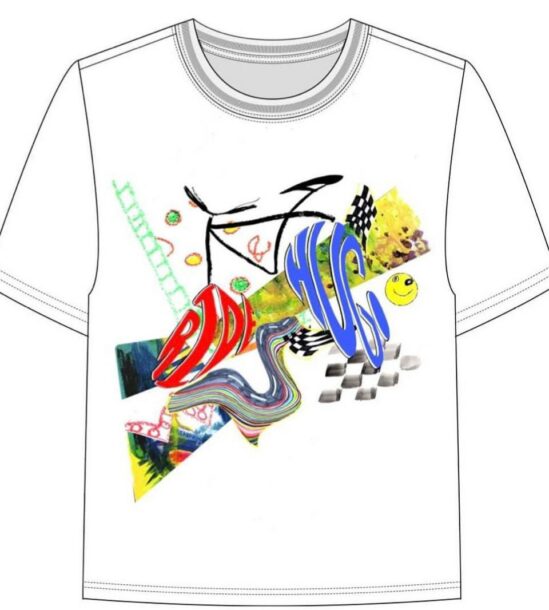 Ride Campaigns
The Ride4Hugo Cycle Sportive (non-competitive) starts and finishes at Henstridge Airfield, The Marsh, Templecombe, Somerset (BA8 0TN), the home of The Dorset and Somerset Air Ambulance. With three different distances, there is something for everyone. So why not challenge yourself and raise some money for a good cause?
Baby Fondo – Easy road ride. Great for any fitness level. Mostly well-paved surfaces and easy to ride.
Sunday, June 5, 2022 at 10:30 a.m.
32km ride
Strava Ride Route here
Komoot Ride Route here
Garmin Ride Route here
Fondo – Intermediate road ride. Good fitness required. Mostly well-paved surfaces and easy to ride.
Sunday, June 5, 2022 at 9:30 a.m.
60km ride
Strava Ride Route here
Komoot Ride Route here
Garmin Ride Route here
Gran Fondo – Expert road ride. Very good fitness required. Some portions of the Tour may be unpaved and difficult to ride.
Sunday, June 5, 2022 at 8:30 a.m.
100km ride
Strava Ride Route here
Komoot Ride Route here
Garmin Ride Route here

The Charities
To honor Helen, Ride4Hugo chose to support The Hubert Von Herkomer Arts Foundation, a charity she had been the Patron of that supports disadvantaged youth, providing them a gateway to the arts. This Ride4Hugo fundraising event will aid in funding 'The McCrory Award' of the HvH Arts Foundation. Each of the four charities list below has been selected because they not only do life changing work every single day but have a special link to Hugo and Helen.
Helen's reflections of Hugo,
"Hugo was a very rare young man, an old soul, whose wisdom was far beyond his years. Hugo wasn't an average young man. He had already been to hell and back as a teenager battling with depression, he had conquered it, not by ridding himself of it but by refusing to allow it to stop his stride. His smile was huge and broad and contagious. We will keep him alive in our hearts forever but I'm so so sad l'll never see it again."

Dorset and Somerset Air Ambulance
Just like HIOW AA they saves lives every single day. It is thanks to the amazing work of the crew of Dorset & Somerset Air Ambulance that Hugo's parents got a chance to say goodbye to him. They rely solely on public contributions, at £3,000 a mission they need everything they can get to keep flying. Find out more about their incredible work here.
Place2Be
Mental health was something that was very close to Hugo, he battled through is own issues and not only came out stronger but set about raising awareness and money for this issue. He spoke out to 300 of school friends about this experiences, watch the video. Place2be are a charity that Hugo supported by doing a 150 mile ride in north Wales. Find out more here.
Hampshire & Isle of Wight Air Ambulance
It is thanks to the incredible work of Hampshire & Isle of Wight Air Ambulance that Minna not only survived the car accident but has no life changing injuries. The Air Ambulances do incredible work and are there when people need them the most. They receive no government funding. Find out more about this amazing organization here.
Sir Hubert Von Herkomer Arts Foundation
Hugo's Aunt Helen McCrory was the Parton of HvH Arts. Sadly she joined Hugo in April 2021, as a tribute to her we have chosen to support them. HvH works with 5–18 year old children and young people providing them with the inspiration and tools to develop lifelong artistic passions. You can find out more about the foundation here.
Start raising sponsorship for HVH Arts:
Create your personal Ride4Hugo HVH fundraising page via our JustGiving campaign page, and start raising sponsorship for HVH Arts – or just donate what you can ❤️
Share the event with others:
Download the event poster
Retweet our shout-outs for the event
Download the press release HVH Arts – Cycling event to raise funds in memory of Hugo Yaxley and Helen McCrory OBE
Contact us:
HVH Arts: info@hvharts.org
Ride4Hugo team: tom@ride4hugo.co.uk
For more information, please visit Ride4Hugo website here
If you would like to inquire about volunteer roles, please contact Ride4Hugo here
Enter to ride in the event at British Cycling here