A Poetry Dedication to Commemorate Helen McCrory
by Gingersnap | damian-lewis.com | January 25, 2022
On Tuesday, January 25, 2022 guests gathered for a live poetry reading dedicated to the late, great Helen McCrory.  Allie Esiri, author of her latest installment A Poet for Every Day of the Year, curated the night's event at the Lyttelton venue of National Theatre in London. From 7:00 – 8:00 p.m. a variety of readers took to the stage to read verse from the new anthology, including Damian Lewis, Lesley Sharp, Fay Ripley, Simon Russell Beale and Danny Sapani with 900+ audience members in attendance, together with Damian and Helen's children Manon and Gulliver and family friend Helena Bonham Carter.
Damian introduced the evening as he shared an anecdote about the origins of the expression 'stealing somebody's thunder,' which apparently comes from the failed playwright John Dennis in 1709. Damian remarked that nobody could steal Helen's thunder on stage:
"This evening is dedicated to her and it's perfect, because Helen loved the National Theatre. One person whose thunder would absolutely not be stolen was Helen McCrory."
Helen thought poetry mattered and supported Allie Esiri's passionate determination to make it a part of our daily lives. Curator and Author Allie Esiri said,
"We dedicated the evening to Helen and Damian said a few words, but we just wanted to get on and do the show. It's what she would have told us to do – OK, enough already, get on with the show!"
Damian read Robert Burns' Address to a Haggis, Ode To Autumn by John Keats and Lemn Sissay's Invisible Kisses.
Russell Beale recited W.H. Auden's O Tell Me the Truth About Love and Shakespeare's Sonnet 98. Lesley Sharp read Rumi's The Guest House, Seamus Heaney's The Cure at Troy and Wendy Cope's Song. Sharp and Fay Ripley together gave audience members Tennyson's Charge of the Light Brigade and Amy's Levy's At a Dinner Party, while Danny Sapani read from Wordsworth's Composed Upon Westminster Bridge to Ray Antrobus's Two Guns in the Sky for Daniel Harris. Riply also read Spike Milligan's Never Bath in an Irish Stew.
All presenters lined across the stage to perform George Marriott Edgar's Albert and the Lion and the satirical lesser known A Brief History of Modern Art in Poetry by Poet Laureate of Twitter Brian Bliston.
As the evening came to a close, Damian read Everything is Going To Be All Right by Irish Derek Mahon before the final poem was shared featuring a 2017 recording of Helen McCrory reciting Wild Geese by Mary Oliver. Goosebumps. In true fashion, Helen was granted the last word in all her blazing splendor. Fierce.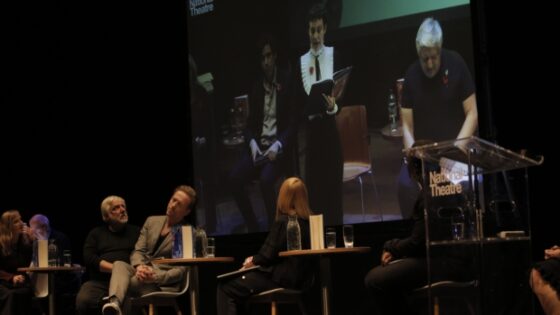 It was a powerful evening. Riveting some might say. Attendees took to social media sharing moments and reporting the poetry readings were funny, moving, emboldening and witty, but not without sorrow and melancholic reflection.
Chris Riddell (political cartoonist for The Observer, award-winning author and illustrator, and Waterstones Children's Laureate 2015-2017) was in attendance to live-sketch each poem as it was read. We hope these illustrations are shared with the public, even if for later charity auctions.
There will be a digital screening of the event on National Theatre's YouTube channel, set to broadcast on March 3 for World Book Day. Keep checking back for any updates. View more photos in our Gallery here.
Primary Source: Thank you so much to audience member A Tortoise in London for all the details!
Secondary Source: What's On Stage
Damian's final piece of verse, Everything Is Going To Be All Right, by Irish poet Derek Mahon: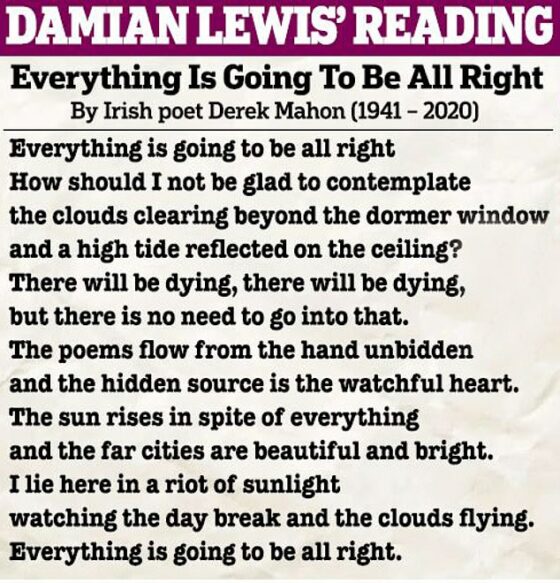 Full Video: