Ode to Helen McCrory Cuts to the Heart of the Matter
by Dominic Maxwell | The Times | January 26, 2022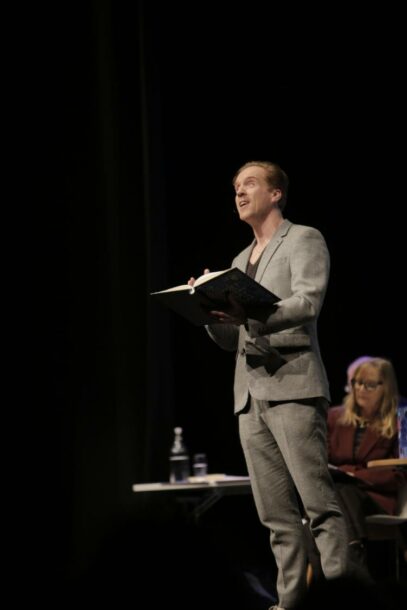 How would Damian Lewis, making his first stage appearance since the death of his wife Helen McCrory last April, begin an occasion dedicated to her memory? With a no-nonsense nod to the mixture of happiness and sadness of being at an occasional poetry reading event that she had taken part in previously herself? With a poem in her honour, performed to a well-scrubbed crowd (including McCrory's friend Helena Bonham Carter) who had turned out to see him and Sir Simon Russell Beale, Fay Ripley, Danny Sapani and Lesley Sharp reading from the latest anthology of 366 poems edited by the evening's organiser and host, Allie Esiri.
In the end, no. Lewis found a way to address the elephant in the room that was both unexpected and oddly fitting to such a charming, varied and resonant evening. He told a story about John Dennis, the 18th-century critic and dramatist who, it turned out, had inadvertently invented the expression "steal my thunder". "One person whose thunder absolutely would not be stolen was Helen McCrory," Lewis added, in the building where his late wife had successes in Medea and The Deep Blue Sea. "You could try, but it wouldn't work."
That done, he started off the evening of 30 poems with Robert Burns's Address to a Haggis, his Scottish vowels enabled, he said, by a "little tutorial" from his father-in-law the previous night "after a couple of gins". Not everything that followed had such a memorable accent to propel it, but almost everything here was pithy and impassioned.
Russell Beale gave his all, yet kept his usual sense of ease, to WH Auden's O Tell Me The Truth About Love. Sharp was as good imitating Dorothy Parker's cynical drawl for One Perfect Rose as she was joined by Ripley for a twin delivery of Tennyson's The Charge of The Light Brigade. Although there were a few more greatest hits of poetry like that, more recent and less-known pieces made as much of an impression. Sapani's reading of Two Guns in the Sky for Daniel Harris made one want to hear more from its author, Raymond Antrobus.
There was a moving finale when footage of McCrory performing at the event, in 2017, was shown as the final poem. It was a tremendous reminder that poetry cuts to the heart of things as much as it dances round their edge.
Read the rest of the original article at The Times