Five Stars: A Star-Spangled, Unforgettable Tribute to Stephen Sondheim
by Clive Davis | The Times | May 4, 2022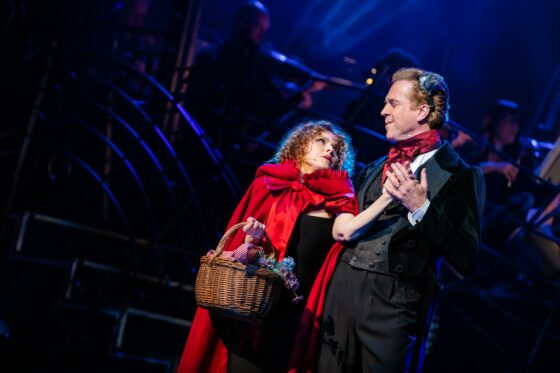 Photo: Danny Kaan
Excuse me if I gush, but this was one of those nights where it was difficult to focus on highlights simply because there were so many. Cameron Mackintosh's memorial concert for Stephen Sondheim, who died in November, began on a high note when the veteran Julia McKenzie, who did so much to champion the composer's work on this side of the Pond, walked onto the stage to sing Side by Side by Side. Proof, if needed, that British artists don't need to feel like intruders on this territory. They've made the music their own.
McKenzie's appearance was the kind of moment which, in normal circumstances, would crown a memorable evening. In this case it was just the prelude. Of course, it was all the more fitting that this gala concert for the Stephen Sondheim Foundation was happening at the theatre (formerly known as the Queen's) that bears the artist's name. In his opening speech, Mackintosh wryly quipped that the twisted ankle that had prevented the great man from attending the opening in 2020 had just been an excuse to avoid having to sit through Les Misérables.
After Mackintosh had his say, the songs began to flow, with no host to cause any longueurs. Matthew Bourne and Maria Friedman — who shared directing credits — managed to cram in an immense range of material. Meanwhile, the cheering and the applause grew louder and louder. It reached its peak, perhaps, in a comic version of Broadway Baby, which began with McKenzie pretending to audition with a surly pianist before being joined by a blowsy pack of rivals including Bernadette Peters, Bonnie Langford and an insouciant Helena Bonham Carter.
Imelda Staunton sang Everything's Coming Up Roses. Who else but Judi Dench could be entrusted with Send in the Clowns? If Dench's delivery barely rose above a whisper, Haydn Gwynne powered through a version of The Ladies Who Lunch that was as potent and savage and tipsy as anything the late Elaine Stritch gave us. A twinkle-eyed Damian Lewis joined in the party too, kicking and shimmying his way through the risqué Everybody Ought to Have a Maid alongside Rob Brydon, Julian Ovenden and a mischievous Sian Phillips. As ever, the elegant Janie Dee glowed in the dark, sizzling through the bossa nova parody The Boy Friend.
Read the rest of the original article at The Times