Historical Milestone of a British Monarch
by Gingersnap | damian-lewis.com | May 15, 2022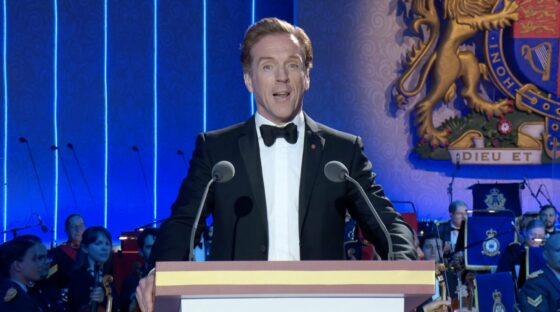 More than 500 horses and 1,000 performers took part in a 90-minute programme for the Queen's Platinum Jubilee celebration, marking the momentous occasion of 70 years on the throne. She officially hit the milestone back on February 6th, with celebrations happening throughout 2022. A variety of stage stars took part in the televised theatrical arena event, broadcast on ITV and ITV Hub from the grounds of Windsor Castle in Berkshire on May 15, 2022, as Britbox North America live streamed the event to viewers in the United States and Canada. The event took place from 8:00 p.m. to about 10:40 p.m. local UK time.
Helen Mirren took on the role of Elizabeth I (fitting, given she played Elizabeth II on stage) alongside Omid Djalili as The Herald, a character who introduces a cast of Queen's Players, in the first of four acts charting the modern history of the nation. Damian Lewis opened the evening (video below), and Tom Cruise and Adjoa Andoh all served as hosts for the other acts. Musical guests included Gregory Porter, Maureen Lipman, Katherine Jenkins of Wales who sang Calon Lan and David Jason at various intervals throughout the night. Each act reflected on key moments in history, including Elizabeth I's Tilbury Speech and James I and the Gunpowder Plot.
The celebration took viewers on "a gallop through history," from the reign of Queen Elizabeth I through to the Coronation of Queen Elizabeth II. All of that was interspersed with a number of military and equestrian displays from the Commonwealth and around the world including Northern Ireland, Scotland, Azerbaijan, India, Oman, France, Norway, Switzerland and Trinidad & Tobago.
Other participants making an appearance were  Keala Settle – who performed a rendition of Gary Barlow and Lloyd Webber's song Sing alongside 54 children of the Commonwealth Youth Choir – and Gregory Porter performed Revival  with delightful and soulful execution! Outside of the world of performance, Ant and Dec, Joan Collins, Mo Farah, Alan Titchmarsh, Kelly Holmes, Moira Stuart and Trevor McDonald all attended the evening, which was hosted by Phillip Schoefield and Julie Etchingham.
To view more photos of the event, please visit our Gallery here