Episode Titles and Descriptions
by Gingersnap | damian-lewis.com | November 28, 2022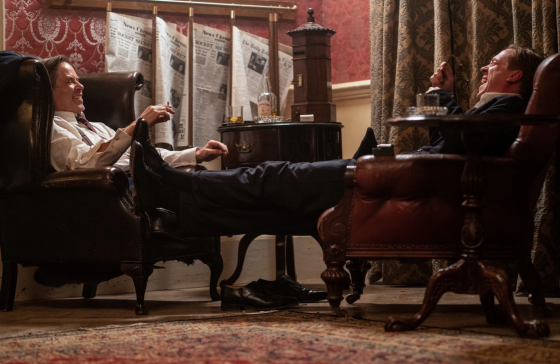 A Spy Among Friends will be available on ITVX on December 8 and BritBox AU on December 9. For those of us across the pond, the US release will be March 12, 2023 on MGM+ (formally Epix). Here are the episode titles and descriptions.
Episode 1: Boom-ooh-yatatatah
Description: In the wake of Kim Philby's escape to Moscow, his closest friend in Britain's Secret Intelligence Service (also known as MI6.), Nicholas Elliott, is under investigation by Mrs. Lily Thomas from the Security Service (MI5): Did he facilitate Philby's escape because he's also a traitor working for the Russians, or is it just that his judgement was clouded at a critical moment by their twenty-three year friendship? Or maybe, just maybe, he in fact had the last laugh having manipulated Philby to run to the bosom of the KGB for foreign intelligence purposes.
Episode 2: The Admiral's Glass
Description: Investigator Lily Thomas understands that Elliott is never going to divulge anything of value in a conventional interrogation process, so she manipulates him.
Episode 3: Allegory of the Catholic Faith
Description: Philby begins to understand that the KGB can never fully trust him now that he's in Moscow. As far as they're concerned, his life as a spy for them is over.
Episode 4: Vodka
Description: Elliott rattles Blunt's cage to make him panic and then follows him to a clandestine meeting in the middle of the night.
Episode 5: Snow
Description: Elliott and Lily fear that no one can be trusted. They must get to Blunt before anyone else to interrogate him and confirm their suspicions.
Episode 6: No Man's Land
Description: Lily has forced Elliot to remember more than he perhaps ever wanted to about Philby. Months later, Elliott receives a letter from Philby asking for a meeting in an East Berlin bar.
Cast – I spy stars!
Damian Lewis as Nicholas Elliott
Guy Pearce as Kim Philby
Anna Maxwell Martin as Lily Thomas
Adrian Edmondson as Sir Roger Hollis
Stephen Kunken as James Jesus Angleton
Nicholas Rowe as Anthony Blunt
Edward Baker-Duly as Ian Fleming
Anastasia Hille as Flora Solomon
Radoslaw Kaim as Konstantin Dmitrievich Volkov
First look photos here and official trailers below:
Source: ITV