"Damian Lewis and Guy Pearce Act Their Socks Off"
by Joel Golby | The Guardian  | December 3, 2022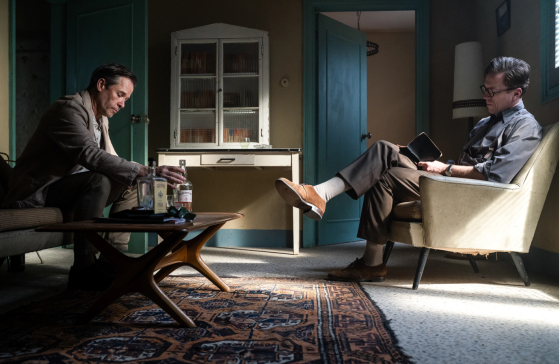 Double agents are everywhere. Damian Lewis and Guy Pearce act their socks off. But nobody knows what ITVX is – no matter what the secret service say. The thing with A Spy Among Friends is that it's very good – intricate, deft and thrilling with just the right sort of TV set pieces to keep things rollicking around – but also a lot of it is just "two people having a conversation in a room, both of them smoking in a very 60s way", and you do have to actively watch it to know what's going on.
There's fun old-school espionage and big old-fashioned tape recorders and men in their shirtsleeves sweating in rooms while listening to a bug, and everyone keeps offering each other tea in a way that seems too deliberately innocuous to be anything other than a ruse. Guy Pearce is playing opposite Damian Lewis and they are both acting their absolute heads off, which is always fun. And there is no way this whole thing doesn't end with a clever twist.
A Spy Among Friends is very, very good. I have absolutely no idea how on earth you go about watching it.
A Spy Among Friends airs on ITVX on Thursday 8 December.
First look photos here and official trailer below:
Read the rest of the original article at The Guardian