A Spy Among Friends and Billions
by Gingersnap | damian-lewis.com | February 27, 2023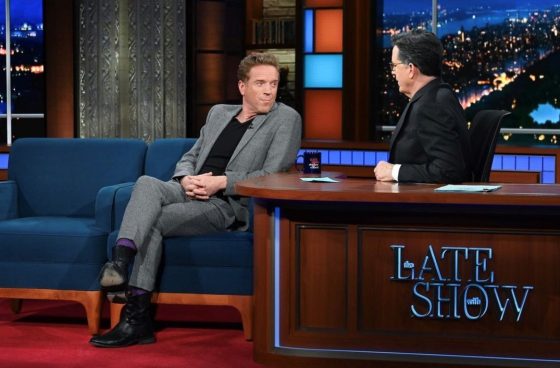 Damian guest appeared on The Late Show with Stephen Colbert for S8, E81 on Monday, February 27, 2023 to promote the upcoming US release of his mini-series A Spy Among Friends available to stream on MGM+ beginning March 12. But Damian also made a HUGE announcement at the end of the segment. Let's start at the beginning. Damian made his entrance as the band played Elvis "Suspicious Minds," which is no coincidence if you know our Ginger! He waved and blew air kisses to the audience, took a bow before being seated and wore his lucky purple socks. When discussing A Spy Among Friends Damian asked, "Who doesn't love a spy thriller?" Damian further explained he finds the total duplicity and ability to conceal simply fascinating, and a masterful skill. He spoke of working with the immaculate Guy Pearce who plays spy Kim Philby and how Philby is UK's most infamous spy who betrayed his country to the Russians for 30 years.
Specifically, Damian explains how Nicholas Elliott (played by him) meets Philby in Beirut for an interrogation (and hopefully a confession) over four days. After Elliott's superiors review the transcripts of the taped recordings of their meeting, they notice three minutes is missing when Elliott and Philby walk out on the balcony and no one knows what they really spoke about. All they do know is the next day, Philby escapes to Russia. Colbert played a clip of the scene between MI5 Agent Lily Thomas and Elliott upon Elliott's return from Beirut. Damian jokingly claimed, "I only watch things I'm in." Colbert asked Damian if he would make a good spy. Damian answered no and Colbert agreed he doesn't think Damian would be a good spy because "a spy should be boring and you're not, you're too interesting." Damian rubbed his heart in admiration and then Colbert quipped, "and a spy wouldn't rub their own nipple in public."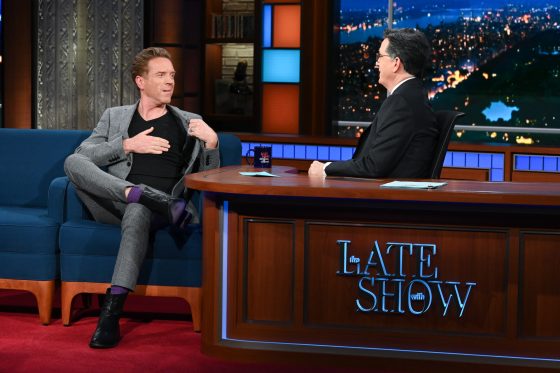 Colbert went on to ask Damian about his acting method and using animal work to construct his characters. Damian explained he learned this in Drama School when an instructor gave the class an acting exercise – students went to the London Zoo every weekend of the first semester to study animal movement and animal psychology as an acting tool. Damian wanted to study the apes but his instructor said Damian was already too much like an ape and should study stillness, like a lizard. Damian said the lizard moved maybe three times over a course of 12 weeks.
For Nicholas Elliott, Damian explained he felt the spy was bird-like in two ways because of the double life: a peacock – telling dirty limericks and entertaining the chaps while drinking whiskey at the pub, like with feathers fanned – but also very hawk-like or eagle-like with respect to work, being very watchful and attentive. Damian prefers to narrow the animal down to one, but with Elliott it was two-fold. Colbert then asked him what animal he used for Bobby Axelrod. Damian replied, "Bobby Axelrod is a predator, a big cat, so I used a Cheetah for him" as he rolled and swayed his shoulders in a prowling, swaggering gesture. At that point Colbert said, "I understand that you have a little announcement to make to the people, a little bit of news that nobody knows yet regarding Mr. Axelrod" to which Damian replied "Well, Bobby….Bobby's back. Axe is back and it's exciting." But Damian could not share when Bobby would be back or for how many episodes/scenes. Deadline reports he will appear in six of the 12 episodes when the show premieres later this year with Season 7.