A Spy Among Friends: Best Mini-Series
by Gingersnap | damian-lewis.com | May 14, 2023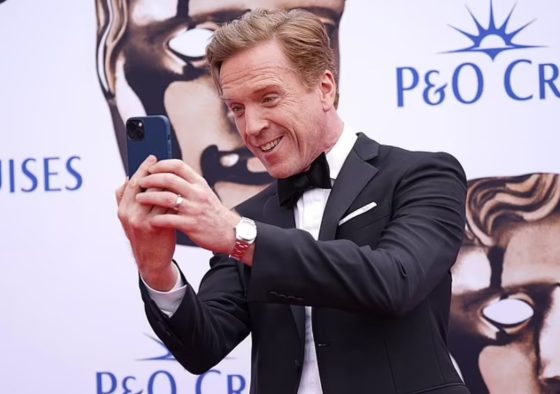 Damian, looking super suave in his suit, attended the The British Academy of Film and Television Arts Awards this evening on Sunday, May 14, 2023 at Royal Festival Hall in London. In usual fashion Damian hammed it up for photographers with a series of very animated poses at the step and repeat board, at times taking videos of the onlookers to document the experience. View the most hilarious photos from tonight's event in our Gallery here.
His ITVX drama A Spy Among Friends was nominated for best TV mini-series of 2022 but lost to Mood. Damian was also a presenter at the evening's ceremony, presenting the Leading Actress Award to Kate Winslet. According to Huffington Post, Damian jokingly told the audience:
"I'm surprised you're all still here. It's a brilliant bar out there, I've been in a couple of times."
The BAFTA Awards are the biggest celebration of excellence across British and international television production and broadcasting. Congratulations on the A Spy Among Friends nomination to actors Guy Pearce, Anna Maxwell Martin and Stephen Kunken, Director Nick Murphy, Alexander Cary who created the series for television based off of Ben Macintyre's book, and last but not least, Damian who served dual roles on the project: actor and executive producer through his Ginger Biscuit Entertainment company.
A special thanks to Dustin O'Halloran (music), Nanu Segal (cinematography), Matthew Gray and Edel McDonnell (film editing), Julie Harkin (casting), Paul Spriggs (production design), Carmen Dima and Jen Saguaro (set decoration), Joanna Eatwell (costume design), Gabriela Gociu (key make-up artist), Jamey-Leigh Weber (hairstylist supervisor), the full Art Department and Art Direction, Sound Department, Special Effects, Visual Effects, Stunts, Camera and Electrical Department and all the crew. Job well done!