Bringing Americana Vibes to Kent
by Staff | When the Horn Blows | June 9, 2023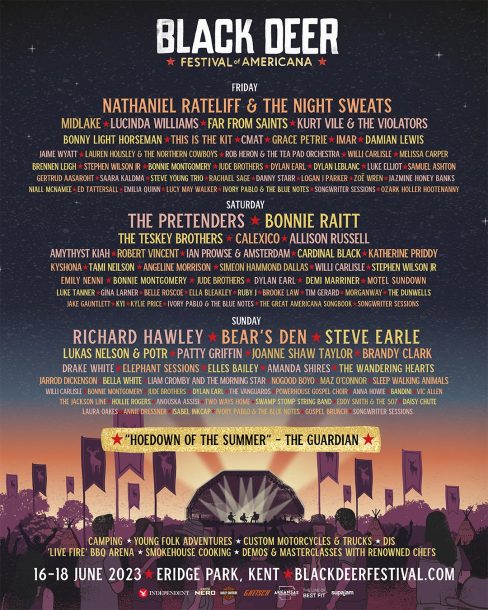 With just under a week to go until Black Deer Festival brings the best in Americana vibes to Eridge Park in Kent, we are praying that the sunshine stays around for the party.
With the four edition of the event it is now Europe's premier, award-winning Americana festival with the line up including artists like Bonnie Raitt, Nathaniel Rateliff & The Night Sweats, The Pretenders, Bear's Den, Lucinda Williams, Steve Earle (Alone Again Solo & Acoustic), Far From Saints and many more at Eridge Park.
With some much to chose from – we give you our top three sets to check out across the weekend.
Damian Lewis
Damian Lewis (Band Of Brothers, Billions, Homeland) announced himself to the world as a musician, releasing his debut single 'Down on the Bowery' (and even letting slip about his forthcoming Black Deer performance). The esteemed actor's debut album Mission Creep, described as a "thoughtful collection of rootsy, rock and jazz-tinged songs", will be released on Friday, June 16, 2023, the exact same day he takes to the stage in Eridge Park, in what will be an unmissable and a memorable spectacle. Tickets are available on their website now.
Read the rest of the original article at When the Horn Blows
'Mission Creep' Album – Damian Lewis Music Store (UK) here
'Mission Creep' Album – Damian Lewis Music Store (US) here
'Mission Creep' Album – Several music services here or Target
'Down on the Bowery' – Apple Music, iTunes, Spotify, YouTube, Amazon and more here
'Zaragoza' – Pandora, Tidal, Spotify, YouTube, Amazon and more here
'Makin' Plans' – Napster, Pandora, Tidal, Spotify, iTunes, Amazon and more here
'She Comes' – Spotify, YouTube, Apple Music and iTunes here